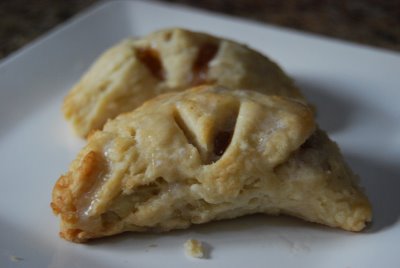 I saw this recipe for Apple Turnovers posted on The Nest recently by Sparrow Song. She found it on Bread & Honey. I have been wanting to make something with apples for fall and these sounded like the perfect thing. However, I didn't want them around the house because I knew I would eat too many of them. So I decided I would make them into little Turnover bites so that Adam could take them to work and it would be easy for coworkers just to pick up and eat them. They were so cute and delicious! The crust is flaky and a perfect compliment to the apples and glaze. These are perfect for fall, and perfect for a crowd and because they are so small you can have two!:)
Crispy Apple Turnovers
Adapted from a Crisco Recipe
Ingredients:
Filling:
1 ¾ C pared, chopped tart apples (about 2 granny smith apples)
1/3 C water
1/3 C packed brown sugar
¼ tsp ground cinnamon
1/8 tsp ground nutmeg (I used 1/4 tsp. accidentally but it still tasted great)
1 tbsp all purpose flour
1 tsp sugar
1 tbsp butter or margarine
Pastry:
2 C all purpose flour
2 tbsp sugar
1 tsp salt
¾ cup shortening, chilled
5 tbsp ice water
Glaze:
½ cup powdered sugar
1 tbsp milk
¼ tsp vanilla

Directions:
Heat oven to 425ºF.

For filling:
Combine apples and water in small saucepan. Cook on high heat until mixture comes to boil. Stir frequently.Reduce heat to low. Simmer 5 minutes.Stir in brown sugar, cinnamon and nutmeg. Simmer 5 minutes. Stir frequently.Combine 1 tablespoon flour and 1 teaspoon granulated sugar. Stir into apple mixture.Bring to boil. Boil one minute. Stir in butter.
For pastry:
Combine 2 cups flour, 2 tablespoons sugar and salt in medium bowl. Cut in cold all-vegetable shortening using pastry blender (or 2 knives) until all flour is blended in to form pea-size chunks. Sprinkle 5 tablespoons ice-cold water, one tablespoon at a time. Toss lightly with fork until dough forms ball. Flour rolling surface and pin lightly.Divide dough in half. Roll each half to 1/16 inch thickness. Use lid from 3 pound Crisco All-Vegetable Shortening can as pattern. Cut 6 circles (5-1/4 inches) from each half. (Reroll as necessary.) ( I cut them in about 3 in. circles using a cup I had at home)
Place about one tablespoon of apple filling on each dough circle. Moisten edges with water. Fold in half over filling. Press with fork to seal.Place on baking sheet on parchment paper. Prick tops with fork. Bake at 425ºF about 20 minutes or until golden brown. Cool 10 minutes on wire rack.
For glaze:Combine powdered sugar, milk and vanilla in small bowl. Stir well. Drizzle over turnovers. Serve warm or cool.