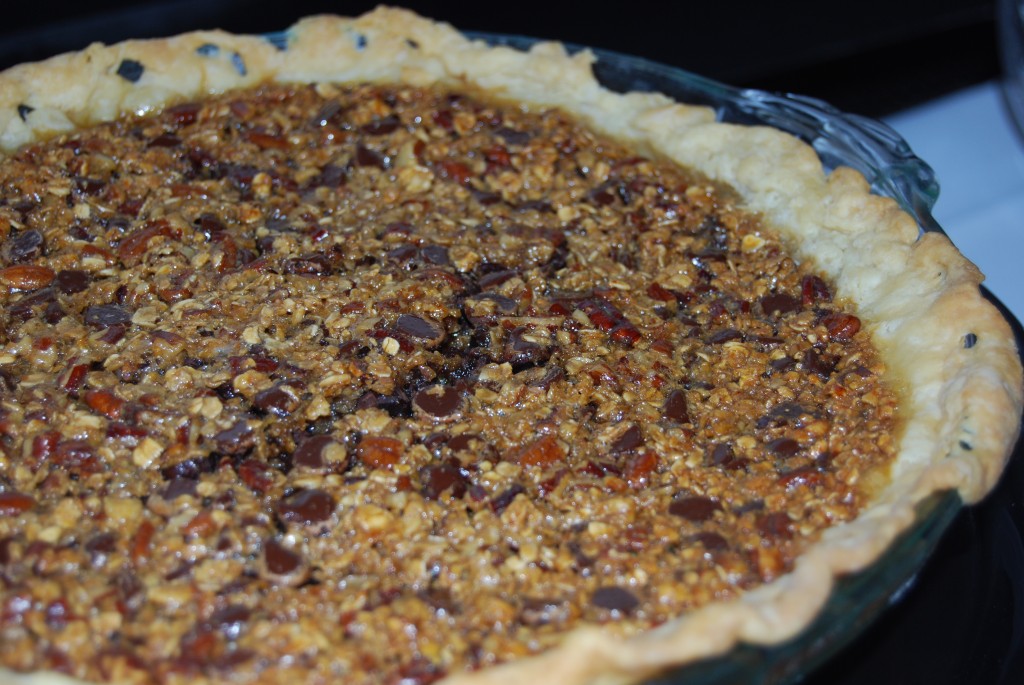 I found this recipe in a
Cooking Light
magazine last year and made it for dinner with friends. It was such a hit, that I decided to make it for Thanksgiving this year. It doesn't originally call for chocolate chips but Adam (as always) suggested adding them in. I wasn't sure at first, but they really add a nice layer of flavor-and who doesn't love chocolate and nuts, right? This really is delicious and a perfect ending to a wonderful feast on Thanksgiving or Christmas.
Chocolate Chip Oatmeal Pecan Pie
Source: Cooking Light
Ingredients:
1 recipe pie dough (used this recipe)
Cooking spray
1 cup packed dark brown sugar
1 cup light corn syrup
2/3 cup regular oats
1/2 cup chopped pecans
2 tablespoons butter, melted (used light margarine)
1 teaspoon vanilla extract
1/4 teaspoon salt
2 large eggs, lightly beaten
2 large egg whites, lightly beaten
1/2 to 1 cup choc. Chips
Directions:
Preheat oven to 325°.
Roll dough into an 11-inch circle. Fit into a 9-inch pie plate coated with cooking spray. Fold edges under; flute.
Combine brown sugar and remaining ingredients, stirring well with a whisk. Pour into prepared crust. Bake at 325° for 50 minutes or until center is set. Cool completely on a wire rack.