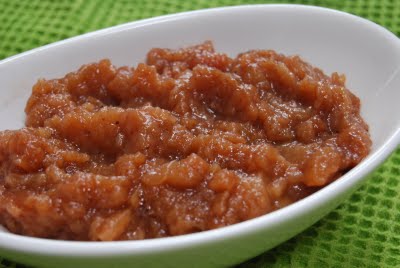 I have been cooking some of my old favorite entrees, but have been freshening them up with new side dishes. I had seen
Erin's Food Files'
applesauce in my google reader and knew that it would be a great way to kick off the fall and apple season. This tasted way better than store bought applesauce. It was fresh and light and chunky which I loved.
Crockpot Applesauce
Source: Erin's Food Files
Ingredients:
6-7 small golden apples, peeled, cored, and chopped
1 granny smith apple, peeled, cored, and chopped
1 Tablespoon brown sugar
juice of 1/2 a lemon
1 strip lemon peel/skin
1/4-1/2 cup water
1/4 to 1/2 tsp. cinnamon (to taste)

Directions:
Combine all ingredients in crockpot and cook over low heat 6-7 hours.
Remove peel, and mash or blend to desired consistancy, if necessary. Refrigerate, and enjoy.