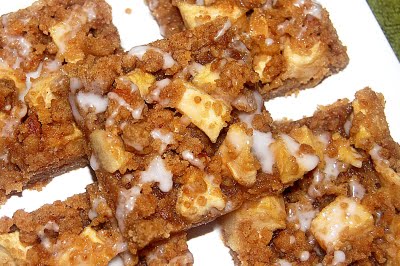 I had bought a bag of apples on sale and needed to use them up and found this recipe in one of my cookbooks. I always look through this cookbook, but I've never made anything out of it. I am so bad about that. I love to read cookbooks so I have several, but I get most of my recipes off of the internet or from my family, haha! I decided that I was going to make these and send them with Adam to work. I had a little taste and these were like apple pie in bar form. Great at room temperature, but even better warmed up a bit. These did turn out a bit thinner than the picure in the cookbook, so next time I think I will use a smaller baking dish so they are nice and thick and you can hold onto them better. Just reduce the baking time a bit. Hope you enjoy these great fall treats!

Cinnamon Apple Streusel Bars
Source: Favorite Brand Name All New Bake Sale Cookbook

Ingredients:
1 1/4 cups graham cracker crumbs
1 1/4 cups all purpose flour
3/4 cup packed brown sugar, divided
1/4 cup granulated sugar
1 tsp. cinnamon
3/4 cup butter, melted
2 cups chopped apples (2 medium apples, cored & peeled)

Glaze:
1 tbsp. Milk
1/2 cup powdered sugar

Directions:
Preheat oven to 350 degrees. Grease a 13 x 9 inch baking pan. combine graham cracker crubs, flour, 1/2 cup brown sugar, granulated sugar, cinnamon & melted butter in large bowl until well blended. Reserve one cup of this mixtures and set aside. Press remaining crumb mixture into bottom of prepared pan. Bake for 8 minutes. Remove from oven & set aside.
Toss remaining 1/4 cup brown sugar with apples in a medium bowl until sugar is dissolved. Arrange apples over the baked crust. Sprinkle the reserved crumb mixture over the filling. Bake 30-35 minutes or until apples are tender. Remove pan to wire rack to cool completely. Combine powdered sugar & milk in a small bowl & drizzle over top of apple bars. Cut & Serve.