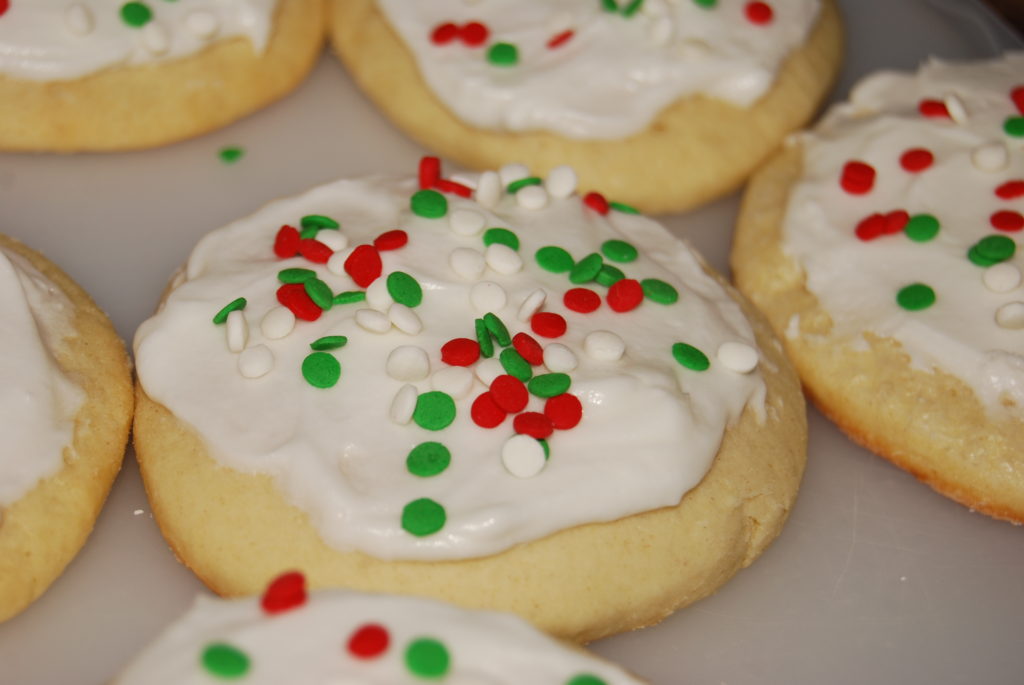 It's the most wonderful time of the year….It's COOKIE time!! I bet you thought I was going to say Christmas time! 🙂 I absolutely love cookies, as I'm sure you can tell as it's the most frequent dessert that I post here. I just love how many variations you can make! So I especially love Christmas time because it gives me an excuse to bake a lot of cookies! I have put my favorite Christmas cookies on the sidebar so be sure and check that out for some Christmas baking ideas.
Now onto these Lofthouse grocery store cookies. You know the ones…the cakey ones with the seasonal colored frosting on them…they call to me everytime I walk past them. My first encounter with these was for our single girls Valentine's Party in college, one bite & I was smitten. I have loved them ever since. I've actually had this recipe for a while but had forgotten about it until Jenna of Eat, Live, Run recently posted a similar recipe and jogged my memory. I knew I had to finally try them. These were fantastic! I do recommend letting them sit overnight or at least a few hours before serving so that the icing sets and all the flavor can set in. Adam doesn't even like those cookies from the grocery store & I can't keep him out of these! Great for any holiday because you can customize the colors or sprinkles to suit. Also, I made the entire recipe, but then froze half of the dough so I can bake those off & ice them during Christmas.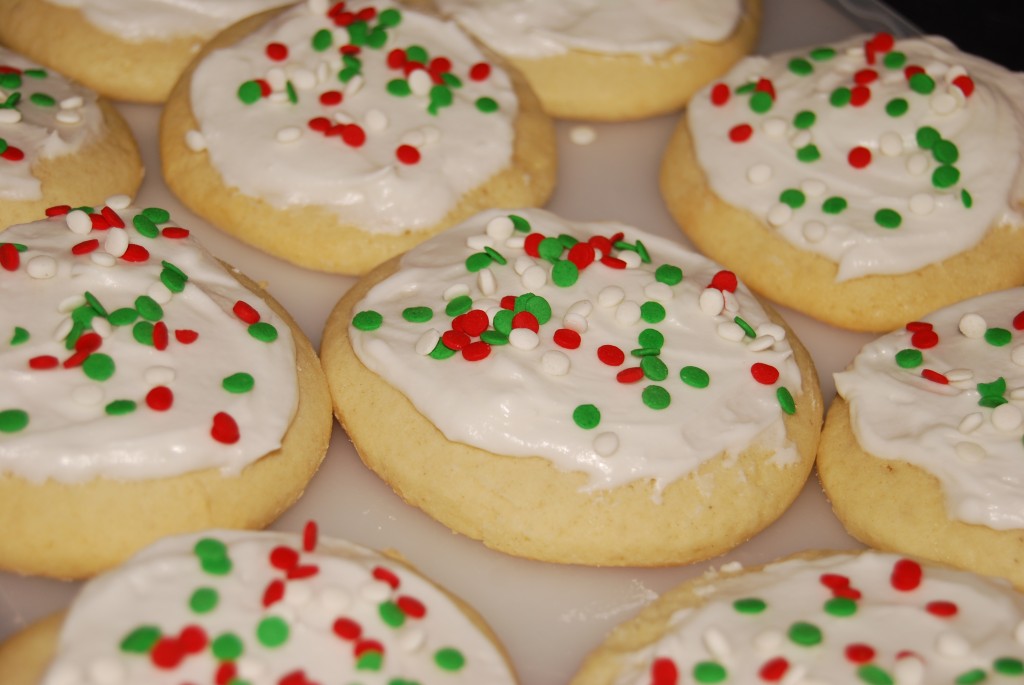 Lofthouse Grocery Store Sugar Cookies
Source: Recipesecrets.net
Yields: 4 dozen cookies
Ingredients:
1 cup unsalted butter, softened
2 cups granulated sugar
3 eggs
1 teaspoon vanilla extract
1 teaspoon baking soda
1 teaspoon baking powder
1 1/2 cups sour cream
5-6 cups flour (until desired consistency for rolling)

Directions:
In a medium sized bowl, whisk together baking soda, baking powder & 5 cups flour, set aside.
In the bowl of a stand mixer, cream together butter & sugar until light & fluffy. Add in eggs one at a time, mix until incorporated. Mix in sour cream. Place mixer on low speed and add in flour mixture a little at a time, until all is fully incorporated. If dough does not seem the right consistency to roll, add a little more flour a 1/4 cup at a time, adding no more than 1 cup additionally. Dough will still be sticky. Divide dough into two balls and wrap with plastic wrap. Refrigerate overnight.
Preheat oven to 425 degrees. Line baking sheets with parchment paper.
Liberally flour your rolling area. Roll out dough to 1/4 inch thickness, flouring generously. Dough will be very sticky. Using a round cookie cutter, cut out circles & place them on baking sheet. Bake for 8 minutes, until pale golden. Cool on wire rack. Once cool, frost & decorate. Allow frosting to set then store in an air tight container and allow cookies to sit for a few more hours before serving for the flavors to develop further.

For the Frosting
Ingredients:
4 cups confectioners sugar
1/2 cup shortening
5 tbsp. milk
1 tsp. vanilla extract (use clear vanilla if you are leaving frosting white)
food coloring (optional)

Directions:
In the bowl of a stand mixer, mix together the confectioner's sugar & shortening. Gradually add in the milk until incorporated. Mix in vanilla. Beat until smooth & creamy, approximately 5 minutes. Add food coloring if desired.