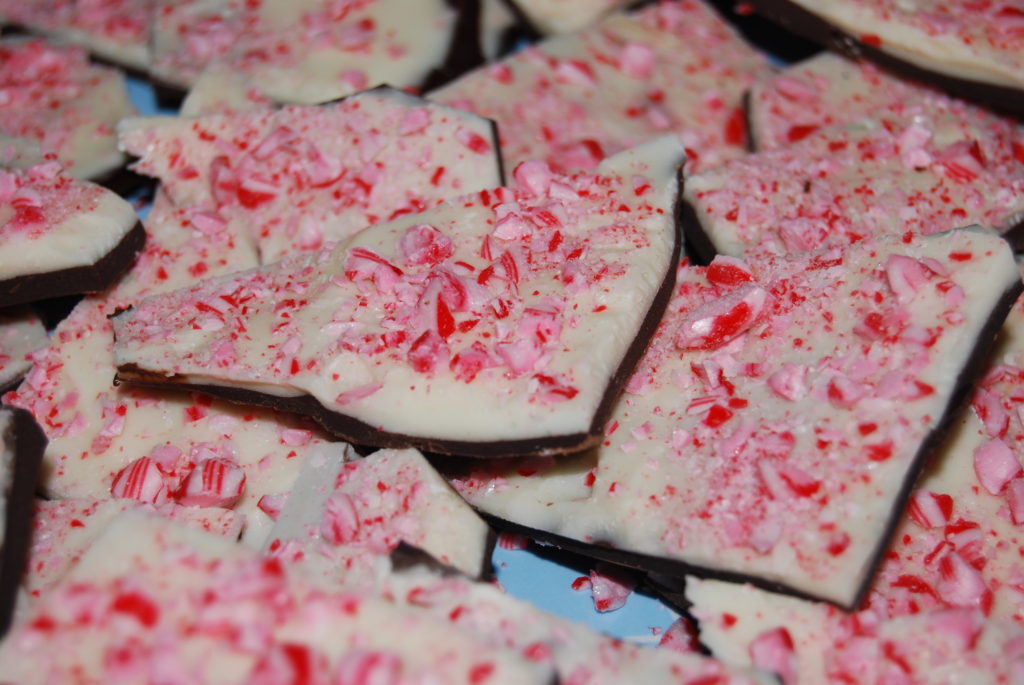 I've been wanting to make peppermint bark for the last two or three Christmas seasons but just have never got around to making it for some reason. This year I was determined and made it for a Christmas gathering. I can not even tell you how many people came up to me to tell me how wonderful it was and how smooth & creamy & delicious it was, or asked me for the recipe. Make this for a holiday gathering or give away as a treat and your friends will be loving you!
Peppermint Bark
Source: The Novice Chef, originally found on Good Things Catered
Ingredients:
17 oz. semi-sweet or dark chocolate, finely chopped*
17 oz. white baking chocolate, finely chopped*
1 tsp peppermint extract
6-8 large or 1 box mini Candy Canes crushed/chopped
Directions:
Take a 9×13 baking sheet and line it with foil. Spray lightly with cooking spray. Set aside.
Place a pot of water over low heat and place a double boiler on top. Pour in your semi-sweet or dark chocolate into the bowl of your double boiler. Allow chocolate to slowly melt, stirring occasionally until smooth & glossy. Once smooth, remove from heat and stir in peppermint extract.
Spread chocolate onto baking dish. Chill in refrigerator until soft set, approximately 30 minutes.
Meanwhile, chop your candy canes. I placed my candy canes in a ziploc bag and then smashed them so the pieces would be small, but you could also use a food processor.
Using a clean double boiler, over low heat melt the white chocolate until smooth. Once smooth stir in a small amount of the powder left over from the crushed candy canes. Remove baking sheet from refrigerator and spread white chocolate over the chocolate. Liberally sprinkle the candy cane pieces over top.
Return baking sheet to refrigerator to set for at least 3 hours. Once set, remove from refigerator and peel off foil. Break bark into pieces & serve.
*Note: I used mostly chocolate chips for these and they melted great & created a very smooth chocolate.