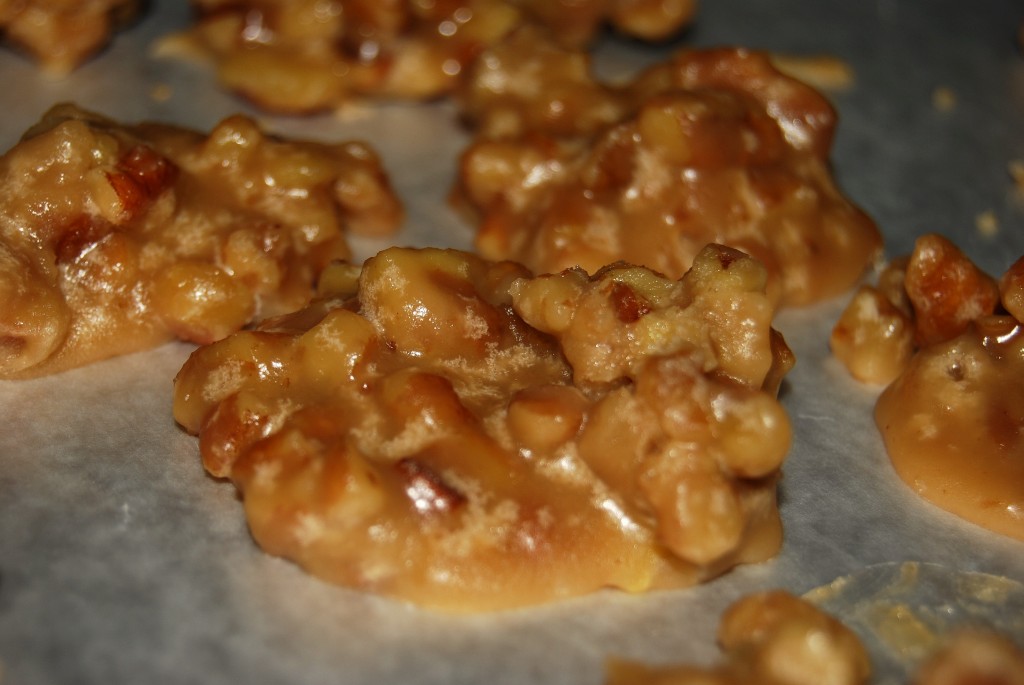 I have been wanting to make pralines for a couple of years now, but they haven't ever made it to my list for holiday baking, so this year I was determined to make them. These were good, but a tad on the sweet side. I recommend reducing the sugar just a tad to 1 cup or 1 1/4 cup instead of 1 1/2 cups (I reflected this in the recipe below). I would definitely make these again, but would make the sugar adjustment and maybe add a pinch of salt to enhance the flavors. They did have a great texture and flavor, but were very rich. I used some of the recommendations on
allrecipes.com
and placed the pan in an ice water bath so the pralines reached the correct consistency and that helped tremendously. If your mixture hardens too much while you are spooning it out, just heat it back up for a minute or two. These are great for treat bags for the holidays. Merry Christmas everyone!!

Ingredients
1 1/2 cups chopped pecans (toast if desired)
1 to 1 1/4 cups white sugar
3/8 cup butter (6 tbsp.)
3/4 cup light brown sugar
1/2 cup milk or half & half
1 teaspoon vanilla extract
Optional: 1/4 tsp. salt
Directions:
Line a baking sheet with wax paper, set aside.
In a large saucepan, combine pecans, sugar, butter, brown sugar, milk & vanilla over medium heat. Using a candy thermometer, heat until mixture reaches the soft ball stage (235 degrees F).
Meanwhile, in a large bowl, make an ice water bath large enough to place the pan in.
Once the sugar mixture reaches the desired temperature, place pan in the ice water bath and stir constantly until mixture slighlty thickens and becomes light in color. Quickly drop by spoonfuls onto wax paper. Allow to cool completely. Store in an airtight container.