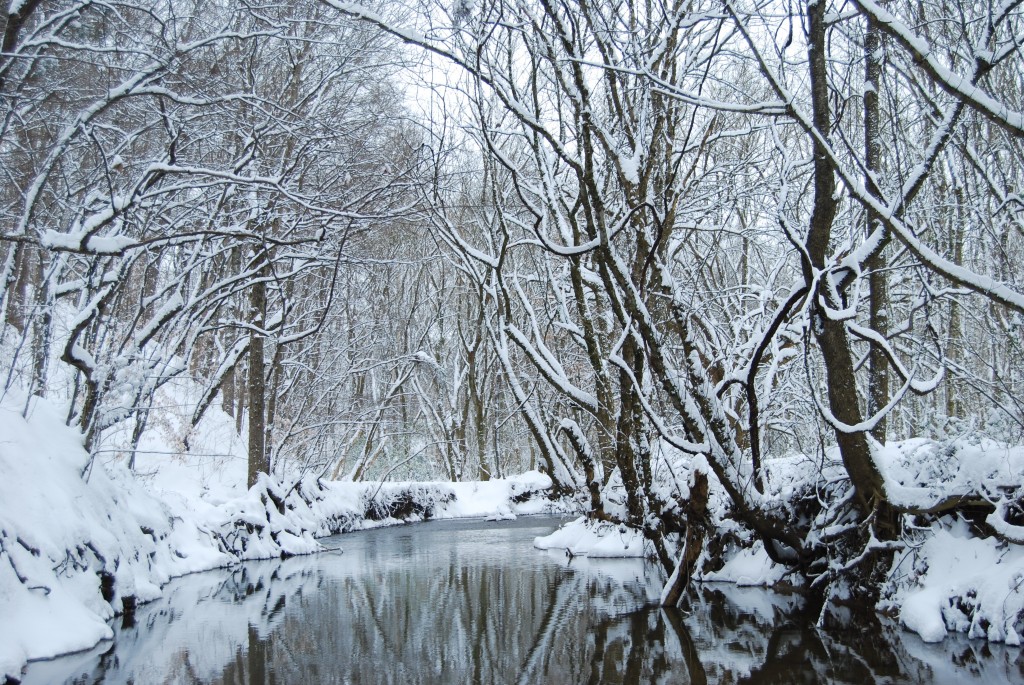 Monday morning we woke up to about 8 inches of snow, this is considered a blizzard where whe live! I actually woke up at 3am & saw the snow and was so excited I had trouble going back to sleep! It doesn't snow all that much here so it's super exciting! We spent the day sledding and making a snow sculpture (picture at the bottom)!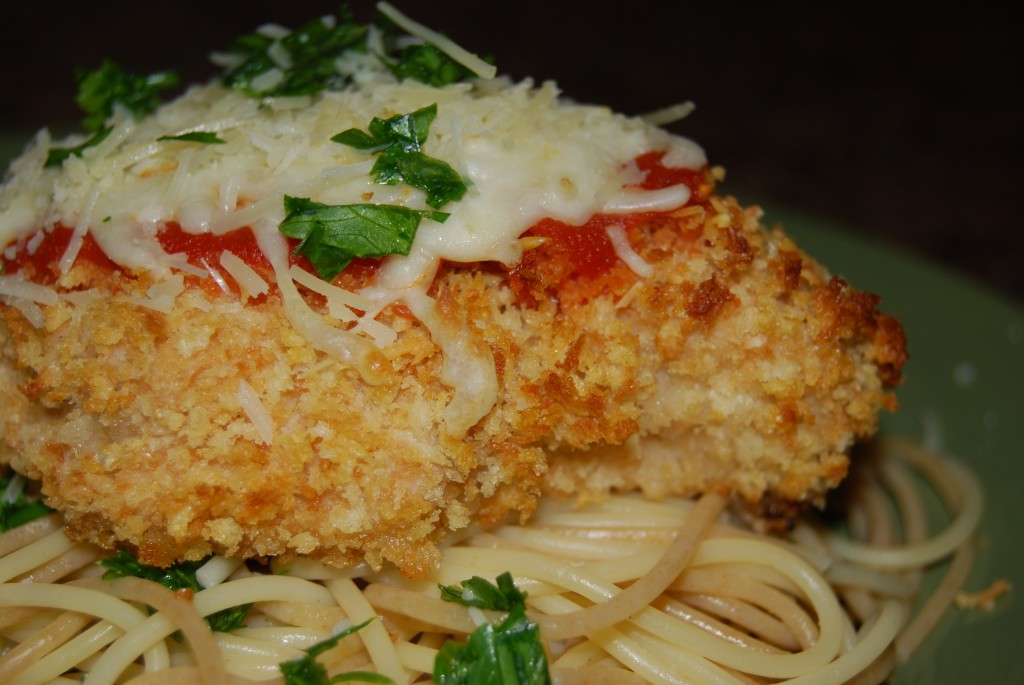 I knew we needed a comforting dish to warm us up after playing outside, so I thought Chicken Parmesan would be perfect. I've never really had Chicken Parmesan before, but Adam is well versed in the realm of Chicken Parm. He said this is one of the best, if not the best Chicken Parm he's ever had. He loved that it was baked and not greasy, but crunchy. This was savory and comforting and fabulous! Love that it's lighter in calories by using the egg whites and baking instead of pan frying. I forgot to mix the parmesan in with the breadcrumbs so I just sprinkled it on top which worked great as well. Also, I urge you to use the real shredded parmesan (you can buy it in a jar) and not the shake kind in the can. Makes a big difference I think.
Chicken Parmesan
Source: Annie's Eats, adapted from Brown Eyed Baker, originally from Cook's Illustrated, October 2006Ingredients:
1 1/2 cups panko breadcrumbs
1 tbsp. olive oil
1/2 cup grated or shredded Parmesan cheese, plus extra for serving (if you use shredded either pulse in food processor or crumble a bit with your hands)
1/2 cup all-purpose flour
1 1/2 tsp. garlic powder
salt and pepper
3 large egg whites
1 tbsp. water
vegetable cooking spray
2 large boneless, skinless chicken breasts, butterflied and cut into halves (4 pieces total)
2 cups marinara sauce, warmed
about 1/2 cup shredded mozzarella cheese
1 tbsp. chopped flat leaf parsley
Directions:
Place your oven rack to the middle position. Preheat oven to 475 degrees. Place breadcrumbs in a large skillet and add olive oil. Toast over medium heat until lightly golden brown, stirring often (approximately 10 minutes). Remove from heat and place in a shallow bowl and allow to cool slightly. Once cool, stir in the Parmesan.
In another shallow bowl, whisk together flour, garlic powder, 1 tbsp. salt (yes a tablespoon), 1/2 tsp. pepper. In third shallow dish whisk together water & egg whites.
Line a baking sheet with alumnium foil and spray cooking spray. Pat chicken dry with paper towels. Take each piece of chicken and dredge each piece first in the flour, then the egg white, and lastly the breadcrumbs, making sure chicken is fully covered. Place chicken on prepared baking sheet.
Bake chicken approximately 15 minutes. Remove from oven and spoon approximately 2 tbsp. marinara sauce over chicken & top with 2 tbsp. mozzarella. Bake chicken for 5 minutes more until cheese is melted. Top with chopped parsley, parmesan & additional marinara. Serve over spagetti noodles.