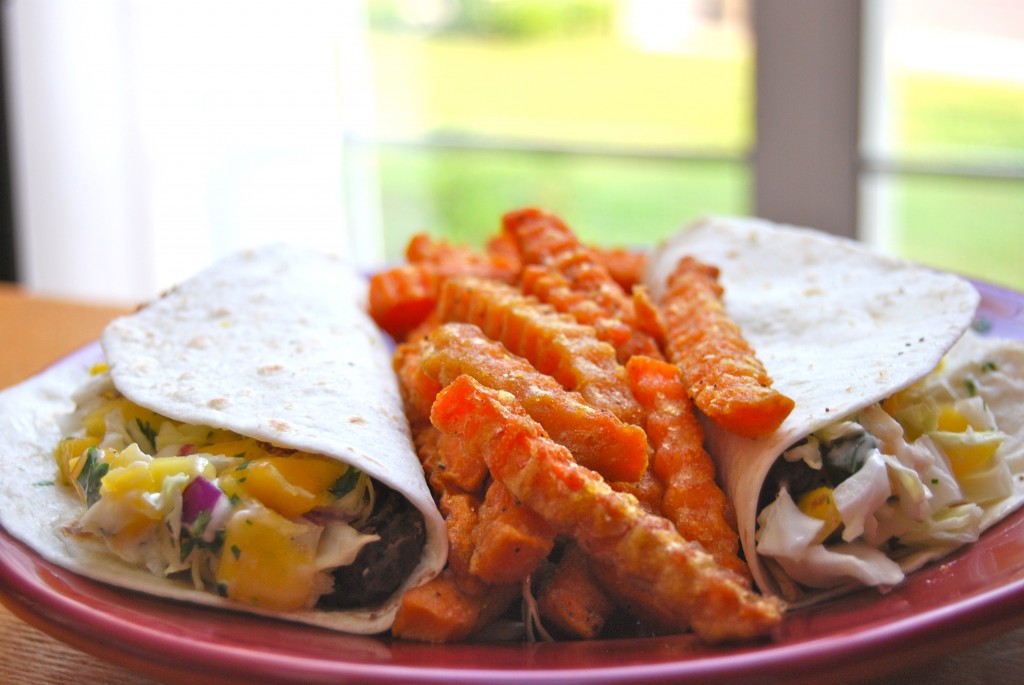 Caribbean Jerk Chicken Tacos
Source: Inspired by Taco Mamacita & adapted from Bobby Flay's recipe
Makes enough for approximately 6-8 small tacos depending on how full you fill them
Ingredients:
For the Chicken:
2 large chicken breasts, cooked & shredded
2-3 tbsp. extra virgin olive oil
1 tbsp. brown sugar
1 tbsp. chili powder
1/2 tsp. all spice
1/4 tsp. cinnamon
1/4 tsp. nutmeg
1/4 tsp. kosher salt
1/4 tsp. freshly ground black pepper
1/4-1/2 tsp. ground red pepper
1/4 tsp. garlic powder
1/4 tsp. ground ginger
2 tbsp. red wine vinegar
Juice of 1 Lime
For the Black Bean Mash:
1/4 cup chopped red onion
2-3 tbsp. olive oil or Mojo Marinade
1 Can Black Beans, slightly drained
1/4 tsp. garlic powder
Juice of 1/2 lime
For the Sour Cream:
1/4 cup light sour cream
1/4 tsp. ground red pepper
Juice of 1/2 lime
1/2 tbsp. chopped cilantro
For Assembly:
Small Flour Tortillas
Black Bean Mash
Chopped Cabbage
Jerk Chicken
Sour Cream Mixture
Mango Cilantro Relish (Recipe Below)
Additional Cilantro for Topping
Directions:
For the Chicken:
In a large skillet, heat 1 tbsp. olive oil over medium heat. Reduce heat to medium low. Add chicken and all seasonings. Stir to combine. Add in lime juice, red wine vinegar and 1-2 more tbsp. of olive oil (depending on how moist it is). Stir to combine and cook until chicken is heated through. Add more olive oil if chicken needs more moisture.
For Black Beans:
In a medium sized pan, add 1 tbsp. olive oil over medium heat. Add onions and saute for 2-3 minutes. Reduce heat to medium low. Pour in black beans and add in garlic powder and additional olive oil or Mojo Marinade. Stir to combine and allow to cook down until most of the liquid is dissolved. Mash with the back of a spoon. Keep on low heat until ready to use. Right before you use it add a squeeze of lime and stir to combine.
For Sour Cream:
Stir together sour cream, red pepper, lime juice & cilantro. Set aside until ready to use.
For Assembly:
Begin with a flour tortilla, spread a thin layer of the black bean mash across the center of the tortilla. Top with chicken, then cabbage, then sour cream mixture, then mango cilantro relish. Top with more cilantro if desired. Roll up & enjoy!
*Tip: I would make the mango relish and sour cream ahead of time and then cook the chicken & black beans at the same time so everything is ready all at once. While they are cooking, chop up your cabbage & additional cilantro.

Mango Cilantro Relish
Source: Joelen's Culinary Adventures recipe adapted from Bobby Flay
Ingredients:
2 mangoes, peeled and diced
1/4 cup finely chopped red onion
2 tablespoons chopped cilantro
3 tablespoons lime juice
3 tablespoons fresh orange juice
Salt and freshly ground pepper
Directions:
Combine the mangoes, onion, cilantro, lime juice, and orange juice in a bowl and gently mix. Season to taste with salt and pepper. This relish can be made ahead of time.