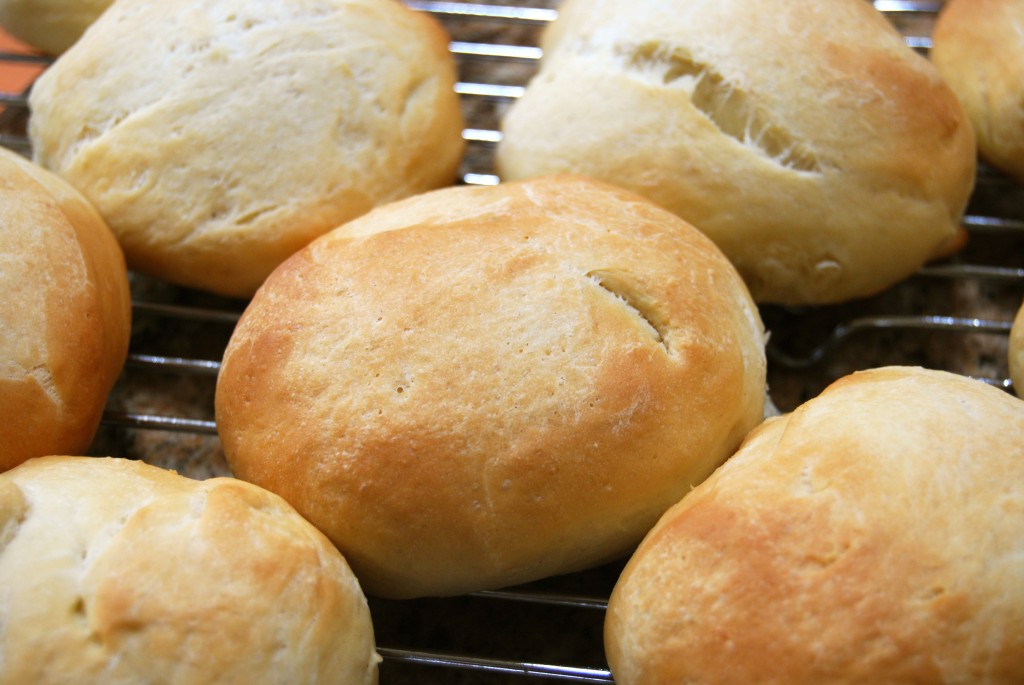 I have been wanting to try my hand at homemade hamburger buns for quite some time. I know its much easier to buy them at the store, but these really beat out any kind you will find at the store, I promise! They were soft and had a slight sweetness to them but still held together for the most part. I put a lot of condiments on my burger so mine was kind of messy-that's the best way to eat a burger though! This is a process but it was so fun to make the dough and then let it rise and I felt so accomplished afterwards. I actually made these a week or so ago and then froze them and thawed them out for hamburgers this past Sunday night. Still tasted great. I do think they are probably best fresh but still really good after freezing too.
Oh, and these also make great sandwich buns for chicken salad or any other fillings.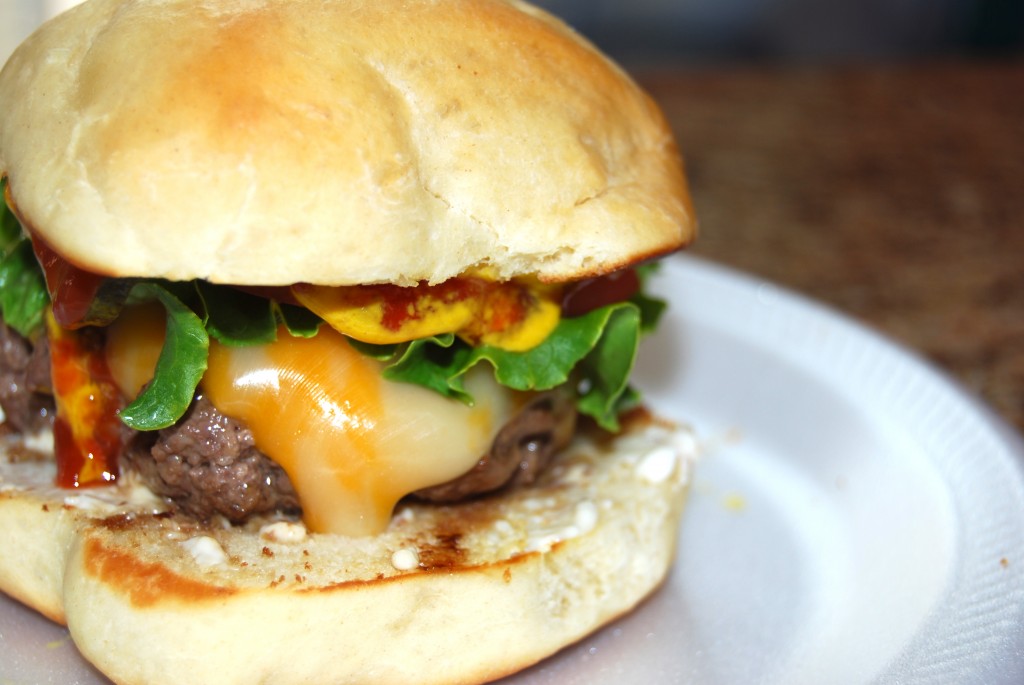 Homemade Hamburger Buns
Source: Tracey's Culinary Adventures, orignally found on King Arthur Flour
Makes 12 Rolls
Ingredients:
2 tablespoons unsalted butter, softened
1 large egg
3 1/2 cups all-purpose flour
1/4 cup sugar
1 1/4 teaspoons salt
1 tablespoon instant yeast
3/4 – 1 cup warm water (about 110 F)
Topping
3 tablespoons unsalted butter, melted
Directions:
In the bowl of a stand mixer, using the dough hook attachment, add the butter, egg, flour, sugar, salt, yeast and 3/4 cup water. Stir on low speed until a rough dough forms. Continue stirring on low speed, approximately 5-7 minutes until dough is soft and smooth. Add remaining 1/4 cup water if dough seems too dry (should be no bits of flour on the bottom). Slowly add the water until dough clears the sides but sticks to the bottom of the bowl.
Spray a large bowl with cooking spray, then add the dough to the bowl, turn the dough to coat all sides with the cooking spray. Cover with plastic wrap and allow dough to rise until it is doubled in size, approximately 1 1/2 hours.
Cover baking sheet with parchment paper or silicone mat, set aside.
Once dough has risen, turn it out onto a lightly floured surface and press gently to deflate. Divide into 12 equal pieces for smaller rolls or 8 pieces for larger ones. Shape each piece into a ball and place on prepared baking sheet. Flatten each ball into a disk 3 inches in diameter. Cover and let rise until the dough is puffy, approximately one hour.
Preheat oven to 375 degrees. After dough balls have risen, brush the tops with half of the melted butter. Bake rolls for 15-18 minutes until lightly golden brown. Transfer rolls to cooling rack and brush rolls with remaining butter. Let cool.
Cut rolls in half with a serrated knife and place each half face down on a hot grill or skillet sprayed with cooking spray for about 30 seconds, or until seared slightly and warmed.