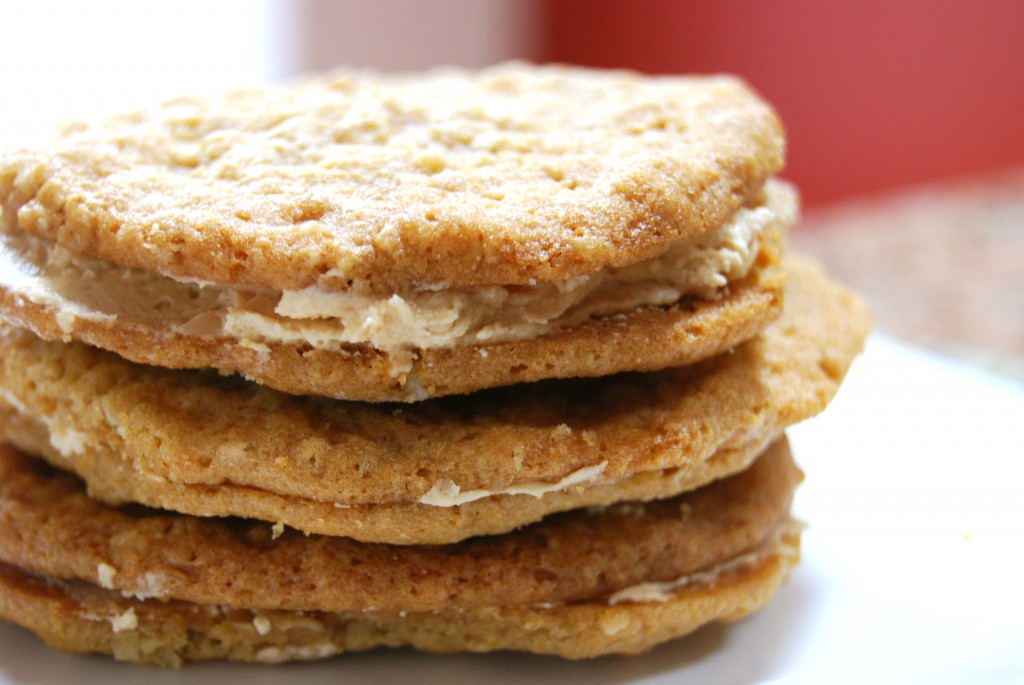 OH MY WORD!!! These are absolutely phenomenal! I could've eaten like the entire batch of these cookies. They are irresistibly melt in your mouth delicious! They are the kind of cookies that immediately evoke an uncontrollably "mmm" immediately after you take a bite. Everyone, and I mean everyone that had these was asking me to bring them the recipe. I could've eaten the icing alone with a spoon. Please make these as soon as possible and everyone will think you are a domestic goddess!
I halved this recipe and got about 15 or so sandwich cookies (full recipe is below). I do recommend using a small 1.5 inch cookie scoop for these and then as they bake they spread to be larger. I tried a batch starting with a smaller scoop and they were too thin. I think the thing to do is keep them large and then once you sandwich them slice them in half vertically for serving. They are really rich so some might just want half…or they'll feel better about eating two halves instead of one whole!:)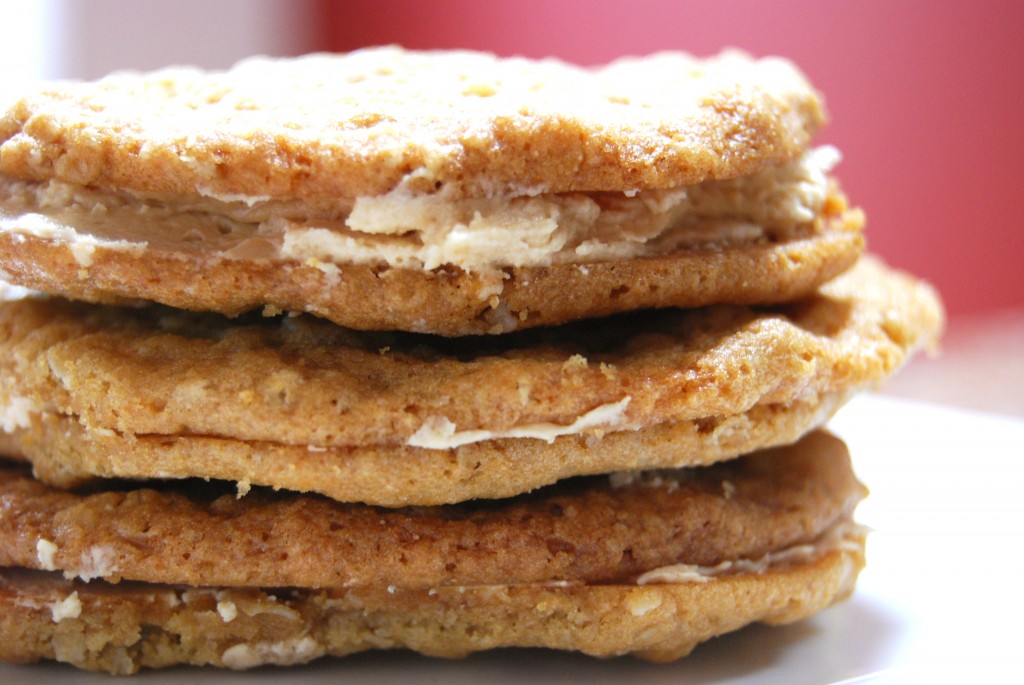 Homemade Nutter Butter Cookies
Source: Erin Cooks, Adapted from the Bouchon Bakery's "Nutter Butters" recipe originally published by The New York Times.
Yield: 24 large cookies
For the cookie dough:
2 cups all-purpose flour
2 teaspoons baking powder
4 teaspoons baking soda
1 pound (4 sticks) butter, at room temperature
2/3 cup creamy peanut butter, preferably Skippy
1 cup granulated sugar
1 cup firmly packed light brown sugar
2 large eggs
1 1/2 teaspoons vanilla extract
2 1/2 cups quick-cooking oats
For the filling:
1/2 pound (2 sticks) butter, at room temperature
1 cup creamy peanut butter, preferably Skippy
3 1/3 cups confectioners' sugar.
Directions:
For cookie dough:
In a large bowl whisk together flour, baking powder & baking soda. Set aside.
Line baking sheets with parchment paper or silicone baking mat & set aside.
In the bowl of a stand mixer fitted with the paddle attachment, cream together butter & peanut butter until combined. Add in sugar & brown sugar and beat at medium speed for 4 minutes, making sure to scrape down the bowl twice.
Reduce speed to low and add in eggs & vanilla until well incorporated. Slowly add in flour mixture until well mixed. Add in oats and mix until incorporated. Chill dough for 20-30 minutes.
Preheat oven to 350 degrees.
On your prepared baking sheet, scoop out balls of dough with a 1 1/2 to 2 inch cookie scoop and place on baking sheet at least 3 inches apart. Bake approximately 10-12 minutes until cookies have spread and are light golden brown. Remove from oven and let cool on baking sheets for 5-7 minutes. Transfer to cooling rack to cool completely.
For Filling:
In the bowl of a stand mixer cream together butter, peanut butter & confectioners' sugar until light, fluffy & very smooth, at least 2-3 minutes.
To make the sandwiches, spread a layer of icing on the underside of a cookie and top with another cookie. Enjoy! Bet you can't eat just one!;)