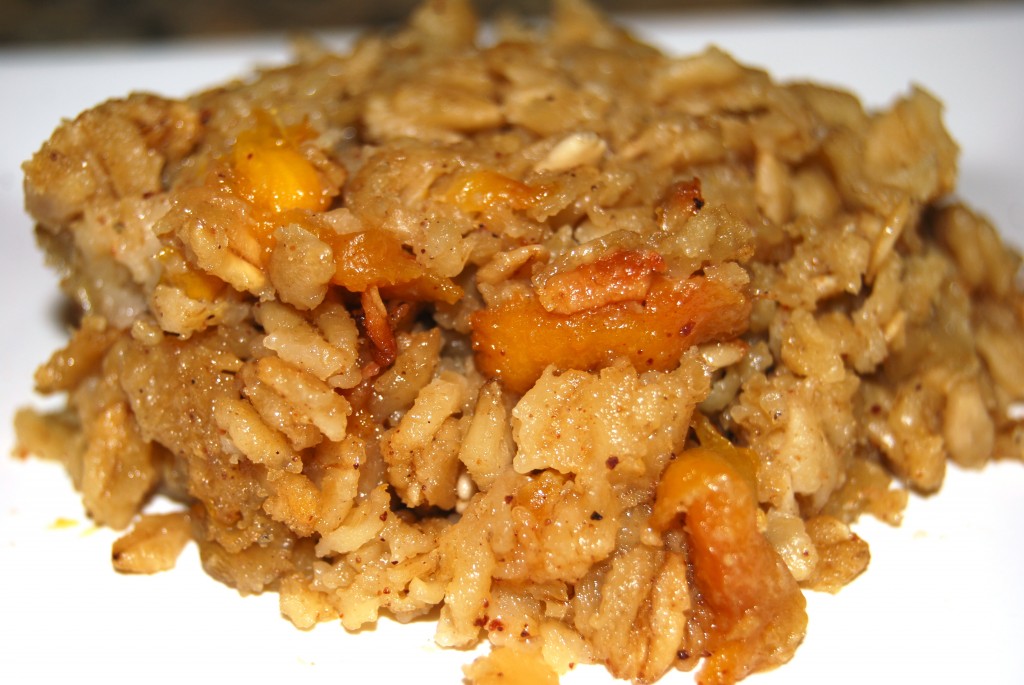 As I've posted
before
, I am not a huge fan of oatmeal. I have come to tolerate it some, but it's definitely not my favorite. So I thought baked oatmeal would be a nice alternative. After getting some wonderful peaches at a local produce spot, I thought it would be great to add in peaches. It turned out great! It's moist and the peaches added wonderful flavor and texture. It kind of tastes like a cookie. The great thing about the base baked oatmeal recipe is you can add most any thing to it instead of the peaches: blueberries, strawberries, nuts and I think chocolate chips would be great too! What I really love about this is that you make it the night before, refrigerate and just pop it in the oven in the morning. That works out great for those of us (me!) that aren't morning people. Are a morning person or night owl? I'm a night owl all the way.

Baked Oatmeal with Fresh Peaches

Source:
Food.com
Ingredients:
1/3 cup butter
2 large eggs
3/4 cup brown sugar
1 1/2 tsp. baking powder
1 1/2 tsp. vanilla
1 tsp. nutmeg
Pinch cinnamon
1/4 tsp. salt
1 cup milk
2 tbsp. milk
3 cups oatmeal (regular or quick)
2 medium sized peaches, peeled & diced
Directions:
In a small bowl melt butter in microwave in 30 second intervals until completely melted.Spray a 2 quart baking dish with cooking spray. Drop eggs into baking dish and beat well. Add in brown sugar, baking powder, vanilla, nutmeg, cinnamon, & salt. Whisk together until fully incorporated with no lumps. Whisk in melted butter and both measures of milk. Stir in peaches, distributing evenly. Add in oats and stir until all are moistened. Cover and refrigerate overnight.Bake at 350 degrees, uncovered, for 35-45 minutes until set in the middle. Serve warm. (Baked oatmeal will be slightly crumbly).