What better way to celebrate Labor Day Weekend than with an All-American meal of burgers and fries? I was trying to think of a way to amp it up from our usual version and I thought I need to make our own buns.  I made our own buns earlier this year but I opted to go with a honey-wheat flavor this time.  I think I have found my new go-to bun recipe! These are soft but stable enough to hold a burger without falling apart.  Great flavor from the honey as well.  I used white-wheat flour which helped the buns to not be too nutty tasting.  These would also be great for bbq chicken, black bean burgers, veggie burgers or  your favorite sandwich.  Since it was also the opening weekend of college football, I opted to make this into slider buns for more of a gameday feel.  I also made a few regular sized ones to freeze for our next burger craving.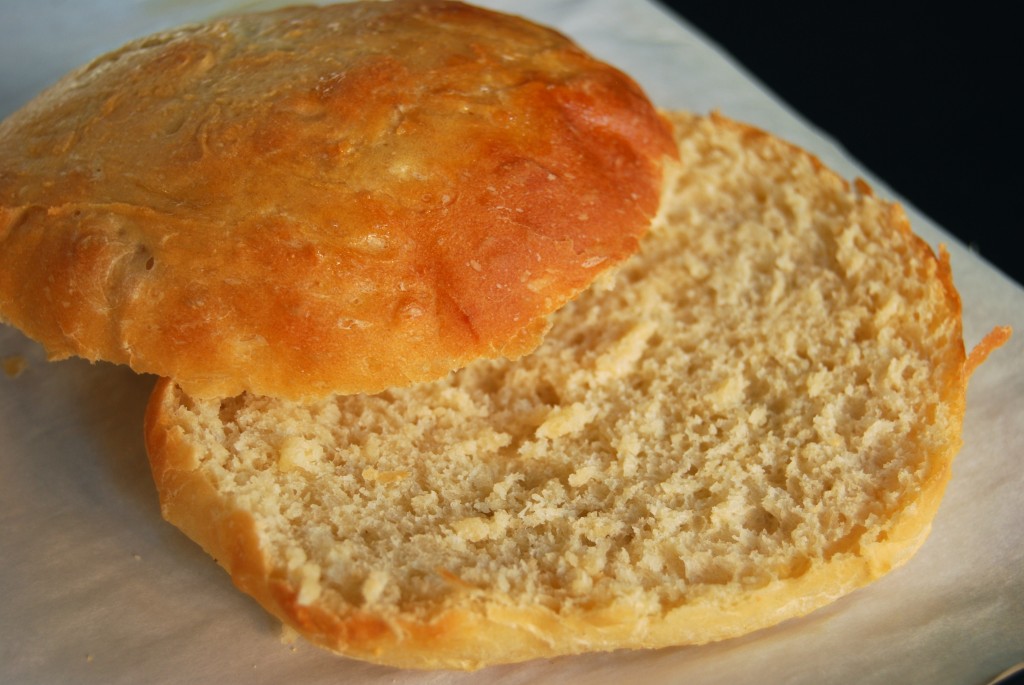 Honey Wheat Hamburger Buns
Source: Annie's Eats
Ingredients:
1 1/4 cups milk, warmed
2 1/4 tsp. instant yeast
2 cups bread flour, plus 1/4 cup more if needed
1 cup white wheat flour
1/2 tsp. salt
1 egg, room temperature
1/4 cup honey plus 1 tbsp.
1 tbsp. butter, melted
Directions:
Add milk to a liquid measuring cup.  Heat in microwave until warm (about 20 seconds). Sprinkle in yeast and stir to dissolve.
In the bowl of a stand mixer using the paddle attachment, add in bread flour (just 2 cups), white wheat flour, and salt.  Mix on low speed just until incorporated.  Add in the milk mixture, egg and 1/4 cup honey.  Mix on low speed until a soft dough forms.
Switch to the dough hook attachment.  Knead dough on low speed until dough is smooth and tacky and clears the sides of the bowl but isn't overly sticky.  Add extra flour 1 tbsp. at a time if dough is too sticky.  Lightly oil a large bowl (or spray with cooking spray).  Transfer the dough to the oiled bowl and turn to coat. Cover bowl with plastic wrap and let rise until doubled in size, approximately 1 1/2 to 2 hours.
Line two baking sheets with parchment paper, set aside.
After dough has risen, turn dough out onto a lightly floured parchment or work space.  Gently deflate dough and divide into 9 equal sections (or 18 if making sliders). Roll dough into balls and flatten slightly.  Place dough rounds onto prepared baking sheets, several inches apart.  Cover lightly with a kitchen towel and allow to rise for approximately 1 hour, until doubled in size.
Preheat oven to 350 degrees.  Melt butter in a microwave and then stir in 1 tbsp. of honey.  Lightly brush the top of each bun with the melted butter mixture. Bake for approximately 14 minutes, rotating the pans halfway through, until buns are golden brown and sound hollow when tapped.  Allow buns to set on the baking sheet for a few minutes. Transfer to cooling rack to cool completely. Slice horizontally with a serrated knife and serve with your favorite sandwich topping.