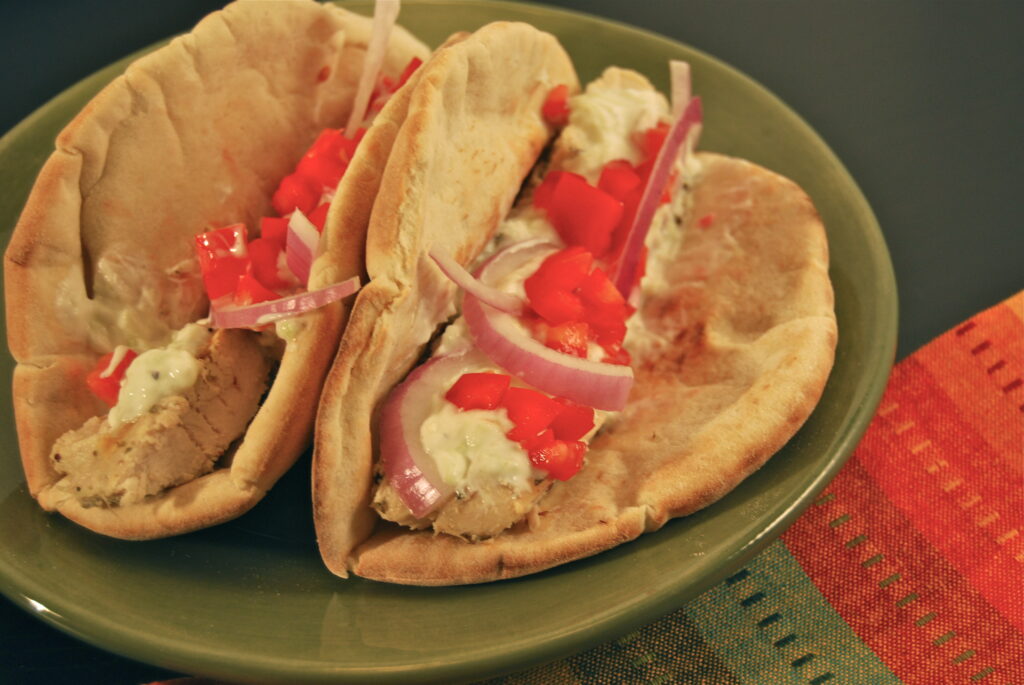 I read about these Chicken Gyros several years ago and they were all the rage on several blogs, but for some reason I never got around to making them.  I was searching for some healthier recipes and remembered these and thought they sounded like a fun, easy & healthy dinner.  I was planning to make my own pitas, but I was a bit tired so I opted for store bought this time. Next time I make these I will definitely make my own pitas and let you know how that turns out. These turned out great and I actually ended up adding the black beans I was going to serve on the side to the pitas and it paired so nicely! The great thing about this meal is you can make so much of it ahead of time and then cook the chicken & assemble and you're ready to eat!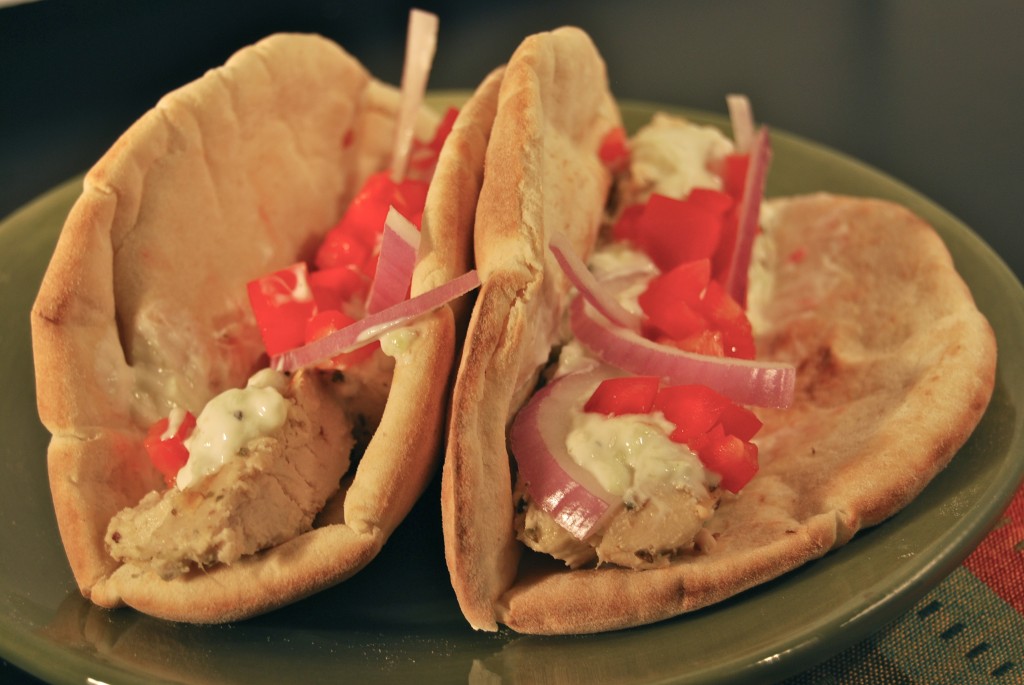 Chicken Gyros
Source: Annie's Eats, originally from Elly Says Opa
Ingredients:
For the Tzatziki Sauce:
16 oz. plain yogurt (not nonfat)
1 cucumber, peeled & grated
2 cloves minced garlic
1 tsp. white wine vinegar
Salt & Pepper
Squeeze of Fresh Lemon Juice
Extra Virgin Olive Oil
For the Chicken:
4 cloves minced garlic
Juice of 1 lemon
2 tsp. red wine vinegar
2 tbsp. Extra Virgin Olive Oil
2 heaping tbsp. plain yogurt
1 tbsp. dried oregano
salt & pepper
1 1/4 lbs. boneless skinless chicken breast
For Assembly:
Pita Bread
Fresh tomatoes, diced
Red onion, sliced thin
Directions:
For the Tzatziki Sauce:
Place a thick paper towel or cheesecloth in a mesh strainer and place strainer over a bowl.  Put the 16 oz. of yogurt in the strainer and strain yogurt for several hours or overnight, draining off as much liquid as possible. When ready to make the sauce, remove yogurt from strainer and add to a medium sized bowl.
Shred the cucumber (I used a grater or you could use a food processor).  Wrap shredded cucumber in a towel and squeeze out as much water as you can.  Add the cucumber, garlic, white wine vinegar, and lemon juice to the yogurt.  Add in salt & pepper to taste.  Stir to combine then drizzle lightly with olive oil. Refrigerate for 30 minutes to allow the flavors to marry.
For the Chicken:
In a medium sized bowl, stir together the garlic, lemon juice, red wine vinegar, olive oil, yogurt, and oregano.  Add salt & pepper to taste and whisk until all ingredients are fully incorporated. Add in the chicken to the marinade, ensuring that it is well coated. Cover and refrigerate for approximately 1 hour.
Cook the chicken by either grilling it or cooking it in the skillet.  Once the chicken is cooked through, allow it to rest for 5 minutes.   Cut the chicken into thin strips.
For assembly:
Heat pitas either in the microwave or briefly in the oven. Top each pita with the chicken, tzatziki sauce, tomatoes & red onions.  Enjoy!