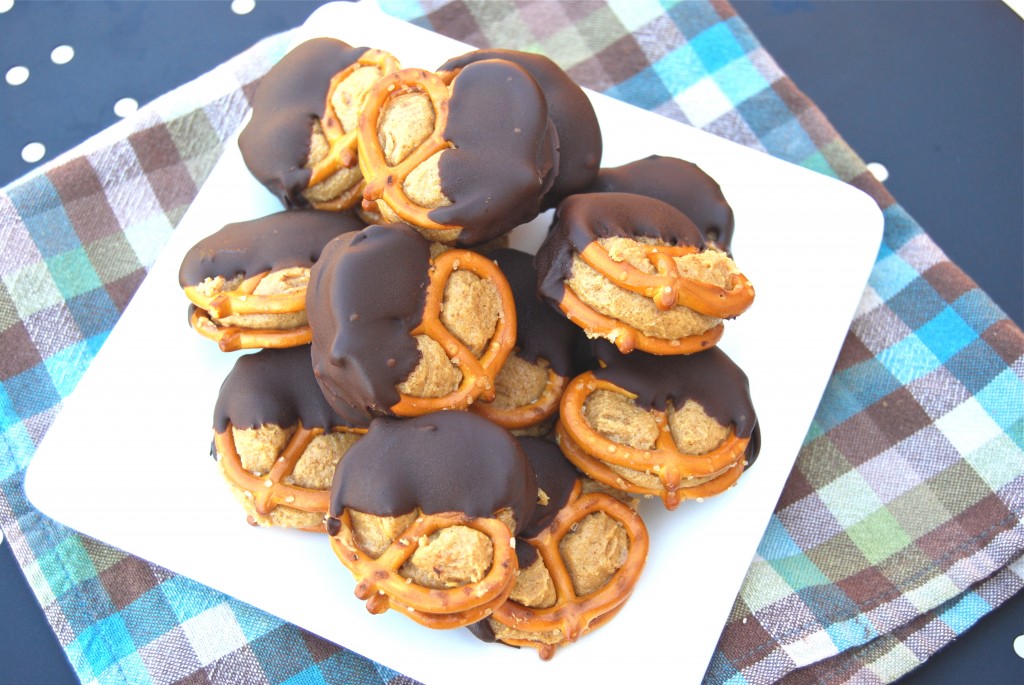 Don't you just love Pinterest?? What a great way to store all of my ideas in one place AND get inspiration from others!! Genius! Oh and I'm MacCheesecake on there in case you were wondering. Anyway, I found this recipe on Pinterest and thought it looked so fun and when Adam said he needed me to make something for his work tailgate party I thought this would be a big hit.  I was right! He called me afterwards and said people were raving over them! The center is basically the peanut butter part of a buckeye candy that is smashed between pretzels and dipped in chocolate!! What could be better than that?!? These were SO good and highly addictive! Let me tell you I'm glad he took these to work or I would've eaten way too many to count, I'm sure.  You do need to store these in the fridge until ready to serve so the chocolate doesn't melt, so keep that in mind.  These are fabulous and would be great for a party or to give away during the holidays.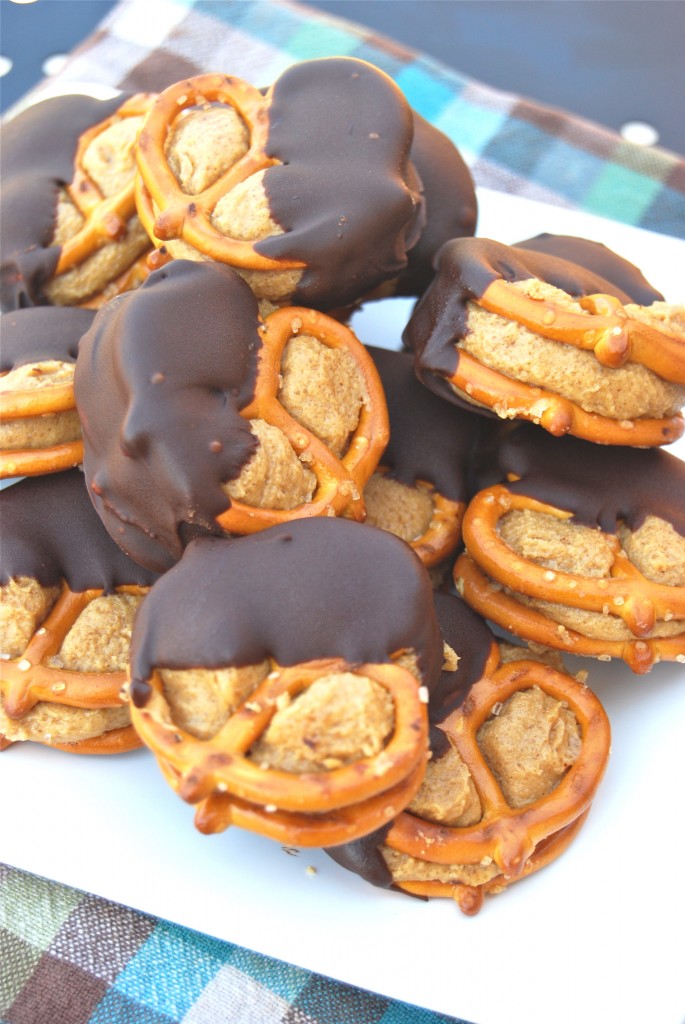 Peanut Butter Pretzel Bites
Source: Two Tiny Kitchens, originally from Foodaphilia
Makes 28 Pretzel Bites
Ingredients:
1 cup creamy peanut butter
2 tbsp. unsalted butter, softened
1/2 cup confectioner's sugar
3/4 cup light brown sugar
56 Small Pretzel Twists
1 12 oz. bag semi-sweet chocolate chips
Directions:
In the bowl of a stand mixer, beat together peanut butter and softened butter until light & fluffy.  Add in confectioner's sugar & brown sugar and beat until fully incorporated.  Mixture should easily roll into balls without being overly sticky.  If still too sticky add a bit more of each sugar, 1 tbsp. at a time until you reach a rollable consistency.
Spread parchment paper over a baking sheet that will fit into your freezer.
Assembling one pretzel bite at a time,  roll dough into a 1 inch size ball. Place the dough ball onto a pretzel and then lightly press another pretzel on top, sandwiching the dough between the pretzels. Place onto prepared baking sheet. Repeat until you have used all of the dough. Once you have created all the pretzel sandwiches, place in the freezer for 30 minutes.
Place the chocolate chips in a heat safe dish and heat in the microwave in 30 second increments, stirring after each, until chocolate is melted and glossy. Remove the pretzel sandwiches from the freezer and dip them half way into the chocolate, dripping off any excess.  Return the pretzel bite to the baking sheet. Repeat until all pretzel bites are dipped.  Place baking sheet in the freezer for approximately 30 minutes, or until chocolate has set.  Store in an airtight container in the refrigerator.