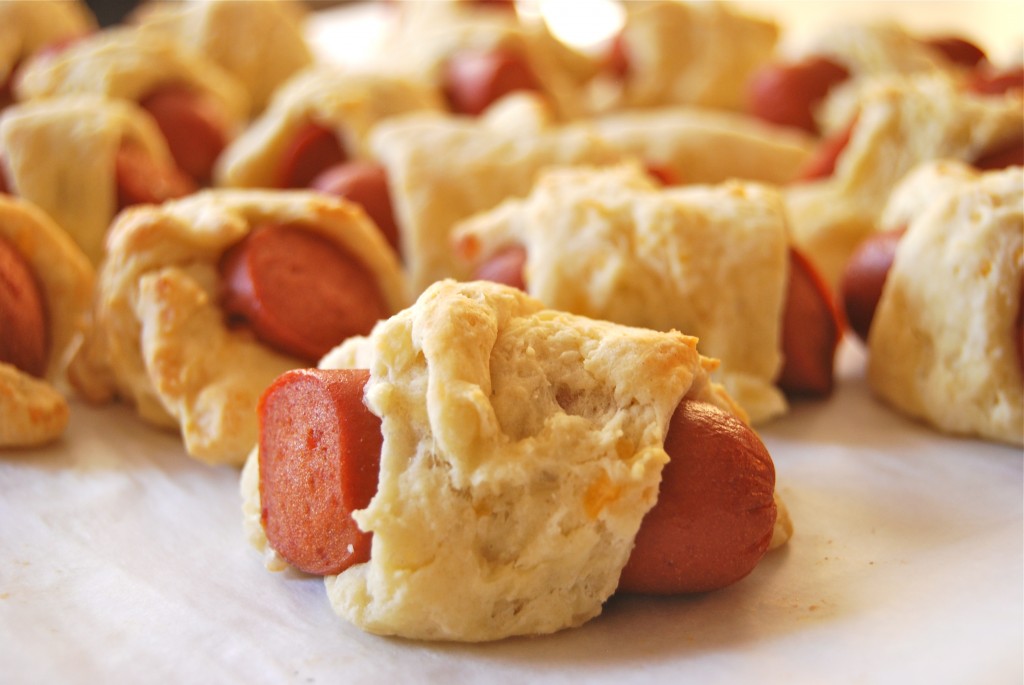 Growing up all I ever wanted to eat was pb & j,  boxed mac & cheese, or hot dogs cut up and dipped in ketchup.  In high school I expanded my horizons to include chicken fingers & fries…I have come a long way!! My mom would always make me pigs in a blanket around this time of year and when I saw this recipe it took me immediately back to fun fall evenings of my youth so I knew I had to make them.  I used turkey dogs, so technically these are turkeys in a blanket, but that didn't quite have the same ring to it:) Feel free to use whatever kind of hot dogs you like, all beef, brats, chicken, etc. You can also make these super cute mummy dogs for a festive look.
For this recipe, I found myself out of buttermilk again, so I used the great substitution I found on Joy the Baker,  that I mentioned on my facebook this weekend. For 1 cup of buttermilk, use 3/4 cup yogurt & 1/4 cup milk.  So for this recipe I used 1/2 cup yogurt & 1/4 cup milk. Worked fabulously!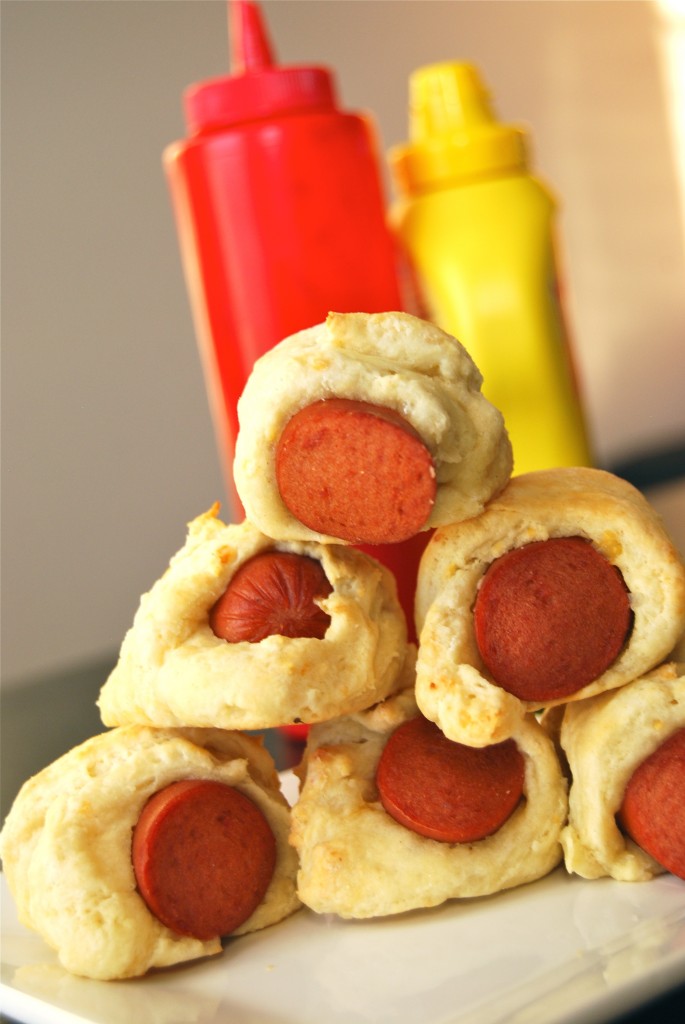 Pigs in Homemade Blankets
Source: This Mommy Cooks, originally from Food.com
Ingredients:
2 cups all purpose flour
1 tbsp. sugar
2 tsp. baking powder
1/2 tsp. baking soda
1/2 tsp. salt
4 tbsp. unsalted butter, cold & cut into small cubes
1/2 cup shredded cheddar cheese
3/4 cup buttermilk (or 1/2 cup yogurt with 1/4 cup milk)
8-10 regular sized hot dogs (can cut into smaller bite sized pieces for mini blankets)
Directions:
Preheat oven to 400 degrees.  Cover baking sheet with parchment paper & set aside.
In a large bowl, whisk together flour, sugar, baking powder, baking soda, & salt.  Using a pastry cutter, cut the butter into the flour mixture until the mixture resembles coarse sand.  Stir in shredded cheese, making sure it is evenly distributed.
Make a well in the flour/butter mixture and pour the buttermilk into the well.  Stir buttermilk into the flour mixture with a spatula until fully incorporated. Allow dough to rest for approximately 3 minutes.
Sprinkle dough with flour & stir one to two times.  Turn out onto a very well floured surface.  Pat the dough into a 15″ x 7″ rectangle, handling the dough as little as possible.
Using a pizza cutter or a pastry cutter, cut the rectangle into thirds horizontally.  For large hot dogs, go ahead and cut 3 triangles out of each rectangle, giving you 9 large blankets.  For mini hot dogs, Slice each rectangle into thirds vertically giving you 9 rectanlges, cut each rectangle in half diagonally, giving you 18 long & skinny triangles. Dough is quite sticky so flour as much as necessary.
Roll each hot dog up into one of the dough triangles.  Bake for approximately 12-14 minutes until the blankets are lightly golden brown.  Cool slightly on the baking sheet & serve warm.