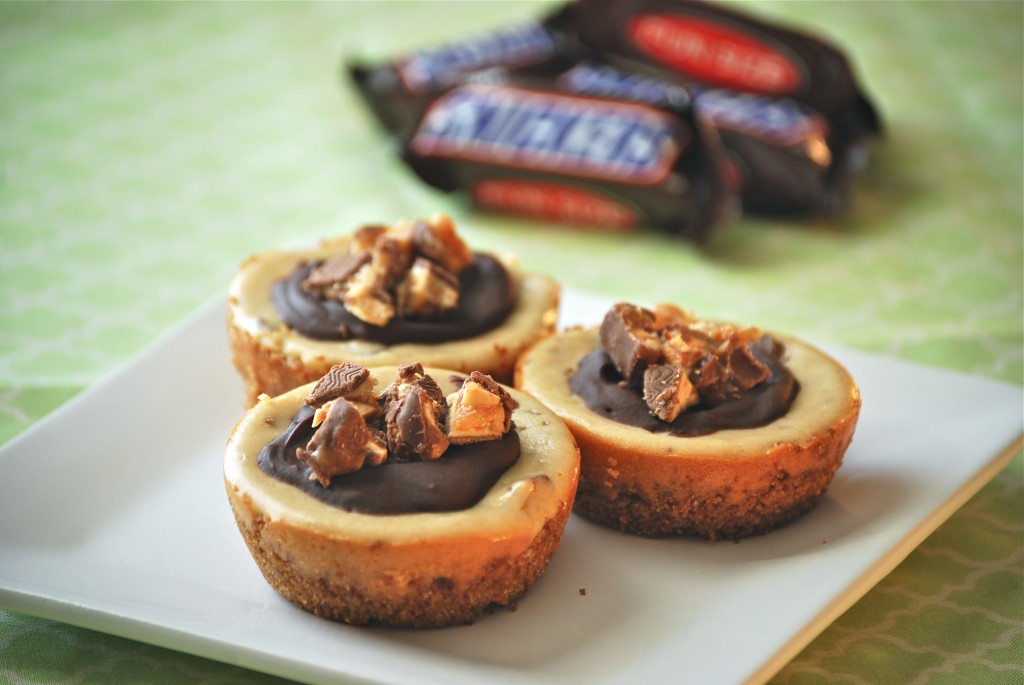 I got some snickers on sale the day after Halloween and it was an act of Congress to keep Adam out of them long enough for me to bake with them! Since he loves cheesecake I decided I would put the beloved snickers in cheesecake!! Plus I realized I only have like 2 cheesecake recipes on here and that just won't do, since its half of the blog name.:) I adapted these from a butterfinger cheesecake recipe but you really could use any of your favorite chocolate candies in this (I'm thinking my fave-twix is next!).  The cheesecake was simply divine! One of those desserts that immediately evoke an "mmmm" from anyone that takes a bite.  The peanut butter really adds depth and the texture of the cheesecake was creamy and smooth. I love the carmely/crunchy bite you get from the snickers.  I'm sure I will be making this quite a bit if Adam has anything to do with it! I used regular snickers for this, but I bet it would be great with the new pb snickers too! I did use 1/3 less fat cream cheese & fat free half & half to lighten it up just a smidge, but feel free to use the full fat ingredients.
Oh and just a few notes of business: I've added a printable link at the bottom of each post.  Click on that link and then you can choose what you would like to print, either the entire post, just the recipe, or the recipe with picture.  You just click on the area you would like to remove and then print! I've also added some buttons for you to share each post with your friends on several different social media sites if you would like. Now on to the cheesecake!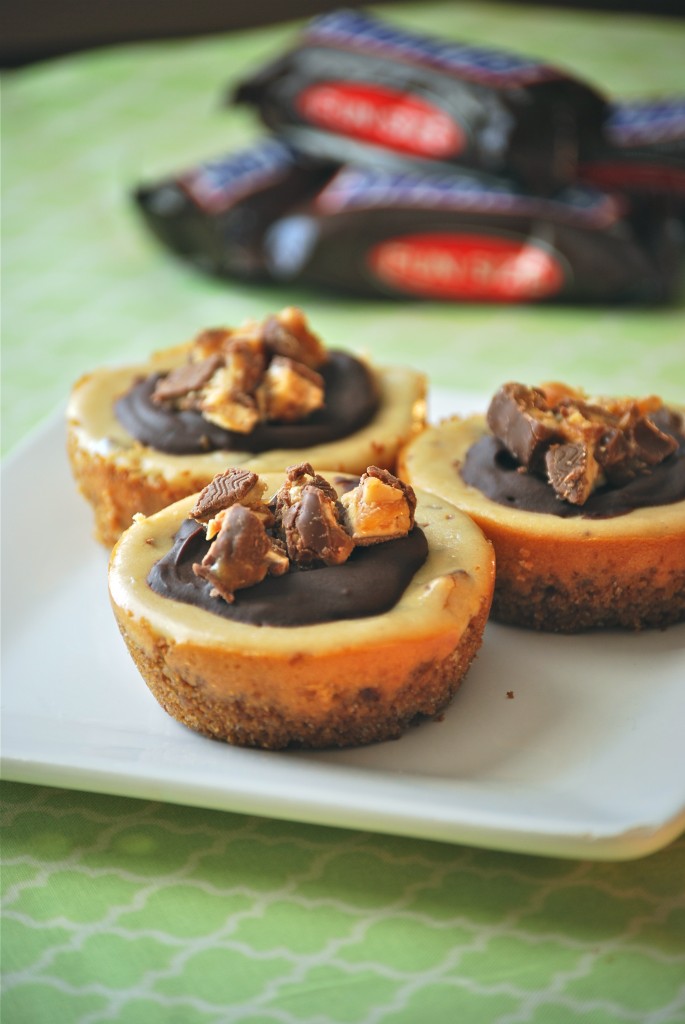 Peanut Butter Snickers Mini Cheesecakes
Source: adapted from Picky Palate
Makes 12 mini cheesecakes
Ingredients:
For the Crust:
1 cup graham crackers crumbs
2 tbsp. sugar
1/8 tsp. salt
3 tbsp. unsalted butter, melted
For the Filling:
8 oz. cream cheese, softened (can use 1/3 less fat if desired)
1/4 cup creamy peanut butter
1/2 cup sugar
1 egg
2 tbsp. heavy cream (or fat free half & half)
1/8 tsp. salt
1/4 tsp. vanilla
6 Fun Size Snickers Candy Bars, chopped
For Topping:
1/2 cup semi-sweet chocolate chips
1 tbsp. heavy cream (or fat free half & half)
3 Fun Size Snickers, chopped
Directions:
Preheat oven to 350 degrees.  Spray a muffin tin with cooking spray, set aside.
Crush the graham crackers in a food processor or by hand.  In a medium sized bowl, add graham cracker crumbs, sugar & salt.  Stir to combine. Pour in melted butter and stir until all crumbs look slightly moist.  Press crumb mixture into the bottom of the muffin tin, distributing evenly. Bake crust for 10 minutes.  Remove from oven and reduce oven temperature to 300 degrees.
Meanwhile, in the bowl of a stand mixer beat together the cream cheese and peanut butter on medium speed until smooth.  Scrape down the sides to ensure it is all incorporated.  Turn speed to low and add in egg, cream, sugar & salt.  Mix until fully incorporated.  Remove bowl from stand mixer and stir in chopped snickers.  Spoon the cheesecake batter over the crust, distributing evenly (each will be about 2/3 full).
Bake for approximately 20 minutes, until cheesecakes are set in the middle.  Let cool in the pan on the counter for 2 hours.  Once cooled, run a butter knife around the outside edge of each cheesecake and pop it out.
For the topping, melt chocolate chips in a microwave safe container in 30 second intervals, until melted & smooth.  Stir in cream and continually stir until smooth & glossy.  Spoon the ganache over the cheesecakes and top with additional chopped snickers.  Place cheesecakes in refrigerator for approximately 30 minutes until ganache has set.  Serve & enjoy! Store in an airtight container in the refrigerator.