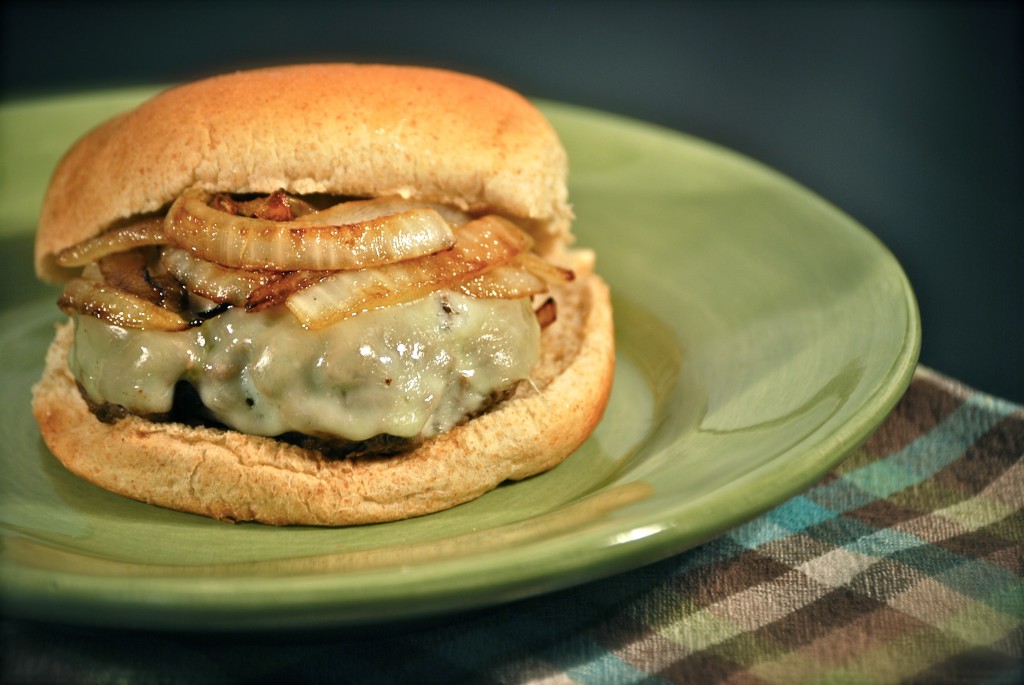 I had a hankering for burgers this past weekend, but wanted to put a bit of a different spin on it, so I decided to remake a similar version that I had a local restaurant. This Philly Cheesesteak burger had such a nice sweet/savory flavor.  It was super easy as I just made our basic burger and topped it with provolone, caramelized onions & "special sauce."  It would be a great idea for a party to do a burger bar with all different toppings and you could have the caramelized onions as an option on the burger bar.
Philly Cheesesteak Burgers
Ingredients:
For the Burgers:
1 lb. ground beef
1/4 cup  worcestershire sauce
1/4 tsp. salt
1/8 tsp. ground black pepper
For the Onions:
1 onion, sliced into strips
2 tbsp. butter (or smart balance spread)
For Assembly:
4 slices provolone cheese
4 whole wheat buns
2 tbsp. ketchup
2 tbsp. mayo
1 tsp. mustard
Directions:
For the Burgers:
In a medium sized bowl add ground beef, worcestershire, salt & pepper.  Using your hands, gently toss until sauce, salt & pepper are incorporated to the meat.  Pat into four patties.
Heat a large skillet over medium heat and add patties.  Cook until cooked through, approximately 6-7 minutes on each side.  (Try not to press burgers down with the spatula when you flip them so that the juices don't run out).  Add cheese the last minute or two so that it melts nicely. Alternatively you can cook them on the grill.
For the Caramelized Onions:
Place a medium sized skillet over medium heat.  Add butter and melt.  Once melted add in onions and cook over medium low to medium heat, stirring frequently until translucent and the edges are slightly browned and caramelized, approximately 20 minutes.
For Assembly:
Combine the ketchup, mayo & mustard in a small bowl for the special sauce if desired.
Place burgers on the bun and top with the onions and spread sauce on the top half of the bun.