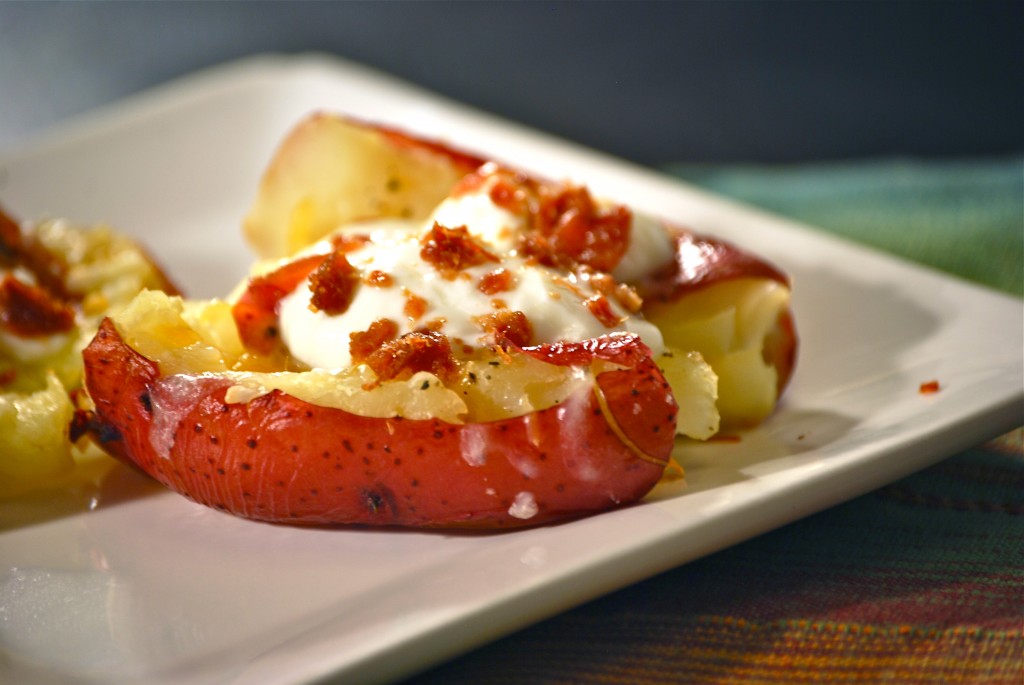 I love to make potato wedges as a side dish but I wanted something a bit different and fun and these certainly fit the bill.  I saw these one day while watching 5 Ingredient Fix on Food Network and immediately went to print out the recipe.  These were fabulous and make a great side dish or appetizer. They had a crispyness on the outside and the inside was super creamy. I love the wide variety of toppings you could use! You could add bbq sauce & pulled chicken or broccoli & cheese.  Or you could just go the traditional route with sour cream, cheddar cheese & bacon, which is what I opted for.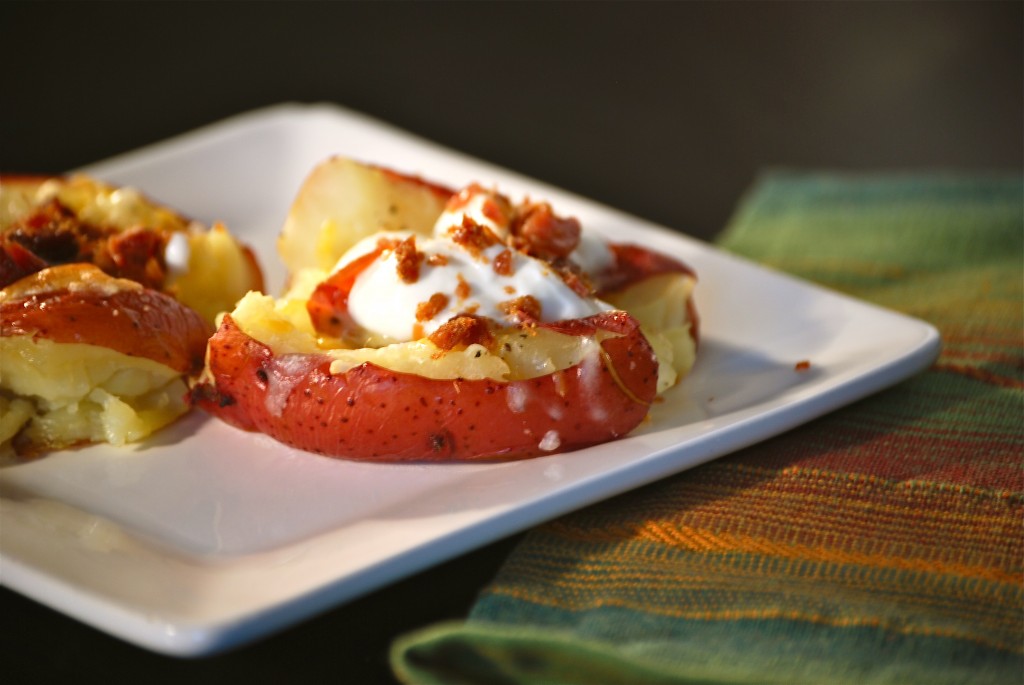 Roasted, Smashed & Loaded Potatoes
Source: Claire Robinson, Food Network 
Ingredients:
1 pound small red bliss potatoes
3/4 cup water
5-6 tbsp. extra virgin olive oil, divided
kosher salt
freshly ground black pepper
For Topping:
Shredded Cheddar Cheese
Light Sour Cream
Real Bacon bits or pieces
Directions:
Preheat oven to 450 degrees & adjust oven racks to the top & bottom positions.
Cover a rimmed baking sheet with foil.  Place potatoes on baking sheet and pour 3/4 cup water over top of the potatoes. Cover tightly with foil and bake on the bottom rack of the oven, until fork tender, approximately 30 minutes.
Remove from oven, carefully drain any excess water, and let potatoes rest for 8 minutes.
Drizzle 3 tbsp. olive oil evenly over the potatoes and turn them to make sure all sides are coated.  Cut a slit in the top of each potato and then gently press down on them with a large fork or potato masher until they are approximately 1/2 inch thick.  Sprinkle each potato with salt & pepper and drizzle with an additional 2-3 tbsp. olive oil (you just want a little bit inside each potato).
Place on the top rack of the oven and bake for approximately 15 minutes.  Remove from the oven and top each potato with shredded cheese.  Place back in the oven on the bottom rack and roast for approximately 20 minutes, until golden brown.  Remove from oven and top with sour cream, bacon and any other toppings.