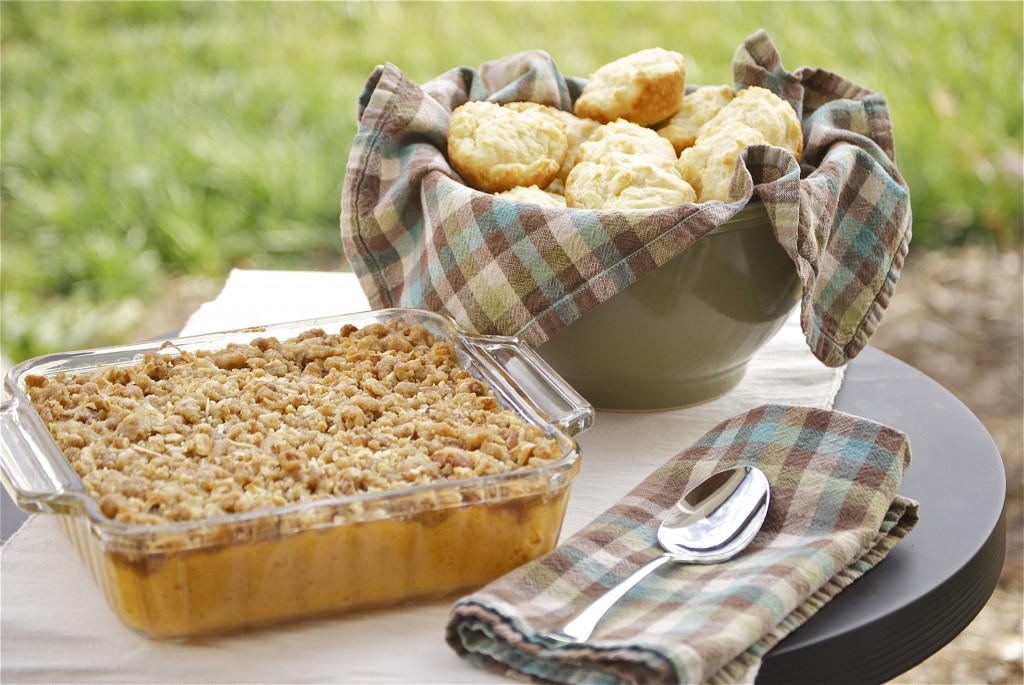 This weekend I realized we had yet to have my in-laws over for dinner at our new house.  So I quickly remedied that and also decided to make a couple of great things to share with you guys for Thanksgiving ideas.  This sweet potato casserole is my mom's recipe that she makes every year at Thanksgiving and Christmas and it is amazing! The topping is a nutty, crunchy sugary streusel that is so decadent an makes the dish.  It actually has a little coconut in it too, but it just adds to the flavor and it does not taste like coconut at all.  If you do have an aversion to coconut feel free to leave it out.  This is a great dish for the holidays or a dinner party because you can prep the filling the day before and then the day of you can top with the streusel and bake.  The other dish above are fabulous biscuits that I will be sharing later on this week, so stay tuned for more Thanksgiving deliciousness!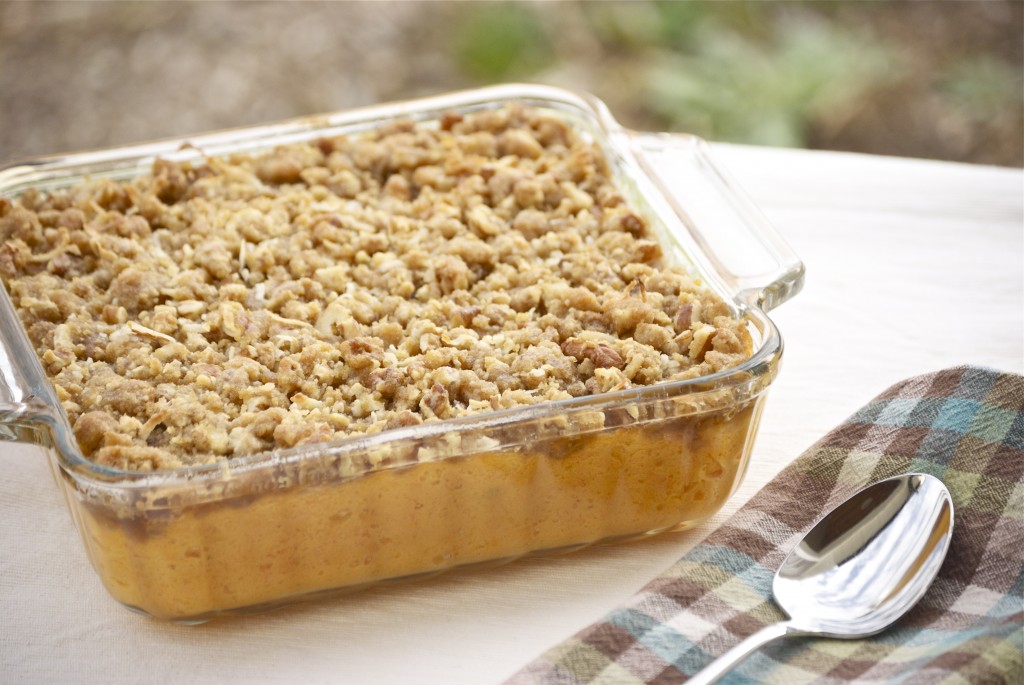 Sweet Potato Casserole
Source: Mom's Recipes
Ingredients:
For Filling:
4 Sweet Potatoes, cooked & mashed (approx. 3 cups)
1/2 cup sugar
1/2 cup (1 stick) butter, melted
2 eggs, beaten
1/3 cup milk
1 tsp. almond extract
1 tsp. vanilla extract
For Topping:
1/3 cup butter, melted
1/2 cup flour
1 cup light brown sugar, lightly packed
1 cup chopped pecans
1/4 cup shredded coconut
Directions:
For the filling:
Cut sweet potatoes in half, keeping the skin on.  Boil sweet potatoes for approx. 30-40 minutes until inside is fork tender.  Drain water and let cool slightly.  While still warm, peel the skin off and place in a large bowl and mash the potatoes.
Once potatoes are mashed, add in sugar, melted butter, eggs, extracts & milk.  Stir together until all ingredients are incorporated.   Pour mixture into a 2 quart baking dish, set aside.  (At this point you can cover and refrigerate if you are making it ahead of time).
For the topping:
In a medium sized bowl stir together the melted butter, flour, brown sugar, pecans and coconut until all ingredients are moist and it has the consistency of wet sand.  Evenly spread the topping over the sweet potato mixture in your dish.
Bake at 350 degrees for approximately 30 minutes, until the topping is slightly golden brown and the sweet potato mixture is bubbly.