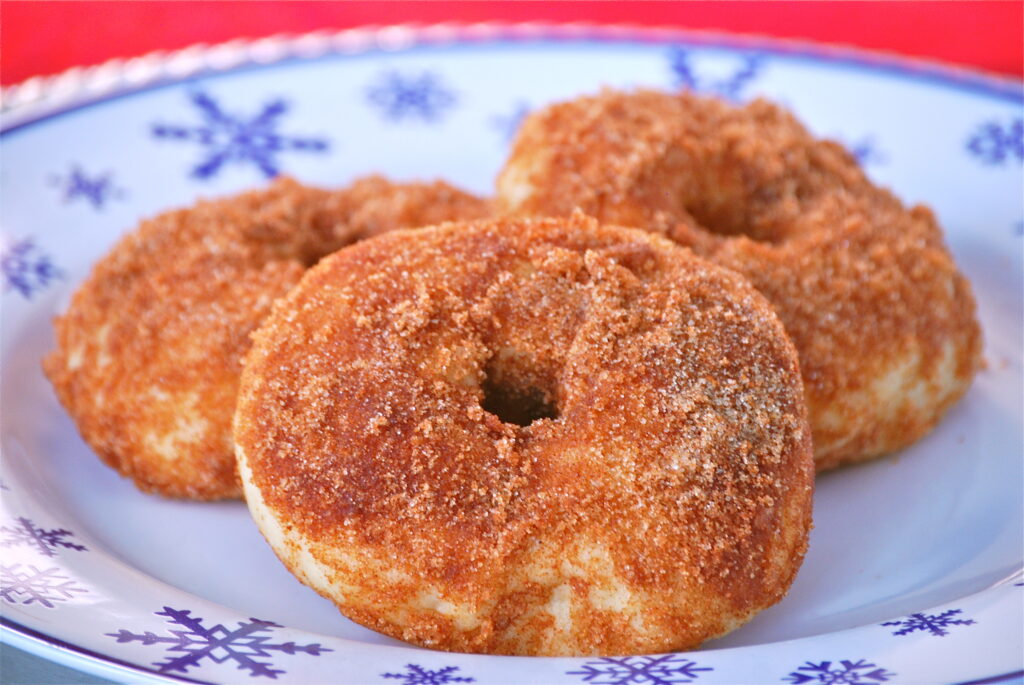 I love donuts but have been hesitant to make them at home. They are all the rage in the blogosphere since the new donut pans came out. As much as I would love to have a donut pan, I just simply do not have room in my cabinets for one.:( When I saw this recipe for a baked yeasted donut that did not require a donut pan, I was elated!! Plus my husband LOVES cinnamon sugar yeast donuts so I knew it would be a special treat for him too.  This recipe does say the donuts are best eaten the day they are made, but I made them the night before (like late at night after dinner) and then stored them in an airtight container.  The next morning I heated them in the microwave for about 15-20 seconds and they were perfect.  I took them to our Sunday School class and they went crazy over them.  These were perfectly soft and pillowy and the cinnamon sugar sent them over the top.  You could definitely do a glaze instead of the cinnamon sugar or even top them with chocolate frosting.  This is a great base donut recipe without the mess of frying! My next try with these donuts is to do a filled one with apples or strawberries.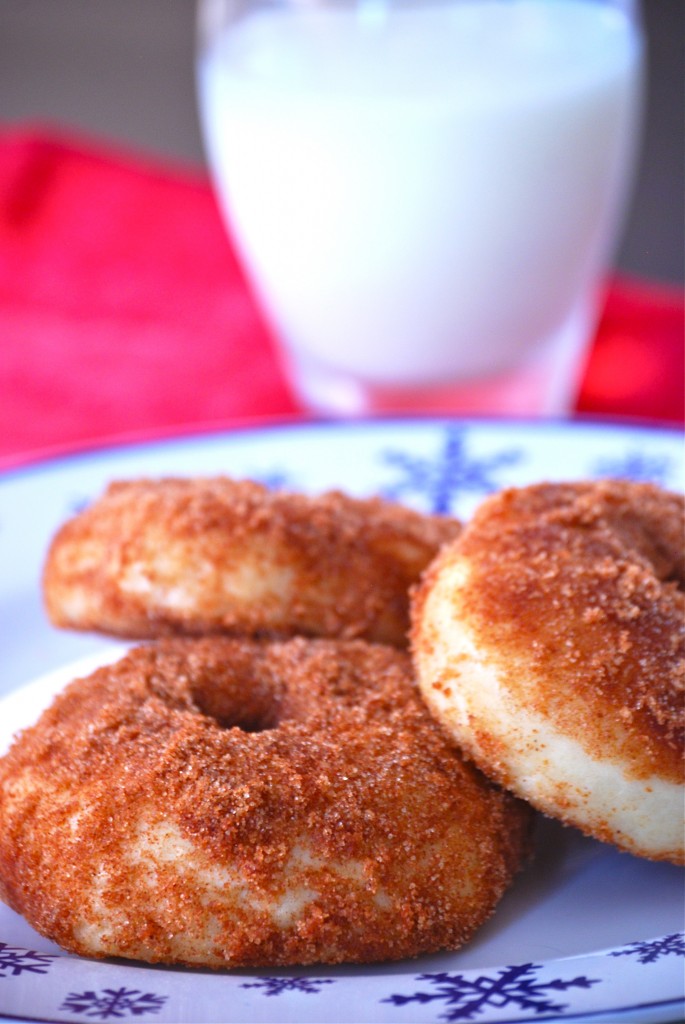 Baked Donuts with Cinnamon Sugar
Source: Sugarcrafter via Brown Eyed Baker, adapted from Doughnuts by Lara Ferroni
Makes 10-14 Donuts (I made 11 donuts)
Ingredients:
For the Donuts:
1 egg
1/4 cup sugar
1 cup milk, warmed to 115 degrees
1 tbsp. active dry yeast
1 tsp. salt
2 tsp. vanilla
2 1/2 to 3 1/2 cups all purpose flour, divided, plus more for kneading
1 stick unsalted butter, cut into 1 inch cubes
For Cinnamon Sugar Topping:
1 stick unsalted butter, melted
1 cup sugar
2 tbsp. cinnamon
Directions:
In the bowl of a stand mixer fitted with the paddle attachment,  add egg & sugar and beat on medium speed for approximately 1 minute.  Add milk, yeast, salt & vanilla and mix together briefly.  With the mixer on low, pour in 2 cups of the flour and mix until incorporated.  Turn the mixer to medium low speed and add in the cubes of  butter, one cube at a time until the dough is smooth.   Switch to the hook attachment and on low speed  add the rest of the flour a little at a time (you may not need all the flour) and knead the dough until it sticks to the bottom but pulls away from the sides.  Dough should be soft and slightly tacky but not overly sticky. If too sticky, add flour a little at a time until it reaches desired consistency. Knead dough for approximately 30 seconds to 1 minute more until dough is smooth.
Place dough in a bowl coated with cooking spray and cover with a damp kitchen dowel.  Let rise approximately 1 hour, until doubled in volume.
Preheat the oven to 400 degrees.  Line two baking sheets with parchment paper, set aside.
Sprinkle your surface for rolling the dough lightly with flour. Once dough has doubled, punch it down and roll dough out to 1/2 inch thick.  With a 3 inch biscuit cutter, cut circles out of the dough.  Using a 1 inch cutter (or I used a knife) punch out the center of the circles and roll into balls to make donut holes.
Place donuts & holes on prepared baking sheets approximately 1 inch apart. Cover with plastic wrap and place baking sheet on top of the preheating oven and let set for approximately 25 minutes, until almost doubled in size.
Bake donuts for 5-8 minutes until lightly golden in color. While donuts are baking, melt 1 stick of butter in a small bowl.  In a separate bowl combine 1 cup of sugar and 2 tbsp. cinnamon.  Once donuts have baked, dip the hot donut in the melted butter, then coat them with the cinnamon sugar mixture. Serve warm, then store leftovers in an airtight container.
*Donuts are best eaten same day they are made, however I did make them the night before and the next morning microwaved them for 15 to 20 seconds and served them warm and they turned out great.