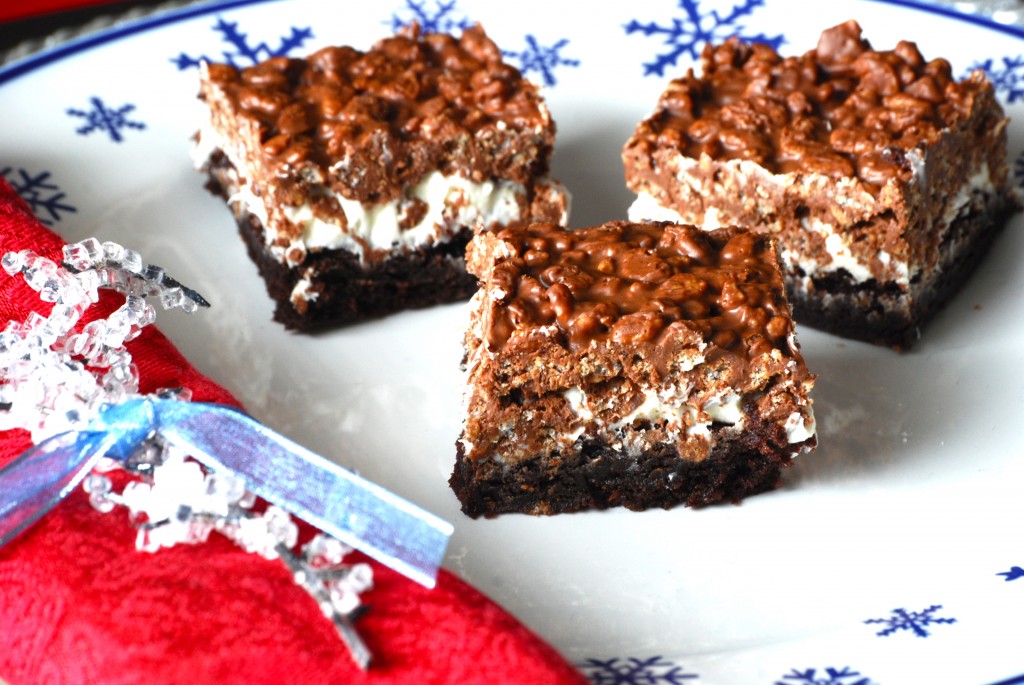 I know you all are probably full up on sweets, but trust me when I say you should make room for these.  After all, we still have New Year's before we have to shape up and hit the gym, right?!?! My aunt Tina made these for our Christmas gathering a couple weeks ago, and she told me the gist of how to make them.  When I got home I googled and found a recipe that sounded similar and so I immediately went and bought the stuff to make them for our Christmas Eve & Christmas Day family gatherings.  These were such a big hit and had my family asking me how to make them.  The best thing is, they are super easy! I used a box brownie mix and bought the frosting for the filling so I could save some time, but you could definitely make the brownies & frosting from scratch if you would prefer.  These are super soft, fudgy and sweet….The perfect ending to any holiday and the best way to ring in the new year!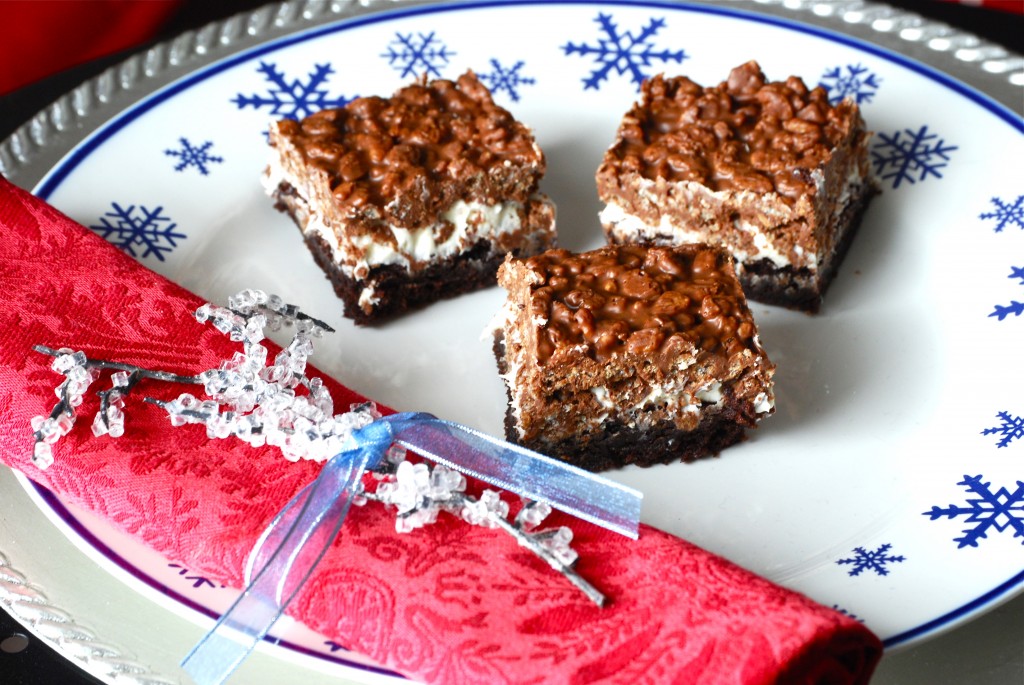 Decadent Brownie Bars
Source: Buns in My Oven
Ingredients:
1 Box Fudgy Brownies (make sure you buy the kind that bakes in a 9 x 13 pan)
1 container vanilla frosting
1 cup creamy peanut butter
1 1/2 cups semi-sweet chocolate chips
3 cups Rice Krispies cereal
Directions:
Line a 9 x 13 pan with foil, allowing some to hang over the sides.  Spray foil liberally with cooking spray, set aside.
Prepare brownie mix according to package directions.  Pour into prepared pan and spread batter evenly.  Bake according to package directions for a 9×13 pan. Once baked, remove from oven and allow to cool completely.
Once completely cooled, spread frosting over top of brownies (you may not need the entire tub of icing, I had about a tablespoon or two left over).  You just want a good layer to cover the brownies.
In a medium sized bowl add chocolate chips and peanut butter and melt in the microwave in 20 second increments, stirring in between each, until melted and smooth. Once melted, add in rice krispies and stir gently until all cereal is coated.  Pour over top of brownies & icing and spread evenly. Chill in the refrigerator for at least 30 minutes to set up.
Once set up, lift brownies out of pan using the foil overhang.  Using a butter knife, cut into squares taking care not to cut any of the foil.  Store in an air tight container on the counter.