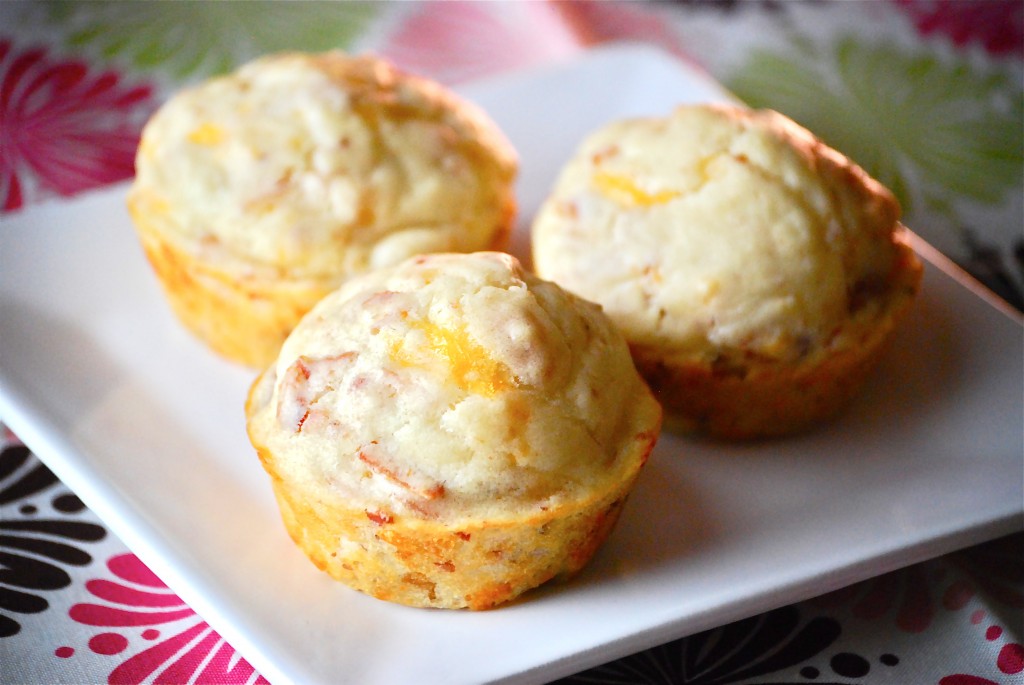 Before we get to the recipe, I just wanted to let you all know Macaroni and Cheesecake is now on Twitter.  I need to preface that I am a Twitter newbie, so I may need you all to show me the ropes!;) Here is my profile if you would like to follow me: Mac_Cheesecake. And in case you are curious, I'm also MacCheesecake on Pinterest too…now for the muffins.
These muffins are the perfect addition to any breakfast! They are more of a biscuit consistency in a muffin body, which makes them have amazing texture.  Plus, what's not to love about using an entire package of bacon?!? I actually baked my bacon in the oven and it was SO much easier since I had so many pieces to make.  If you are just going to eat a couple slices, I'd go with the skillet, but if you are cooking for a crowd, the oven is the way to go! I'll outline what I did in the recipe below.  These muffins are savory and delicious and Adam could not keep out of them.  What I love about them is you can make them the night before and just reheat slightly before serving! Great for us non-early bird types! They are also great split in half with jelly on them, or you could put some eggs in the middle for a bacon, egg  & cheese muffin.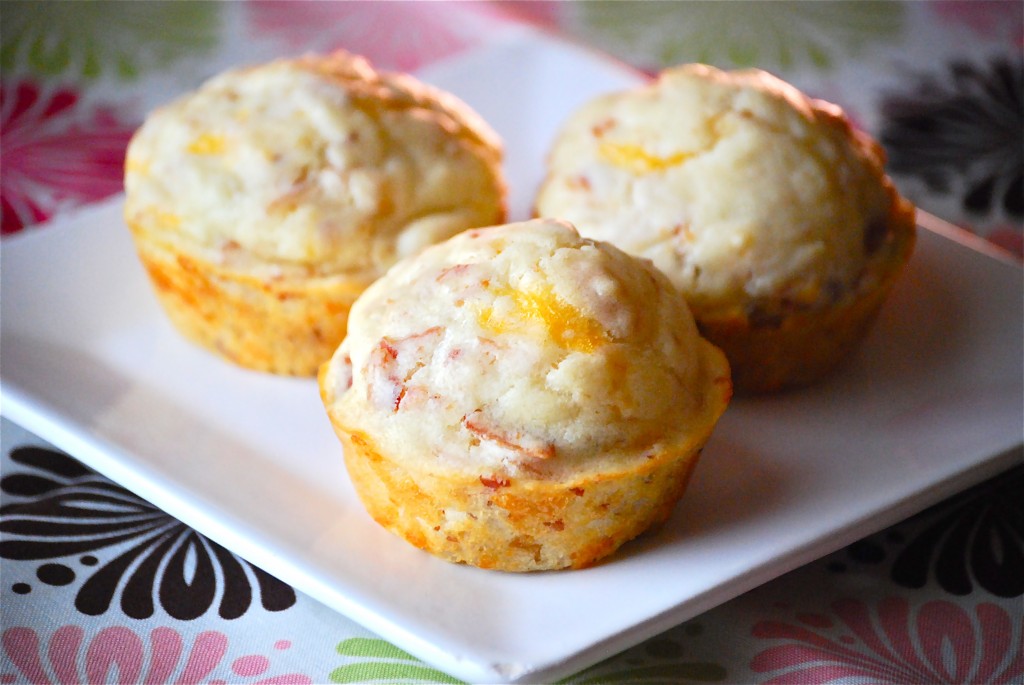 Cheddar Bacon Muffins
Source: Clock Work Lemon
Makes 1 Dozen Muffins
Ingredients:
1 1/2 cups flour
1 tbsp. baking powder
1/2 tbsp. sugar
1 cup shredded cheddar cheese
1 package bacon (12 to 16 oz.), cooked and crumbled into small pieces
1 cup milk
1 egg
1/4 cup oil
Directions:
For Bacon:
Preheat oven to 400 degrees.  Line a rimmed baking sheet with aluminum foil.  Top baking sheet with oven safe cooling rack, or just use a broiler pan.  Lay bacon across cooling rack, leaving a small space between each piece, until covered. Bake for 16 to 18 minutes until crisp.  Drain on plate covered with paper towels.  Crumble or slice into bite size pieces.
For Muffins:
Preheat oven to 375 degrees.
In a medium sized bowl, whisk together flour, baking powder, & sugar.  Stir in cheese & bacon crumbles, set aside.
In a large bowl, beat together egg, milk & oil.  Add in dry ingredients and stir until just combined.
Spray a muffin tin liberally with cooking spray.  Spoon muffin batter into tins, filling them approximately 2/3 full.  Bake for 15 to 20 minutes until toothpick inserted comes out clean.  Serve immediately or let cool and store in airtight container.