I've been delaying posting this because I know everyone is in New Year's resolution mode,but I couldn't hold off any longer.  I made this for New Years and it was SO GOOD! I seriously could not stay out of it.  I was so glad I made a double batch so we could enjoy some for New Years day and a few days after.  Adam took the rest to work and immediately emailed me saying someone at his office wanted the recipe.  The great thing is it just takes a few ingredients and it's fairly easy to pull together for a party snack.  This would be great for the super bowl, a party or just a Tuesday night treat!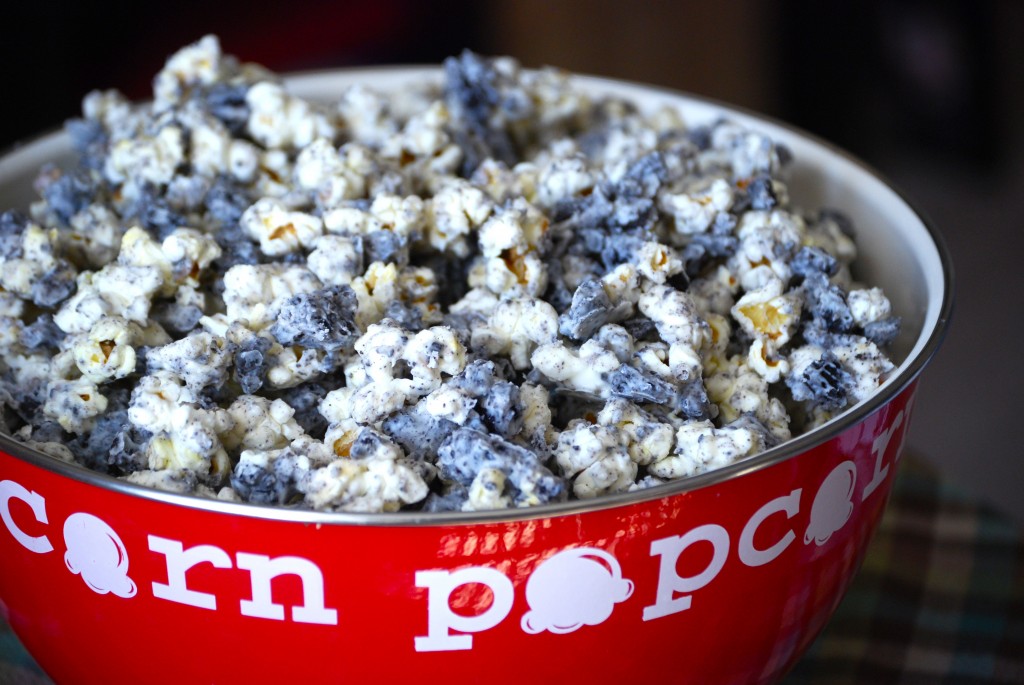 Cookies & Cream Popcorn
Source: Sing for Your Supper
Ingredients:
1 Bag Popcorn, popped (I used Orville Reddenbacher Smart Balance Pop Up Bowl)
6 ounces Almond Bark
15 Oreos, roughly chopped
Directions:
Cover a baking sheet with wax paper, set aside.
Pop popcorn and place in a large bowl, trying to remove any spare kernals you can.  Add in oreos and stir to combine.
In a heat safe bowl, microwave the almond bark in 20 second increments, stirring in between each, until smooth and completely melted.  Pour melted almond bark over the popcorn mixture and stir to coat all of the popcorn.
Pour out onto prepared baking sheet and spread into an even layer.  Let cool until almond bark has set.  Break into pieces and store in an airtight container.