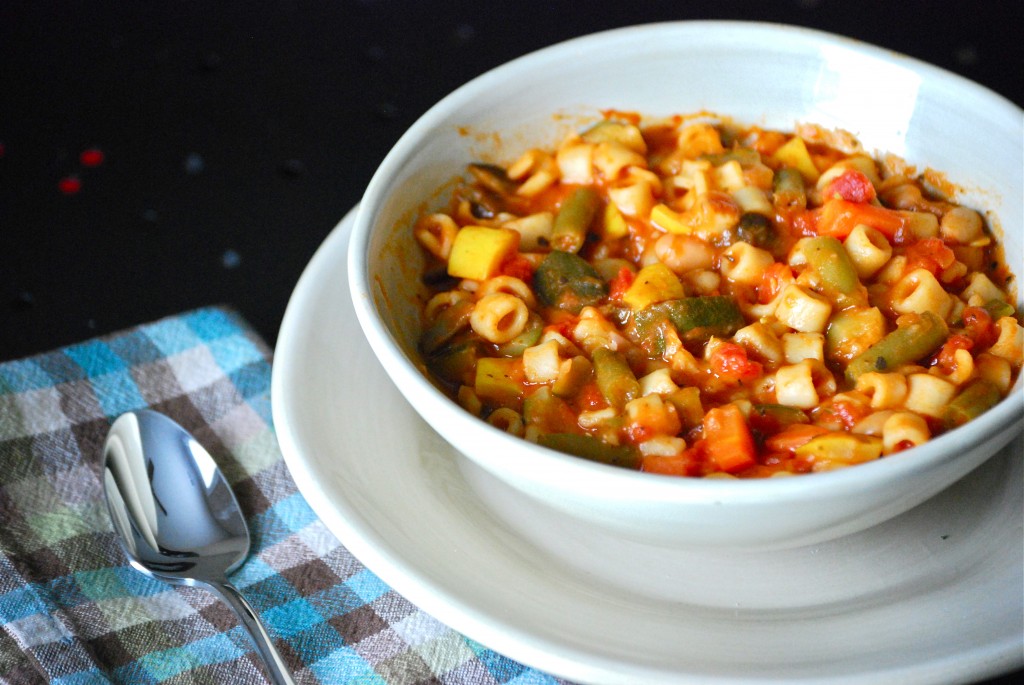 This soup might be my new favorite! It was so hearty, comforting and so delicious! Mine is a little pasta heavy because I was halving the recipe, but forgot to halve the pasta!! Does that ever happen to anyone else? 😉 Happens to me more than I would like to admit! This is a fantastic way to get your veggies in.  What better way to make veggies taste better than taking them for a dip in a tomato broth and adding in pasta! This is great for a cold winter's evening and your family will love it! Plus, you can add in any of your favorite veggies you have on hand.  I used squash, zucchini, carrots, & green beans, but you could also use peas or spinach or okra, whatever you like. I also added in beans & mushrooms to give it some protein. I'm going to list the halved recipe below, but you can easily double it for a crowd.  I ended up adding in the doubled amount of broth, tomato juice, salt, pepper & It. seasonings to balance out the amount of noodles and it still tasted great.
In other news, I have chosen the giveaway winner via Random Integer Generator.  I just want to say that I SO enjoyed reading all of your favorite comfort foods. I read every single entry and they all made me feel so cozy and warm. I just want to thank you from the bottom of my heart for all of your support and love!! Just love you guys!! The most popular comfort foods were macaroni and cheese, mashed potatoes, & chicken & dumplings.  I did get a few surprise ones though with coffee and frozen peas being the two most unique.  My personal favorite comfort food is a tie between pizza, chocolate chip cookies & nachos. Adam said to tell you his favorite comfort food is a vanilla cupcake w/chocolate frosting, and Milk (he loves his milk)! Ok, drumroll please……..
  The winner is:
Comment # 6: Sara January 14, 2012 at 1:19 PM who said:
My favorite comfort food is Chicken and Dumplings!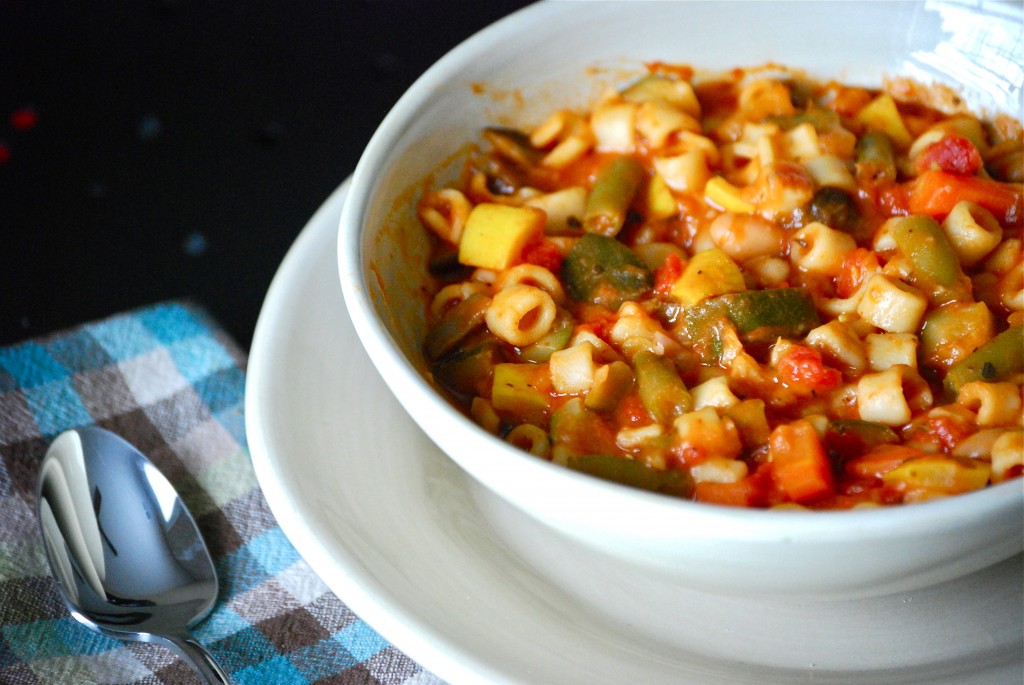 Hearty Minestrone Soup
Source: slightly adapted from Betty Crocker
Makes 4 to  6 servings
Ingredients:
1 tbsp. extra virgin olive oil
1 clove garlic, minced
1/2 medium onion, chopped
1 zucchini, diced
1 yellow squash, diced
1 celery stalk, chopped
1 carrot, peeled & diced
1/2 cup fresh or frozen green beans, chopped
1/2 cup fresh mushrooms, chopped
1 can Great Northern Beans, drained & rinsed
1 (14 oz.) can petite diced tomatoes, undrained
1/2 carton (16 oz.) reduced sodium chicken broth
1 cup water
2 cups tomato juice
3 dried basil leaves
1/2 tsp. salt
1/2 tsp. dried oregano
1/2 tsp. Italian seasoning
1/4 tsp. freshly ground black pepper
1  cup ditalini pasta (or pasta of your choice)
Parmesan Cheese, for topping
Directions:
In a 4 qt. sized pot, add olive oil and heat over medium heat. Add onion and cook until translucent, approximately 3-4 minutes, stirring occasionally.  Add garlic and cook one minute more. Add in all remaining ingredients except pasta & parmesan cheese.  Bring to a boil.  Reduce heat and cover.  Simmer for 45 minutes.
Bring soup back to a boil.  Add in pasta and stir to combine.  Return mixture to boiling, then reduce heat and simmer, uncovered, approximately 10 to 15 minutes, until pasta is tender.  Fish out the 3 basil leaves and remove.  Dip into bowls & serve topped with parmesan cheese.