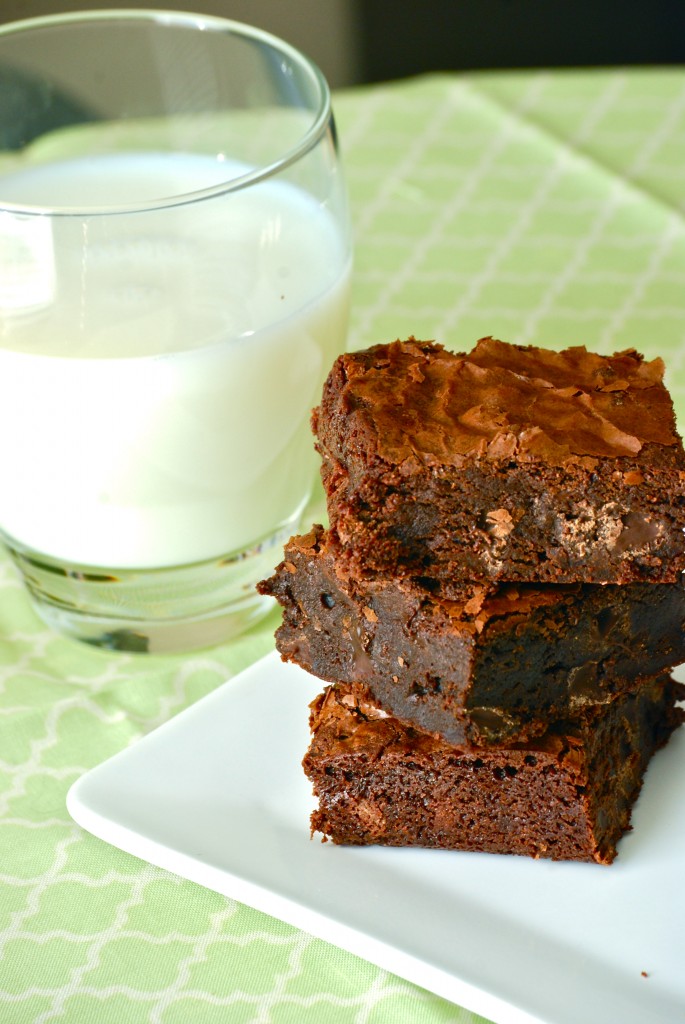 So I mentioned earlier this week about needing to console myself after Nadal's loss, so I decided to make some brownies.  I was actually already planning to make them for some friends of ours that just had a baby, so it was a win, win for me.  I have made s'mores brownies, pb swirl brownies and blondies, but I've never just made a basic brownie from scratch. I decided it was time to give it a go and these turned out great! They were fudgy and chocolatey and amazingly delicious! They tasted just as good if not better than a box mix! I will definitely be making these again, and I'm sure they would be great with add-ins (nuts, peanut butter, etc). My favorite part is that they already have chocolate chips in them! These are great served warm with ice cream, or room temperature by themselves.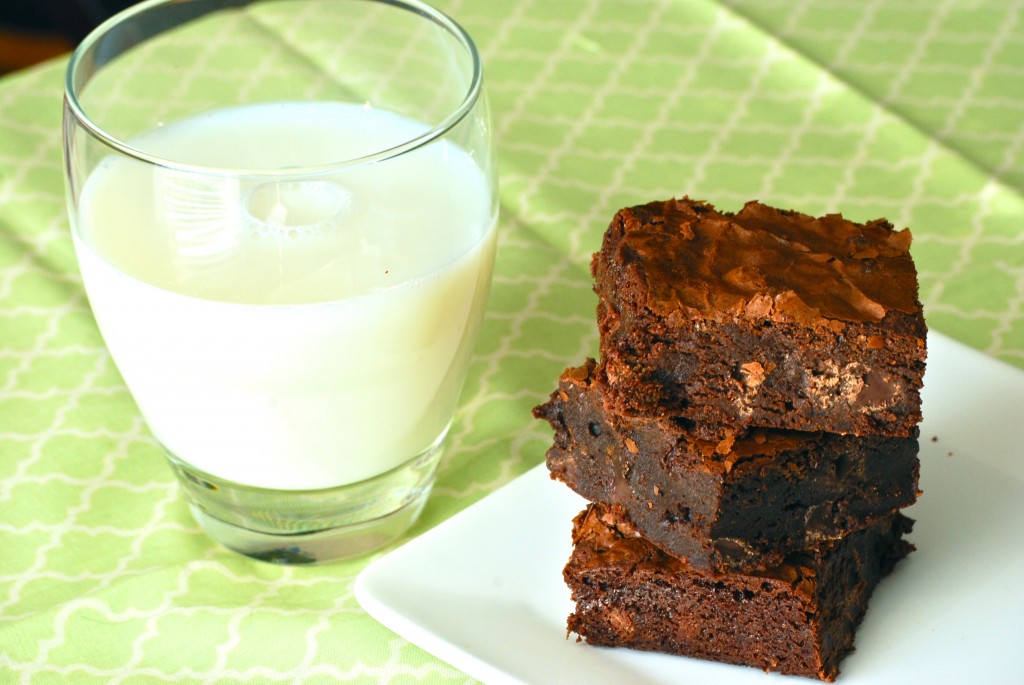 Better than Box Mix Brownies
Source: Buns in my Oven, adapted from King Arthur Flour
Ingredients:
1 cup (2 sticks) butter
2 1/4 cups sugar
4 large eggs
1 1/4 cups cocoa powder
1 tsp. salt
1 tsp. baking powder
1 tbsp. vanilla
1 1/2 cups all purpose flour
2 cups semi-sweet chocolate chips
Directions:
Preheat oven to 350 degrees.  Line a 9×13 baking dish with foil, allowing it to hang over the edges, and spray foil with cooking spray, set aside.
In a small pot, melt butter over medium low heat.  Once completely melted, add in sugar and stir together.  Continue cooking for 1-2 minutes, stirring continually.  Do not allow to boil.
Pour butter/sugar mixture into the bowl of a stand mixer.  Add in cocoa powder and mix to combine.  Add in eggs, salt, baking powder and vanilla.  Beat until fully incorporated.  With the mixer on low, slowly add in flour until just combined. Remove bowl from stand mixer and stir in chocolate chips making sure they are evenly distributed.
Pour batter into prepared pan and bake for approximately 30 minutes, until a toothpick comes out with moist crumbs attached. Cool in the pan on a wire rack.  Once cool, lift the brownies out of the pan using the foil overhang.  Carefully peel back the edges of the foil and cut into squares taking care not to cut the foil.  Store in an airtight container.