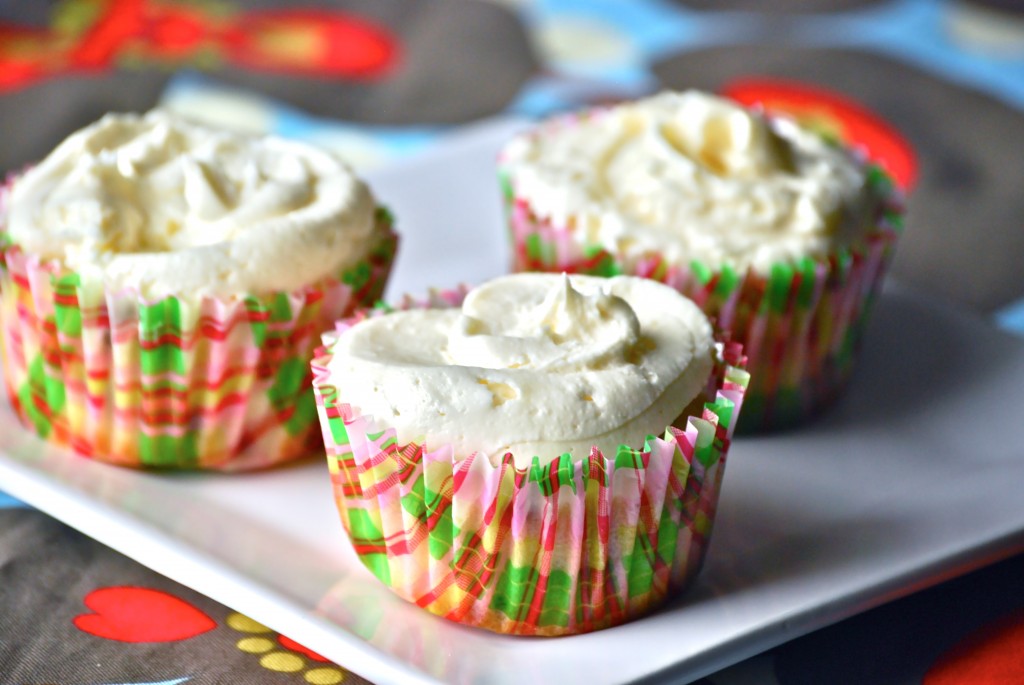 I was watching Live with Kelly (it's so hard for me not to say Regis & Kelly!) on the DVR last week and I got SUPER excited when I saw Sophie and Katherine from the TLC show, DC Cupcakes.  That is one my favorite shows and I just love the dynamic between the two sisters.  I've haven't gotten the chance to try one of their cupcakes in person, but when Kelly announced the recipe would be on the Live with Kelly website, I immediately jumped up and went to the computer to print it out.  The next morning I actually woke up thinking about those cupcakes and what I should mix in them, so I knew I had to make them right away.  The suspense of what they tasted like was killing me!
They listed several options for mix-ins, but I decided on mini chocolate chips, which worked beautifully.  The cake was more dense than I expected.  It had almost a pound cake like quality but a bit lighter.  I really enjoyed it though.  But the star of the show was definitely the Buttercream frosting.  I could've eaten that with a big spatula right out of the mixer.  It was so light and fluffy and not coarse and sugary.  It is definitely going to be my new go-to buttercream frosting.  It was simply AMAZING!!!  Definitely make the frosting and the cupcakes were good too.  Oh and I halved the recipe below and got 12 cupcakes. I will say I think next time I will fill the tins a little bit more and just do 10 or 11 cupcakes (or 22-23 for the full recipe) so they puff up a little bigger.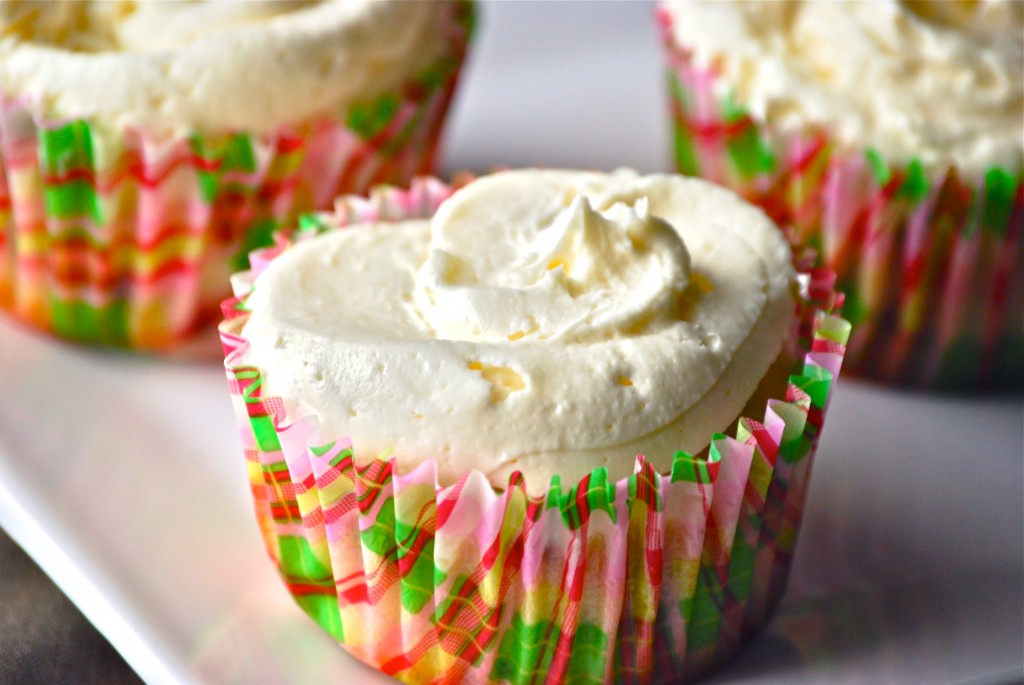 DC Cupcake's Vanilla Cupcakes with Amazing Vanilla Buttercream Frosting
Source: Georgetown Cupcake via Live with Kelly
Ingredients:
For the Cake:
2 1/2 cups flour
1/2 tsp. baking powder*
1/4 tsp. salt
8 tbsp. (1 stick) unsalted butter, room temperature
1 3/4 cup sugar
2 large eggs, room temperature
2 1/4 tsp. vanilla extract
1 1/4 cups milk, room temperature
1/2 to 3/4 cup mini chocolate chips
For the Frosting:
16 tbsp. (2 sticks) unsalted butter, room temperature
4 cups confectioner's sugar, sifted
1 tsp. milk
1 tsp. vanilla
1/8 tsp. salt
Directions:
For the Cake:
Preheat oven to 350 degrees.  Line cupcake tins with cupcake liners, set aside.
In a medium sized bowl, whisk together the flour, baking powder and salt, set aside.
In a small bowl, stir together the milk and vanilla, set aside.
In the bowl of a stand mixer cream together the butter and sugar.  Beat until light and fluffy.  Add in eggs, one at a time, mixing until fully incorporated.
Reduce mixer speed to low and pour in 1/3 of the flour mixture, then 1/3 of the milk mixture, mixing until combined.  Then add another 1/3 of flour mixture, then 1/3 milk mixture.  Add remaining flour mixture, then remaining milk mixture, beating until just incorporated.
Remove bowl from stand and stir in chocolate chips (start with 1/2 cup and add more if desired).
Spoon batter into cupcake tins using a large cookie scoop, filling about 2/3 full or a little more if you want them to puff up more.  I would recommend just making 22-23 cupcakes so the cupcakes are a bit taller in size.  Bake for 18 to 20 minutes until a toothpick inserted comes out clean.  Cool in the pans on a wire rack.
Note:
*One reader tried this with 2 1/2 tsp. baking powder and said it helped the consistency tremendously.
For the Frosting:
In the bowl of a stand mixer, add the butter and confectioner's sugar.  Beat for several minutes until creamy.  Add in milk, vanilla & salt and continue to beat until frosting is light and fluffy and spreadable consistency.  Spread icing on top of cooled cupcakes, or place in ziploc bag and cut the tip off and pipe onto cupcakes.