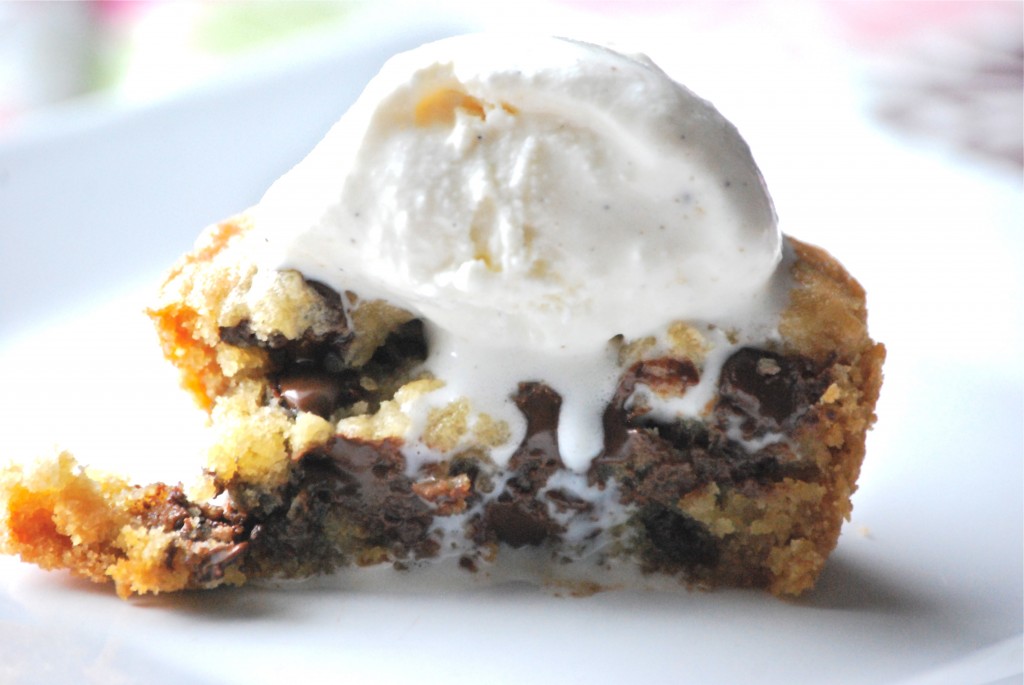 I'm so sorry I've been holding out on you with these cookies. I made these all the way back on Valentine's Day.  I just had a few other things I wanted to share with you and I can't believe these got by the wayside.  I was wanting something a bit more special than just a cookie for Valentine's and this was the perfect solution.  They had that cookie flavor but it was punched up a bit. Next time I think I will add a bit more of the melted chocolate in the middle than I did so it's a bit more lava like, but these were really good and fun for something different.  You can serve these room temperature or heated up in the microwave for about 15 seconds and topped with ice cream or whipped cream.  I also think these would be great topped with buttercream and served cupcake style.  Also, I should mention I found these on one of my new favorite blogs, Kevin & Amanda. Definitely check it out because all of their recipes are fabulous!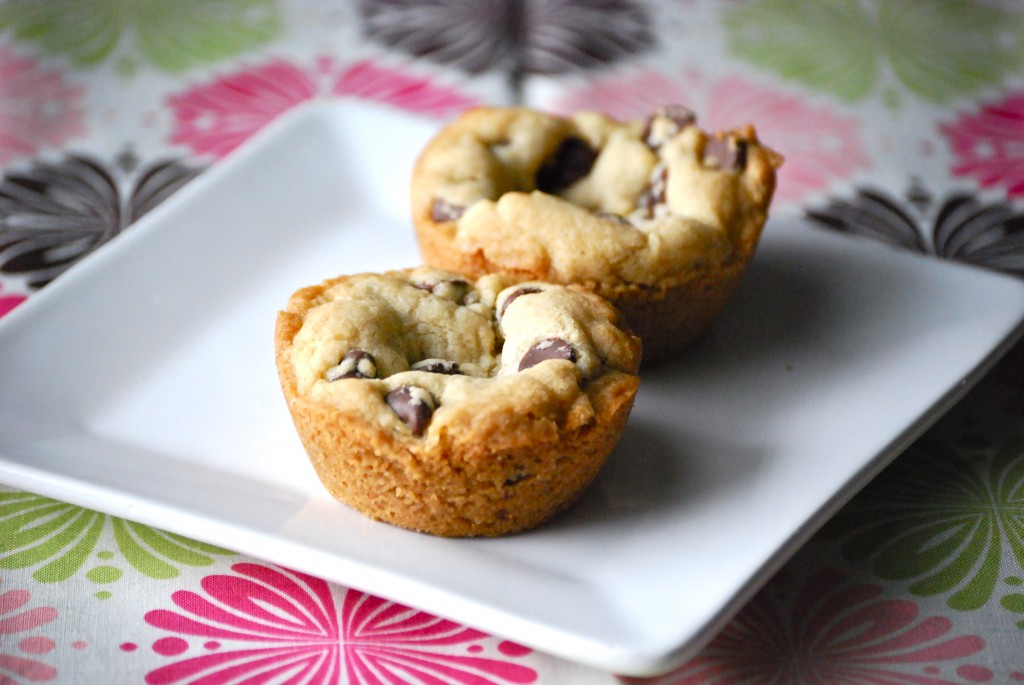 Chocolate Chip Lava Cookies
Source: Kevin & Amanda 
Makes 10 cookies
Ingredients:
1 stick unsalted butter, room temperature
1/2 cup light brown sugar, packed
1/2 cup sugar
1 large egg
1/2 tbsp. vanilla extract
1 3/4 cup all purpose flour
1/2 tsp. salt
1/2 tsp. baking soda
1 /2 cup milk chocolate chips
1 cup semi-sweet chocolate chips
Directions:
Preheat oven to 350 degrees.  Spray a muffin tin liberally with cooking spray, set aside.
Put 1/2 cup milk chocolate chips into a ziploc bag. Seal shut and lay the bag flat in the microwave with the chips in a single layer.  Microwave for 30 seconds.  Flip bag over and microwave in 15 second increments until just melted.  Set aside to cool slightly. (Alternatively you can melt chocolate in a glass bowl in the microwave and then transfer to the bag to cool, it just saves a bit of mess to melt it in the bag).
In a medium sized bowl, whisk together flour, salt & baking soda, set aside.
In the bowl of a stand mixer, cream together the butter, brown sugar & sugar until fluffy, approximately 3 to 5 minutes.  Mix in egg and vanilla until fully incorporated. Add in flour mixture a little at a time and beat on low until just combined.  Remove bowl from stand and stir in 1 cup semi-sweet chocolate chips until evenly distributed.
Using half of the cookie dough, scoop approximately 1 1/2 tbsp. of dough into each muffin tin and press down to flatten the dough to cover the bottom of the tin.  Repeat to make 10 cookies. Cut the tip off of the ziploc bag of chocolate and pipe a layer of chocolate over the cookie dough.  Scoop remaining cookie dough on top of each muffin and flatten to cover the chocolate.
Bake for 15 to 20 minutes, until the edges are slightly golden brown. Remove from oven and let set in pan for 1 to 2 minutes.  Gently run a knife around the edge of each cookie to make removing them easier later.  Allow cookies to cool completely in pans and then run a knife around the edges and remove from pan.  Serve warmed up with ice cream, or serve room temperature.