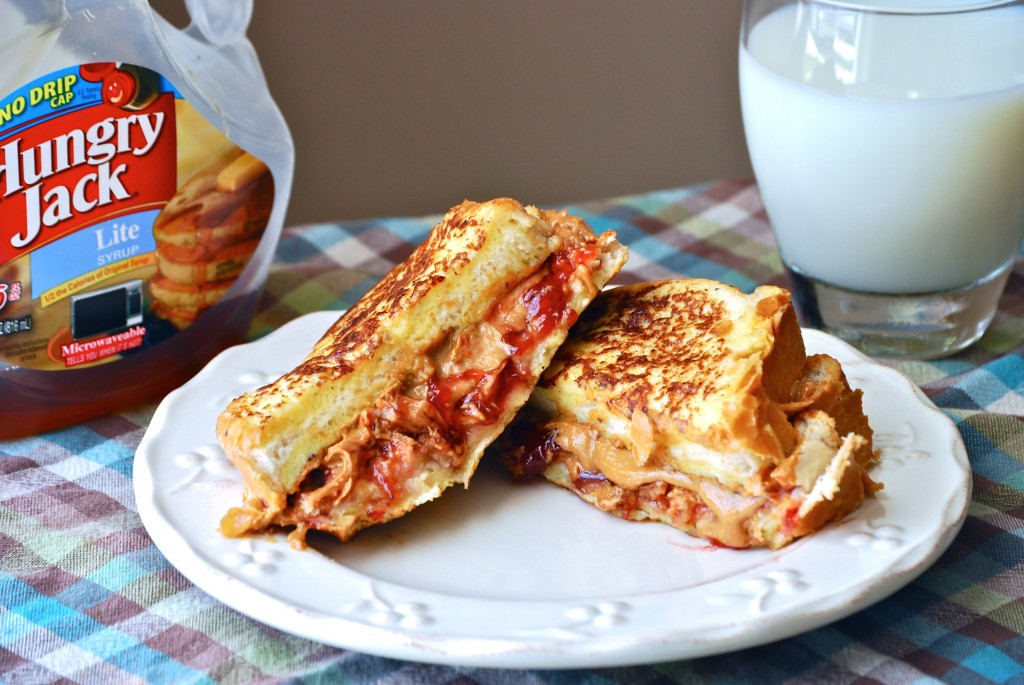 Peanut Butter & Jelly, it's the perfect marriage! Savory & Sweet and you can use it in so many different ways: sandwiches, cookies, dessert bars, granola bars, pancakes, muffins, cupcakes, and so many others.  I literally eat a pb&j sandwich almost every day.  Now let me clarify, that I use natural peanut butter and jelly made with all natural fruit and whole wheat bread, so it's actually healthy!:) I also love to eat it on graham crackers instead of bread sometimes.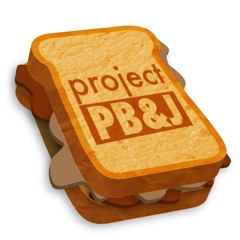 Recently, my friend Cindy of Once Upon a Loaf contacted me and asked me to submit a recipe to the Project PB&J contest that she was hosting to celebrate National PB&J Day.  I'll have to admit, I was a little hesitant because recipe development is not my forte.  I had some thoughts swirling in my head and Cindy graciously helped me brainstorm and I decided to try making a PB&J French Toast sandwich.  (Be sure and go check out all the other great recipe submissions)! This sandwich had the sweetness of french toast and then a little savory with the peanut butter.  You could definitely dip in in syrup too. I liked it better without the syrup, but Adam preferred it with syrup.  Either way it's a fun spin on a great breakfast treat.  Even if you don't choose to add the pb&j, this is also a great basic recipe for French Toast.  Oh and I must mention this is actually my husband's method of making french toast. He's a pro at making breakfast!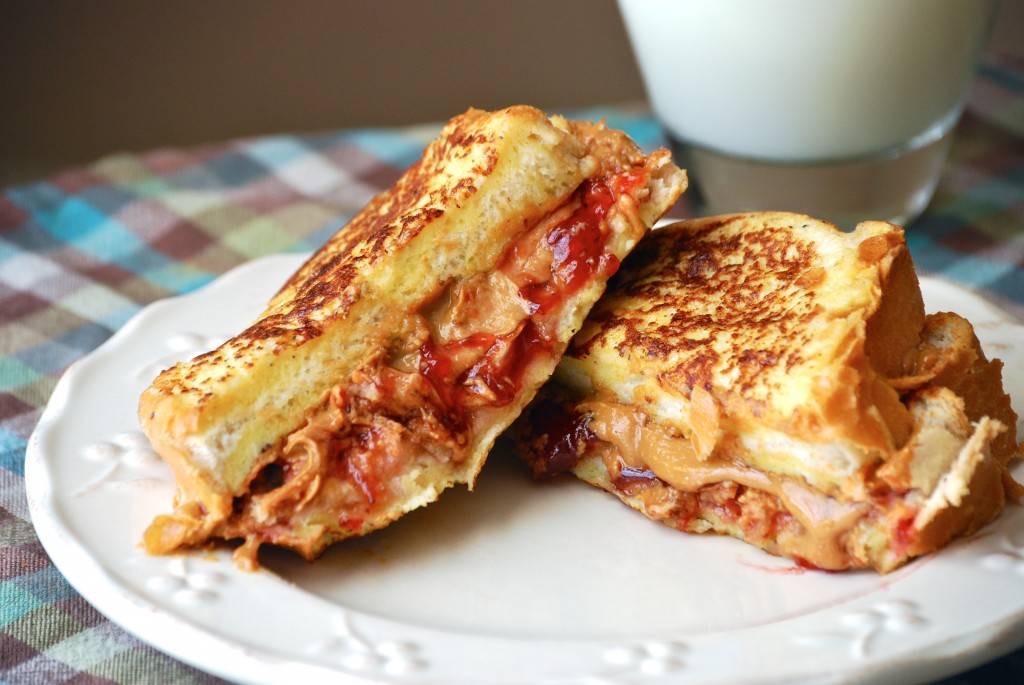 Peanut Butter & Jelly French Toast Sandwich
Recipe Makes 1 Sandwich, or 2 Slices French Toast
Ingredients: 
For French Toast:
2 slices French Bread or bread of your choice
1 egg
2 tbsp. milk
pinch cinnamon
pinch brown sugar
For Sandwich:
Peanut Butter
Strawberry Jelly
Powdered Sugar (optional)
Syrup (optional)
Directions:
Place a skillet over medium heat and spray with cooking spray.
In a shallow bowl, whisk together the egg, milk, cinnamon & brown sugar.  Lightly dredge each piece of bread through the egg mixture.  Don't coat too much or you won't have enough egg.
Place bread in the skillet and cook for two minutes. Turn bread and cook for two minutes more and then turn again and cook for two minutes.* (You are cooking one side of each piece of bread fully and leaving the other side just slightly undercooked).
If doing peanut butter & jelly sandwich, remove bread from skillet and transfer to plate.  On the side of the bread that is fully cooked (the side that was cooked twice on one side), spread peanut butter, then spread jelly on the other piece of bread on the fully cooked side.  Sandwich together and return to skillet. Reduce heat to medium low and cook sandwich on each side for approximately one minute until golden brown.  Remove from skillet, cut sandwich in half and serve.  Top with powdered sugar and dip into syrup if desired.
*If not doing sandwich and only making regular french toast: cook bread, turning every two minutes for a total of 6 to 8 minutes, until lightly golden brown.