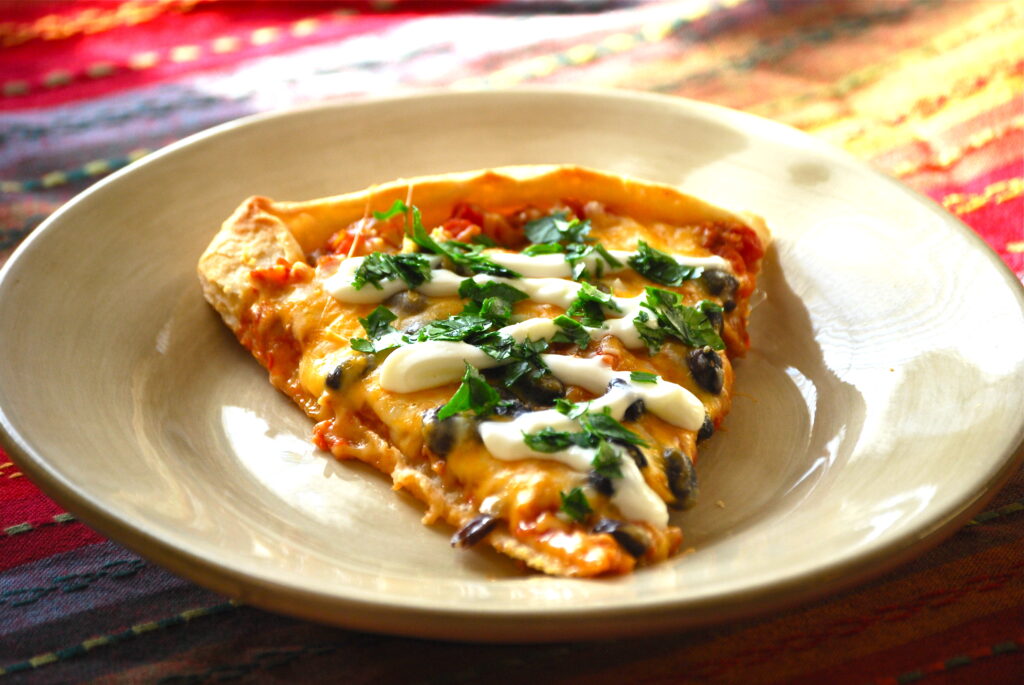 Apparently I was in a mexican/tex-mex mood last week! I had this pizza for dinner Thursday night, tacos Friday and went to one of my favorite mexican/tex-mex restaurants, Don Pablo's on Sunday! I absolutely love mexican food.  I really love to make it at home more than eat it out because I can control the ingredients and it's so much fresher tasting to me and not so heavy.  I do love Don Pablo's & Chipotle though, which sadly we do not have where we live.  This pizza was really great, and it actually surprised me by being even better than I had imagined.  It made for a great weeknight meal that was easy to throw together.  I did use a refrigerated pizza dough because my homemade freezer stash had been all used up and I didn't have time to make another one that day.  I loved the flavors and I really recommend topping it with the sour cream, it made all the difference.  I also topped it with black beans but feel free to top it with your favorite taco fillings or flavors!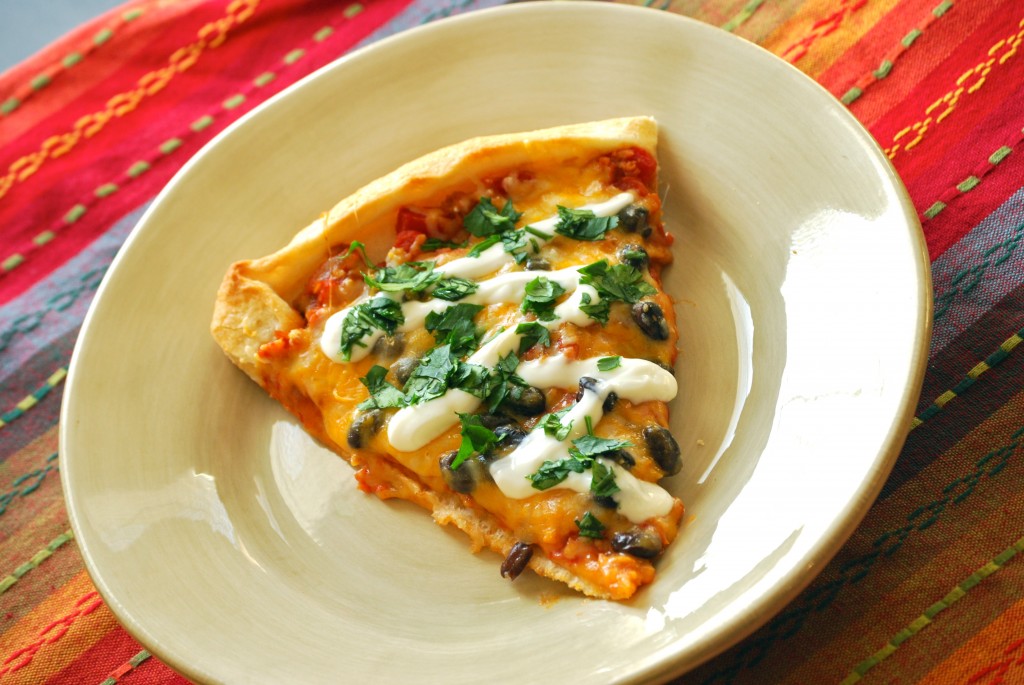 Southwest Chicken Pizza
Source: Bobby Deen
Ingredients:
1 Recipe Pizza Dough
1 tbsp. extra virgin olive oil
1/4 of a large onion, chopped
2 cloves garlic, minced
2 chicken breasts or chicken thighs, baked & shredded
1 tbsp. chili powder
1 tsp. ground cumin
1/2 tsp. salt
1 14 oz. can petite diced tomatoes
Shredded Cheese
1/4 to 1/2 cup canned Black Beans, drained (optional)
1/4 cup chopped cilantro
Sour Cream
Directions:
Preheat oven to 400 degrees.  Spray a pizza pan with cooking spray, set aside.
In a large skillet, heat olive oil over medium heat.  Add onions and cook until slightly translucent. Add in garlic, then chicken, chili powder and cumin.  Stir together and cook until chicken is heated through (just takes a few minutes).  Add in tomatoes and bring mixture to a boil.  Once boiling, reduce heat and simmer, stirring occasionally, until mixture begins to thicken, approximately 10 minutes.  Remove skillet from heat and cool slightly.
Meanwhile, roll out dough onto pizza pan (use flour to keep from sticking if necessary).  Bake dough for 5 minutes. Remove from oven and top with the chicken/tomato mixture.  Sprinkle black beans over top if desired, evenly distributing.  Then cover with shredded cheese. Bake until cheese has melted and is bubbly, 12 to 15 minutes.
Place sour cream in a ziploc bag. Cut the tip off the bag and pipe the sour cream onto the pizza (can just spoon it on if desired).  Sprinkle over top with cilantro.  Cut, serve & enjoy!