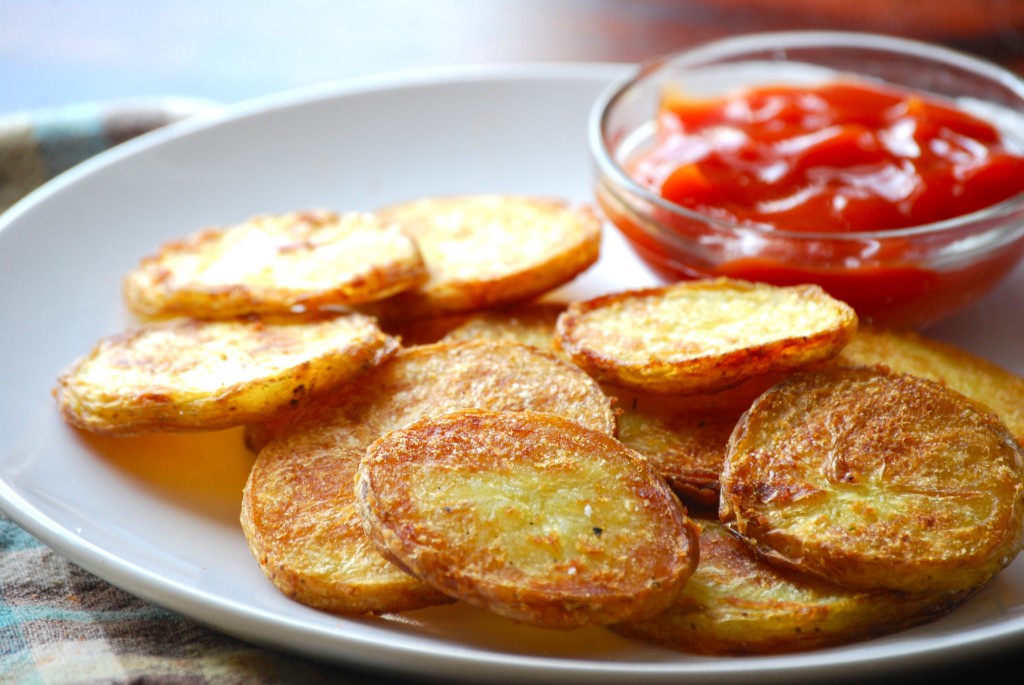 So I just noticed that my last 20 posts (ok so not that many, but a lot) have been desserts and sweet treats.  I thought it was high time for something savory and what better than a crispy potato that you can dip in ketchup, ranch or any number of favorite condiments.  I have to admit, I had to make these twice. One reason being they are so good, and the other being the first time I made them I sliced them too thin so some of them burned and I also overcrowded the pan so some of them weren't crispy.  Needless to say the second time was much better.  These were crispy on the outside and super creamy on the inside.  I kept sneaking potatoes as I was photographing! These would go great with almost any American entree, hamburgers, grilled chicken, sandwiches, or barbecue!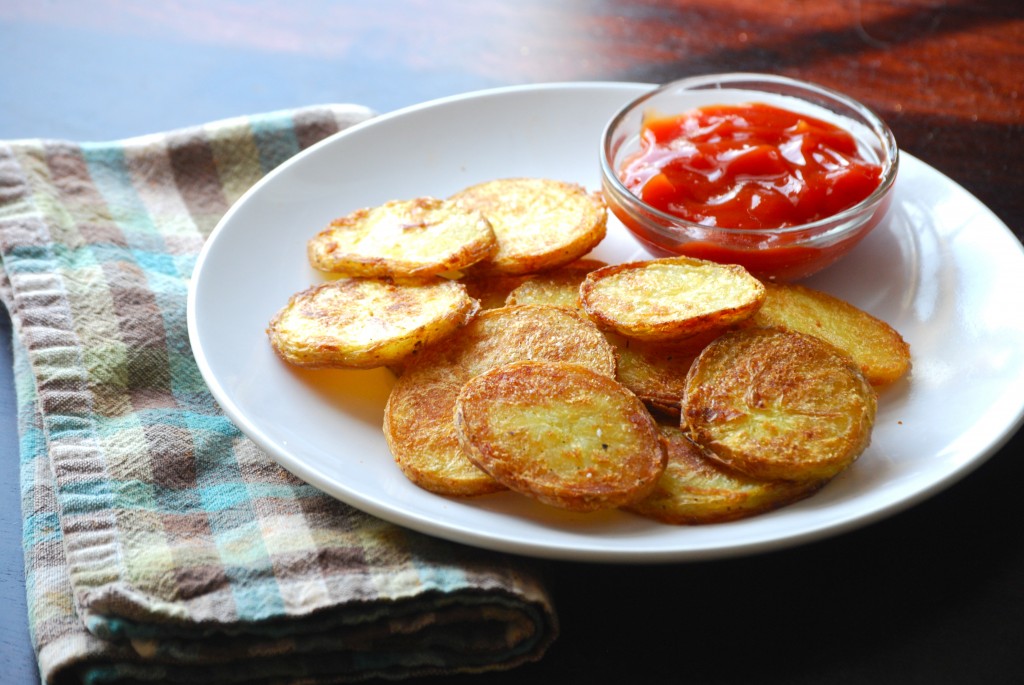 Crispy Oven Roasted Potatoes
Source: Tracey's Culinary Adventures, orginally from The Best of America's Test Kitchen 2011
Ingredients:
2 1/2 pounds Yukon Gold Potatoes (approx. 5 medium), rinsed and sliced into 1/4 to 1/2 inch rounds
5 tbsp. extra virgin olive oil
Kosher Salt
Freshly Ground Black Pepper
Directions:
Preheat oven to 450 degrees and position a rack in the lowest rack in your oven.  Line a 9×13 rimmed baking sheet with aluminum foil and go ahead and place on the low rack in your oven while it preheats.
Meanwhile, slice your potato rounds into 1/4 to 1/2 inch rounds (I used my mandolin slicer and the thickest it goes is 5/16). Place the potato rounds in a large pot, add 1 tbsp. salt and stir to combine.  Top with cold water until it covers the potatoes by 1 inch.  Bring to a boil over high heat.  Reduce heat and simmer for approximately 5 minutes (don't go too long or potatoes will fall apart). You want the outside edges to be soft while the inside is still firm.
Remove from heat and drain.  Place potatoes in a large bowl.  Drizzle with 2 tbsp. olive oil and 1/2 tsp. salt.  Using a rubber spatula, toss to coat.  Add another 2 tbsp. oil and 1/2 tsp. salt, toss vigorously until a starchy paste begins to coat the potatoes (takes just a couple of minutes).
Remove baking sheet from the oven and drizzle with remaining tbsp. olive oil.  Spread potatoes evenly on the baking sheet (taking care not to burn your hands) so that none are overlapping. Bake for approximately 15 to 20 minutes until the bottoms of the potatoes are crispy and golden.  Flip each potato onto the opposite side and bake for 10 to 15 more minutes until the other side is crispy and golden.  Remove from oven and sprinkle with salt and pepper.  Serve with ketchup or your favorite condiment.