I was trying to think of something fun to do with the graham crackers when I remembered seeing these on Picky Palate a while back and thought it was the perfect way to use them.  I also decided to put marshmallow fluff in them too which made the entire thing AMAZING! I actually made my own fluff, which I will share on Friday so stay tuned for that! This treat was heavenly! It's one of those things when you put in your mouth you are instantly saying "mmm" & "oh my word" and transported to somewhere amazing! It's like a cross between a Reese egg and a S'mores and it's fabulous! These really aren't that hard to make. They just take a bit of patience because you have to wait for each layer to set up in the freezer.  These would be great for a party too because kids and adults alike will love them.  You can also just use store bought graham crackers and fluff too if you don't want to or have time to make your own.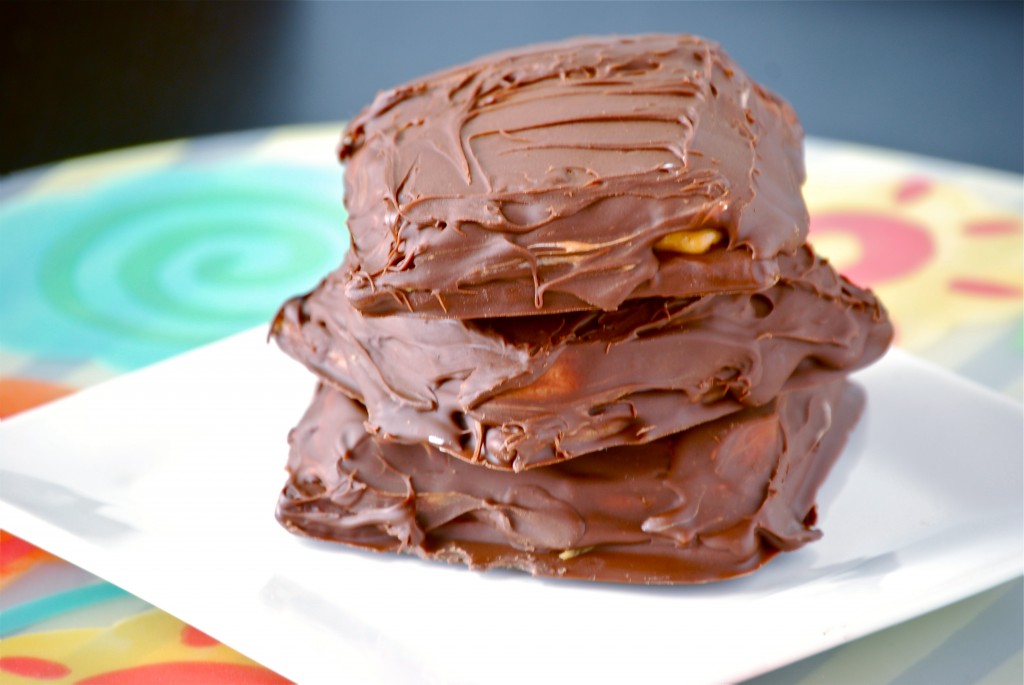 Chocolate Covered Peanut Butter S'mores
Source: Picky Palate
Ingredients:
12 graham cracker halves
4 1/2 tbsp. shortening
3 1/2 cups milk chocolate chips
1 1/4 to 1 1/2 cups creamy peanut butter
3/4 cup marshmallow fluff
Directions:
Cover a baking sheet that will fit in your freezer with wax paper, set aside.
In a small pot, add a small layer of water and place over medium low heat (you don't want the water to touch the bottom of the heat safe bowl).  Once the water starts to put off steam, place a heat safe bowl or double boiler over top of the pot and add 1 1/2 cups of chocolate and 2 tbsp. of shortening.  Stir until melted and glossy.  Remove from heat and dip both sides of each graham cracker into the chocolate, dripping off any excess.  Place each graham cracker on the wax paper. Put them in the freezer for a few minutes for the chocolate to set up.
Once chocolate has set, remove from freezer and top each cracker with approximately 1 1/2 tbsp. peanut butter.*  Place in freezer for 10 minutes.
While the peanut butter freezes, place your pot of water back over medium low heat and then top with the heat safe bowl. Add the remaining chocolate (2 cups) with the remaining shortening (2 1/2 tbsp.) to the bowl and stir until completely melted. Remove from heat and allow to set up and thicken slightly until ready to use.
Once peanut butter is set, remove crackers from freezer.  Place marshmallow fluff into a piping bag or ziploc bag with tip cut off and pipe onto each cracker (about 1 tbsp.).* Place in freezer for 15 minutes.
Remove crackers from freezer and lightly spoon the melted chocolate (should be slightly thicker, if too thick, heat again briefly) over the top of each cracker. You want to coat the top and down the sides, taking care not to get fluff mixed into the chocolate.  This step can be a bit tricky and takes a bit of patience.  You can use a knife to clean up the edges around the bottom of each cracker.  Place in freezer again for 10 minutes to allow chocolate to set.
Store in an airtight container in the refrigerator.  These need to be kept cold otherwise the chocolate melts very fast.
*You might not have to use all of the peanut butter or marshmallow, depending on how much you top each cookie with.