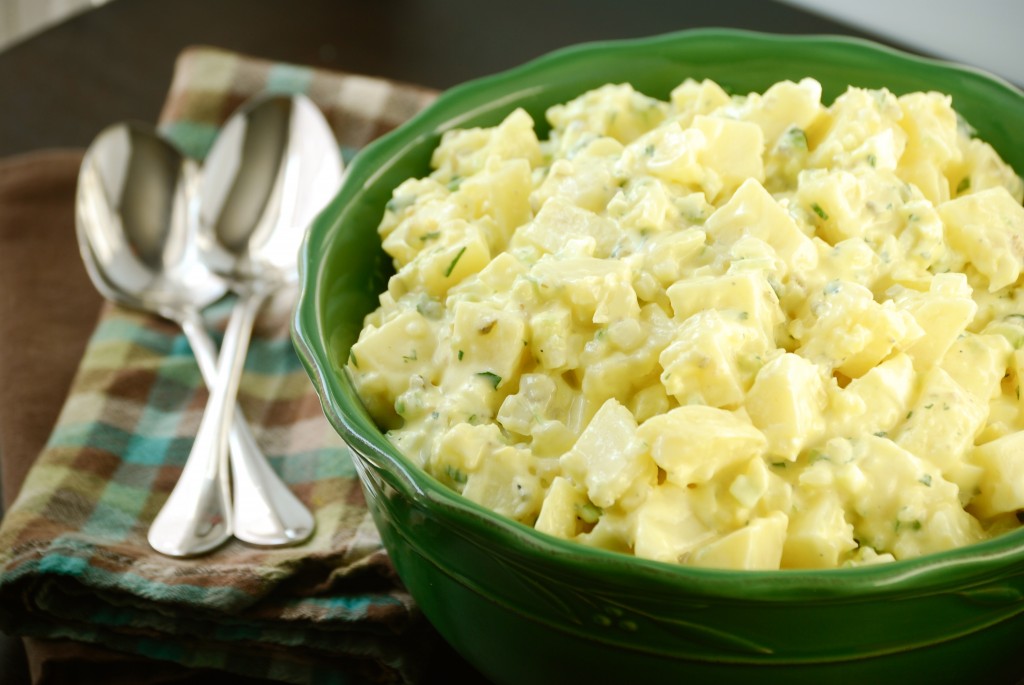 Nothing quite says summer like a cookout with burgers, potato salad and baked beans, and of course watermelon for dessert.  I know there's this stigma about potato salad with mayo, but I promise this isn't your basic run of the mill potato salad.  It has great flavor and is very fresh tasting! I love me some potato salad, especially the kind you buy in those little containers from the deli at the grocery.  I could eat that stuff by the spoonful.  Something about it just takes me back to childhood and summer.  This has the flavor of that potato salad but it's so much better because you made it from scratch! It's a bit of a process because you have to boil the potatoes and eggs, but it's worth it, I promise! I think next time I will boil the potatoes a tad longer because I like my potatoes a bit softer in the salad, but Adam loved them with a slight bite to them.  This is great for all the summer cookouts coming up! This recipe makes a TON, so definitely feel free to half it if you are just making it for a small gathering.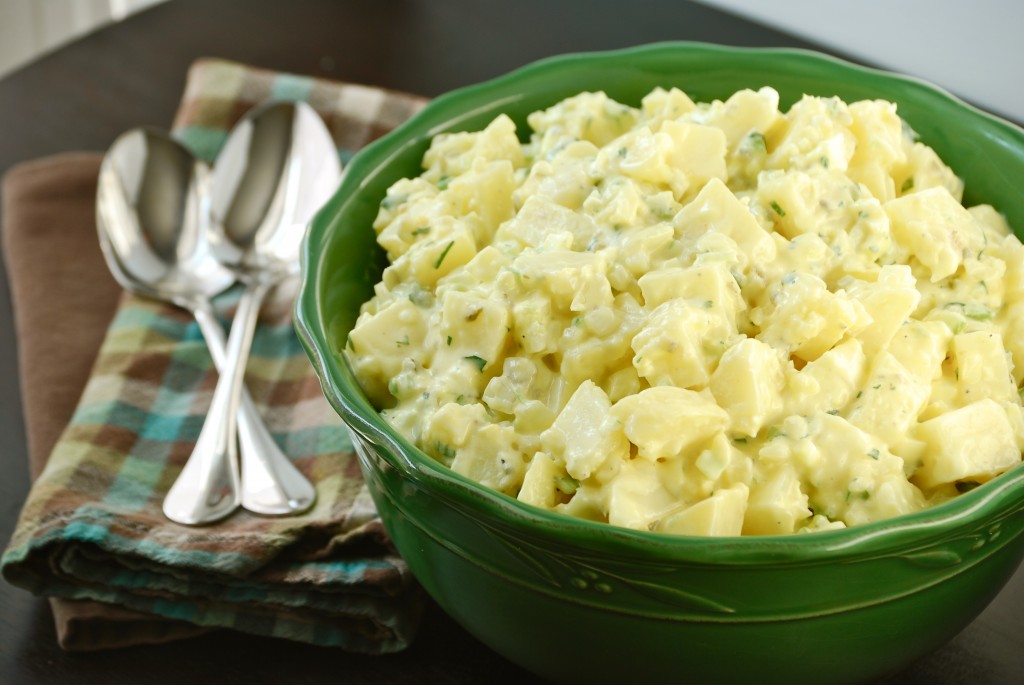 Southern Style Potato Salad
Source: What's Cookin' Chicago, originally on Food.com
Makes a HUGE amount so half or quarter the recipe if making for a smaller crowd
Ingredients:
1 5 lb. bag yukon gold potatoes, peeled, cooked, then diced
6 eggs, hard boiled and chopped
2 cups sweet onions, finely chopped (approx. 1 1/2 large onion)
1 cup celery, finely chopped (approx. 3 stalks)
3/4 cup pickle relish
1/4 cup Italian flat leaf parsley, finely chopped
1 1/2 cups Mayonnaise
2 tbsp. yellow mustard
1/4 cup milk
1 1/2 tsp. kosher salt
1/2 tsp. freshly ground black pepper
2 tbsp. sugar
Directions:
Peel potatoes and place in a large pot.  Cover with water and place over high heat and bring to a boil.  Boil for approximately 20 minutes, until fork tender (or a little longer if you like your potatoes softer).  Drain potatoes and allow to cool to room temperature.  Dice potatoes and place in a very large bowl.
Meanwhile, place eggs in an even layer in a medium sized pan.  Add cold water, covering eggs about 1 inch above with the water.  Bring eggs to a rolling boil, then remove from heat and cover the pan.  Allow eggs to set for 13 minutes.  Drain the water and let eggs cool slightly so you can touch them.  Peel eggs and chop them, then add them to the bowl with the potatoes.
Add the finely chopped onion, celery, parsley, and relish to the potatoes.  Gently stir until incorporated.
In a separate small bowl, stir together the mayo, mustard, milk, salt, pepper & sugar until combined.  Add to the potatoes and stir to fully coat the potatoes.  Cover with plastic wrap and refrigerate for several hours or overnight to allow flavors to marry.