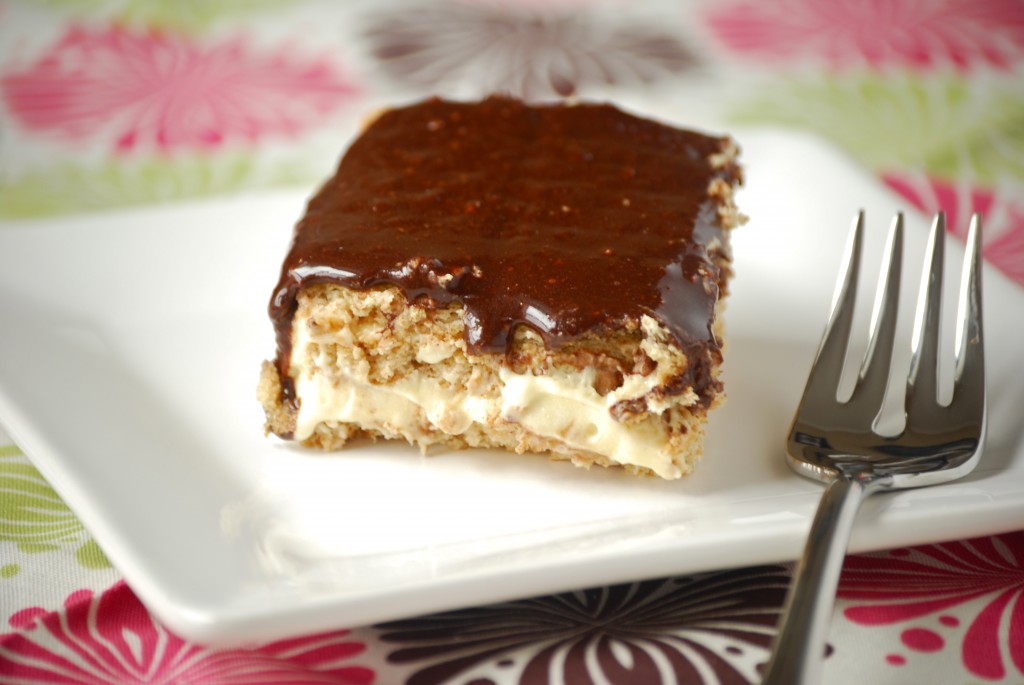 Hello everyone!! I missed you all while I was away on vacation! I had an amazing time in the Caribbean and can't wait to tell you all about it once I go through my zillions of pictures! We got home Thursday night and then left Saturday morning for my cousin's wedding in Nashville, so there is like no food in our house right now as I haven't had time to go to the grocery yet.  I haven't cooked in like 2 weeks, so I have another dessert recipe for you today that I actually made for my mom on Mother's Day.  I'm planning on cooking later this week & weekend so I should have some savory eats for you next week!;) This cake is semi-homemade, but you can definitely make it with homemade graham crackers, pudding and whip your own cream.  I just didn't have time the day that I made this so I opted for a few shortcuts.  My mom and family were in love with this cake.  The flavors taste just like an eclair!! I had to make this on Friday night for Sunday, so the crackers got a little too soggy for me.  I would suggest making it just  one day ahead so the crackers still have a little bite to them.  Also, this recipe is great for summer, because no baking is required!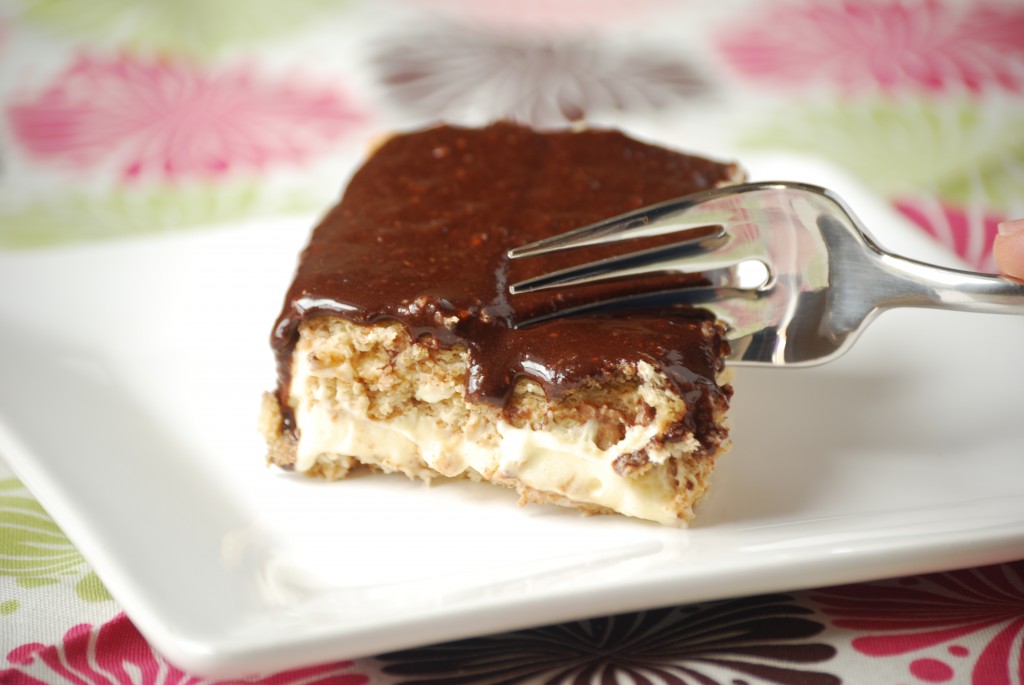 Chocolate Eclair Cake
Source: Paula Deen on Food Network
Ingredients:
1 box graham crackers*
2 small boxes instant vanilla or French vanilla pudding
3 1/2 cups milk
1 (8 ounce) container whipped topping, thawed
For the Frosting:
1 1/2 cups confefctioner's sugar
1/2 cup cocoa
3 tbsp. butter, softened
1/3 cup milk
2 tsp. light corn syrup
2 tsp. vanilla
Directions:
Spray a 9 x13 baking dish with cooking spray.  In the bottom of the pan, cover with the graham cracker squares, breaking them if needed to cover the bottom evenly.
In a large bowl, whisk together the pudding mix & 3 1/2 cups milk vigorously until mixture is a pudding like consistency.  (Alternatively you can use a hand mixer or stand mixer and mix for 2 minutes). Gently add the whipped topping and fold it into the pudding.
Pour half of the pudding mixture over the graham crackers and spread evenly.  Place another layer of graham crackers over top of the pudding.  Top with remaining half of pudding and spread evenly.  Cover with a final layer of graham crackers.
For the Frosting:
In the bowl of a stand mixer, add sugar and cocoa and stir together briefly to combine.  Add butter and 1/3 cup milk and beat until fully incorporated.   Mix in the corn syrup and vanilla and beat until a smooth consistency.
Spread icing over cake evenly (icing may seem a little thin but it will set up in the fridge).  Cover cake and refrigerate for 24 hours.
*May not need all crackers, just use enough to cover each layer evenly.