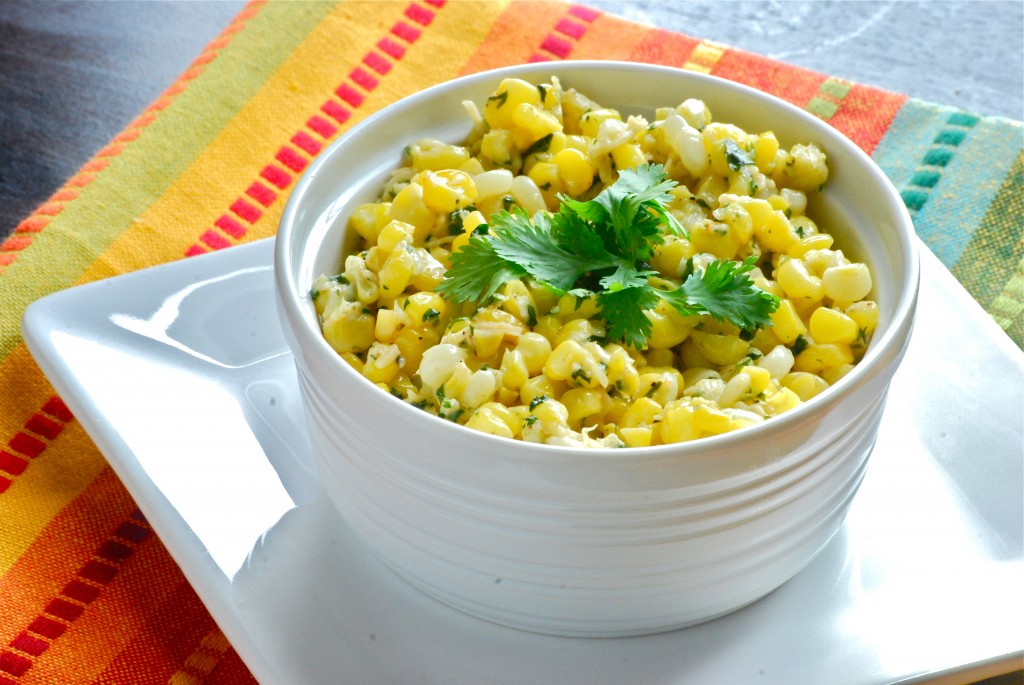 There's nothing that says summer to me quite like fresh corn.  It's so sweet and juicy and so versatile. I thought it would be fun to try something different with some corn I got at our local farmer's market and remembered this recipe I had seen for Mexican Street Corn.  This has such fun flavors and is a great twist on traditional corn.  The lime and parmesan give it a slightly sweet/salty combo and the sour cream & mayo give a little creaminess.  And definitely don't forget the cayenne, it gives it the zing it needs and really makes the dish. This is a great recipe for a summer meal and a great way to use up your fresh corn.  Also, if you don't want to add all the Mexican flavors, this is a fabulous method for cooking corn.  Simply cut it off the cobb and toss it with olive oil & salt & pepper and roast it.  So sweet and buttery and delicious!
Mexican Street Corn
Source: Fake Ginger, originally from Elephant Eats
Ingredients:
3 ears corn, shucked & cut off the cob
1 1/2 tbsp. extra virgin olive oil
salt & freshly ground black pepper, to taste
1 to 2 tbsp. cilantro, chopped
1/2 tbsp. light mayo, at room temperature
1 tbsp. light sour cream, at room temperature
Juice of 1/2 lime
3 tbsp. shredded Parmesan
pinch ground cayenne pepper
Directions:
Preheat oven to 400 degrees.  Shuck corn and cut corn off of the cob.  Add corn kernels to bowl and add olive oil and a generous sprinkling of salt & pepper.  Stir together to combine and pour out onto baking sheet and spread in an even layer.  Roast corn in oven for 15 minutes, turning corn once or twice during baking, until corn kernels are tender.
Once corn is roasted, add to a medium sized bowl and stir in cilantro, mayo, sour cream, lime juice, parmesan, & cayenne. Stir until combined. Taste and adjust any seasonings to taste. Serve warm or at room temperature.