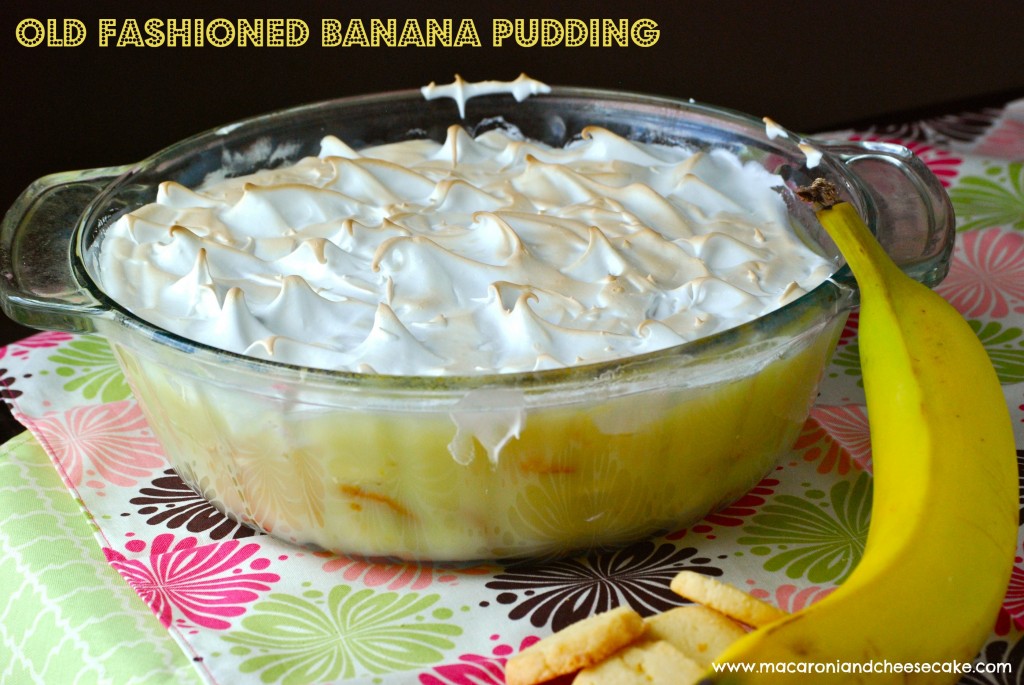 So I've mentioned my mother-in-law on here several times and have made several of her recipes.  Ya'll, she should have her own southern restaurant.  She's such an amazing cook & baker and I've learned so much from her! I never even really realized you could have banana pudding from scratch until I had her's. I've always just had the kind with the store bought pudding and wafers, and it is really delicious and refreshing for summer, but I'm telling you it doesn't hold a candle to this rich homemade version.  The custard/pudding is so creamy and the meringue on top gives it the perfect texture.  And you are welcome to use store bought vanilla wafers, but these homemade ones added such a layer of dimension and buttery flavor to the dish that really made it sing even more.  This is a bit of a labor of love because you have to constantly stir the pudding mixture, but it's so worth it! My friend Jennifer said it was the best banana pudding she'd ever had.  This is a great dessert for the fourth of july and your friends will be so impressed!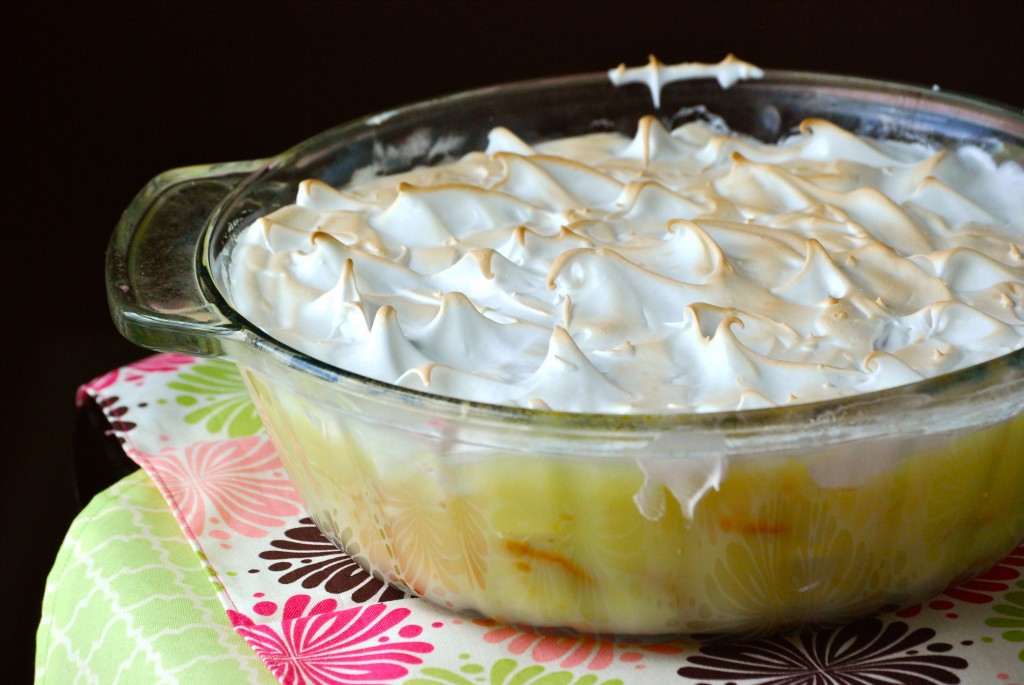 Old Fashioned Banana Pudding
Source: My Mother-in-Law
Ingredients:
1 cup sugar
2 eggs, separated
1 tsp. vanilla
pinch salt
1 tbsp. cornstarch
2 tbsp. all purpose flour
1 tbsp. unsalted butter
2 cups milk
Vanilla Wafers*
3-4 bananas, sliced (slightly green & firm)
Directions:
In a medium sauce pan, or double boiler, add sugar, 2 egg yolks, vanilla, salt, cornstarch, flour & butter, set aside.
In a 2 quart dish, spread an even layer of vanilla wafers, then sliced bananas on top of the wafers, then another layer of wafers, another layer of banana slices, then top with a final layer of wafers (so it goes wafers, bananas, wafers, bananas, wafers), set aside.
Over low to medium low heat, begin to heat your sugar mixture, stirring all ingredients until well blended.  Mixture should be thick & pasty (this takes a few minutes to come together). Add in 1 cup of the milk.  Stir until fully incorporated and of one consistency.  Stir in remaining cup of milk.
Gradually increase heat to medium, stirring continually and ensuring mixture isn't sticking to bottom of the pan. While constantly stirring, slowly allow mixture to heat to barely a boil (adjusting heat as necessary so mixture doesn't fully boil). This could take anywhere from 8 to 15 minutes depending on your stove.  As soon as you see a few boiling bubbles appear the mixture should begin to thicken.  Continue stirring until mixture becomes slightly thick and creamy, this may take several more minutes. Consistency should be thicker than soup, but pourable.  Remove from heat and pour over your layered wafers and bananas.  Stick the back of a spoon or spatula down into the layers in several places to make sure the pudding is distributed throughout.  Top with meringue and spread evenly **(directions below).
Place in the oven on the broil setting until meringue is light brown.  Watch very closely as this took about 15 to 20 seconds and the meringue can burn very quickly.  Serve warm or at room temperature.  Store any leftovers in an airtight container in the refrigerator. I like to warm up the leftovers for about 15 to 20 seconds in the microwave.
Prepare the meringue: 
In the bowl of a stand mixer, using the whisk attachment, whisk 2 egg whites on high speed until stiff peaks form.  Add in 1/3 cup sugar and whisk one minute more.  Spread over top of layered banana pudding.
*If using store bought wafers, it uses approximately 1/2 to 3/4 of a box, if using homemade it uses almost a full batch (about 60-65 wafers)
**To get that peak look on your meringue, just use the back of the spatula and lightly dab it over the meringue, pulling up slightly each time.