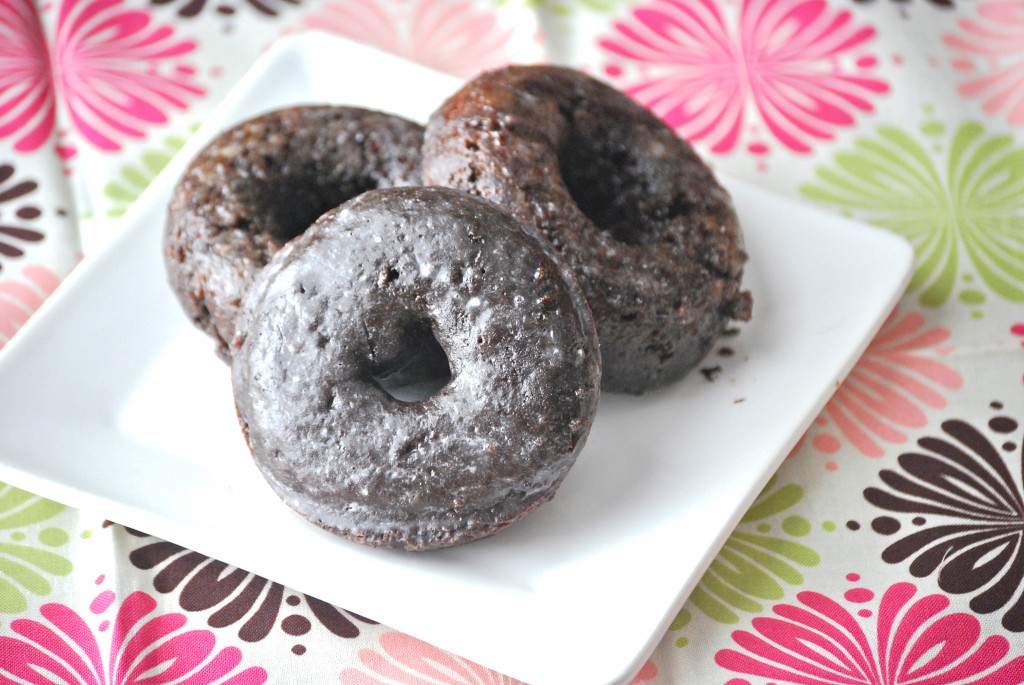 So I've been putting off getting a donut pan as I thought it would take up too much room in my townhouse and limited cabinet space.  But, my longing for donuts outweighed that skepticism about where I would put it and so I asked for one for my birthday.  I'm so glad I did! The pan didn't take up much space and it was so fun to make my own donuts without having to worry about frying! This was a fantastic recipe to start with in my foray into donut making.  It's super chocolatey, rich and moist.  I dipped some in a glaze and then some I topped with my favorite buttercream.  I also made some of the batter into cupcakes, so if you don't have a donut pan, never fear, you can still get in on this deliciousness! The batter worked great in the cupcakes, moist and would even be great with a filling inside.  These are super chocolatey, so if you aren't a big chocolate fan, I'd cut back a tad on the cocoa.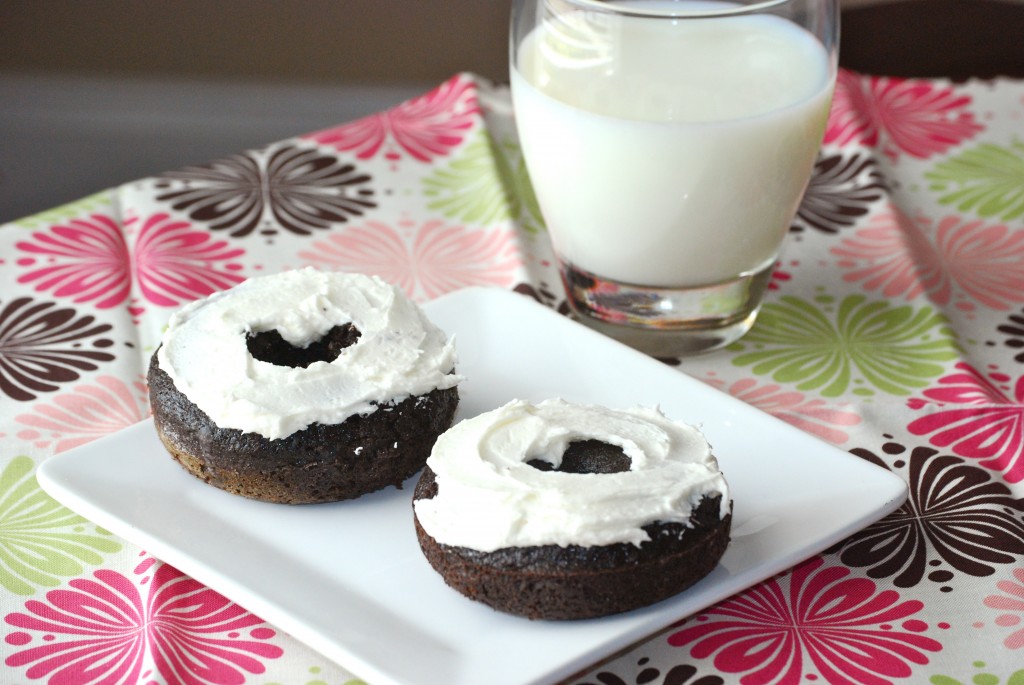 Chocolate Cake Donuts
Source: Simply Scratch
Ingredients:
For the Donuts:
1 cup all purpose flour
1 cup sugar
3/4 cup cocoa powder
1 tsp. baking soda
1/2 tsp. baking powder
1/4 tsp. kosher salt
1/4 tsp. ground cinnamon
pinch nutmeg
3/4 cup buttermilk*
1/2 cup milk (or coffee)
1/4 cup canola oil
1/2 tsp. vanilla
1 egg
For the Glaze: (Recipe from Culinary in the Country)
3 1/2 cups confectioners' sugar
5 to 7 tablespoons water
1 teaspoon vanilla
For the Icing: (Recipe from DC Cupcakes)
16 tbsp. (2 sticks) unsalted butter
4 cups confectioner's sugar, sifted
1 tsp. milk
1 tsp. vanilla
1/8 tsp. salt
Directions:
For the Donuts:
Preheat oven to 350 degrees.  Spray the donut pan with cooking spray and lightly sprinkle with flour or powdered sugar. Shake to coat and shake out the excess, set pan aside.
In a medium sized bowl, add the buttermilk, oil, egg and vanilla and whisk together to combine.  Set aside.
In a large bowl, add the flour, sugar, cocoa powder, baking soda, baking powder, salt, cinnamon & nutmeg.  Whisk to combine.  Add the buttermilk mixture into the dry ingredients and stir until fully incorporated.  Batter will be very thin.
Using a cookie or ice cream scoop, pour the batter into the donut pan and fill each donut mold about 2/3 to 3/4 of the way full.  Bake for approximately 7 to 9 minutes, until a toothpick inserted comes out clean and the donuts bounce back when lightly touched.  Let donuts cool in the pan for a few minutes.  Then run a flat spatula or butter knife around the edge and pop each donut out carefully. Transfer to cooling rack to cool completely.
Notes:
If making into cupcakes, fill a cupcake pan with foil liners, fill 2/3 full with batter and bake for 18-20 minutes until toothpick inserted comes out clean and cupcakes spring back when lightly pressed. Top with the buttercream icing.
*If you are out of buttermilk, add 3/4 tsp. vinegar to a 3/4 cup liquid measuring cup and fill the rest of the way with regular milk to the 3/4 cup line.  Let set for 10 minutes and you have a great sub for buttermilk.
**I got 10-11 donuts and 7 cupcakes out of this recipe. So it should make either approximately 15-17 donuts or 14-16 cupcakes.
***If you are wanting to glaze half the batch and ice half the batch of donuts, then halve both of the recipes below as each are listed to be able to coat the full donut recipe.
For the Glaze:
Stir all ingredients together.  If too stiff, add a little water at a time until you reach desired consistency.  Dunk each cooled donut into the glaze and shake off any excess.  Place back on the cooling rack and allow the glaze to set and harden.
For the Icing:
In the bowl of a stand mixer, add the butter and confectioner's sugar and mix on medium speed until fully incorporated. Add in milk, vanilla & salt and mix until light and fluffy and spreadable consistency.  Spread icing on top of donuts or cupcakes.  Store any leftover icing in an airtight container.