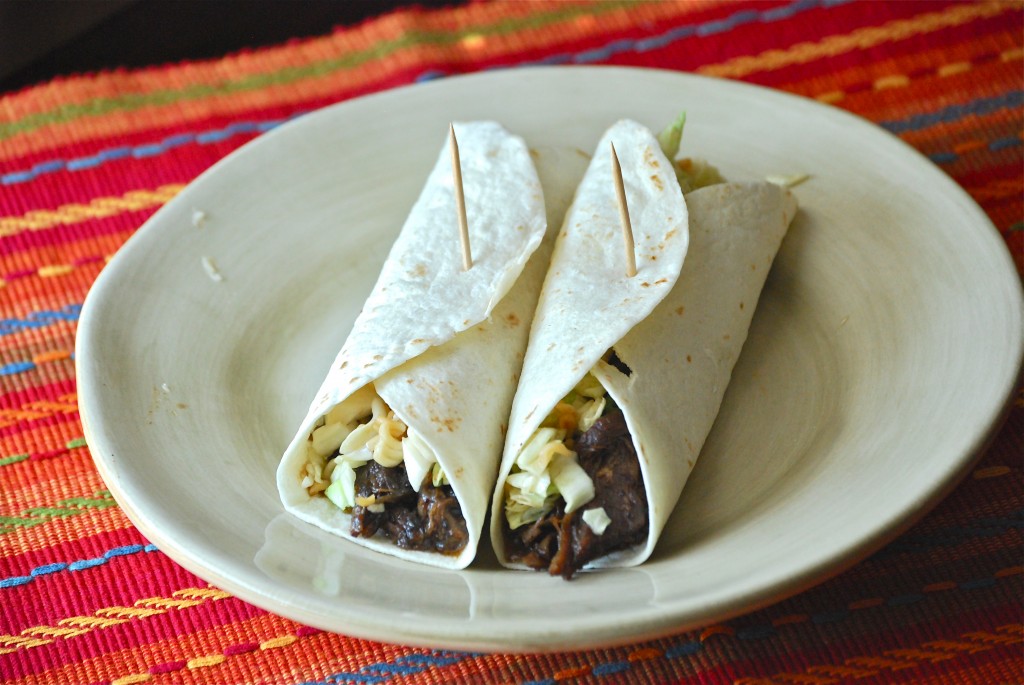 I've had these on my list to make for quite a while now and I just now got around to making them.  I'm so sad of all that time lost with this deliciousness by waiting this long to make it! With each bite, I seemed to keep saying "These are SO good!" They have such a deep flavor of sweet and savory that just makes the meat melt in your mouth.  Combined with the bit of crunch and zest from the chinese slaw makes this an amazing dish. The best part? It's a crockpot recipe so it's perfect for an easy weeknight meal.  Just make some chinese slaw when you get home from work and then you're good to go. I actually cut this recipe down by 2/3 and we still had enough for 3 meals (approx. 6 people) .  I'm going to list the full recipe below so you can halve or third it as necessary for your crowd.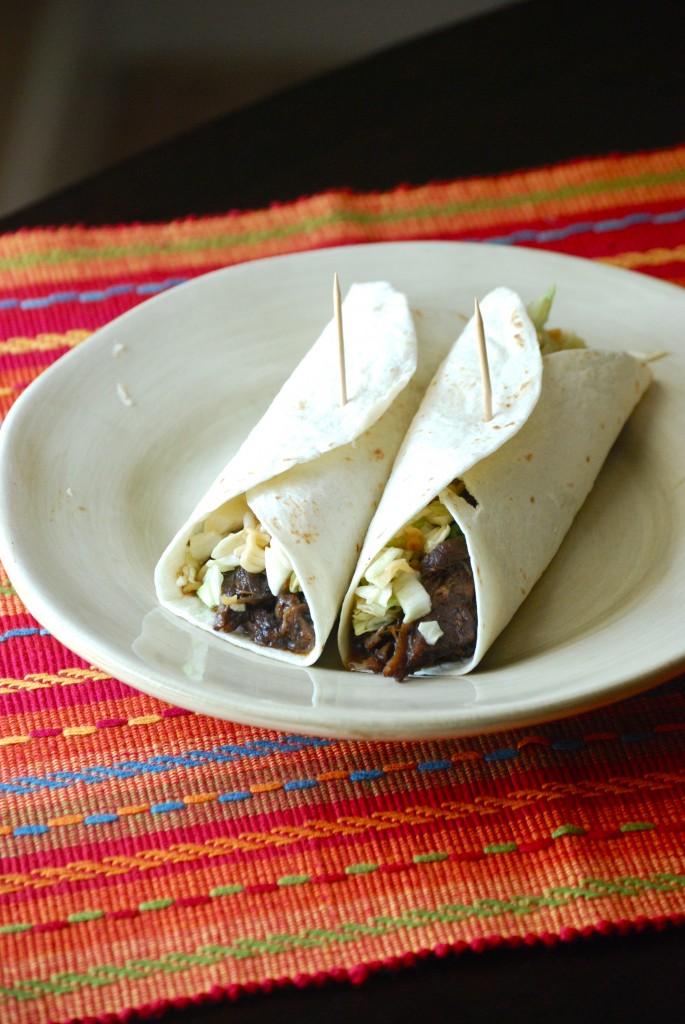 Korean Beef Tacos (Crockpot Recipe)
Source: Pink Parsley adapted from Confections of a Foodie Bride & My Life as a Mrs., originally from What's Cookin' Chicago
Ingredients:
6 1/2 lbs. chuck roast (Can also use short ribs)
1 1/2 cups low sodium soy sauce
1 1/3 cups packed brown sugar
10 cloves garlic, minced
1/4 tsp. ground ginger
6 tbsp. rice wine vinegar
2 tbsp. dark sesame oil
1/4 to 1/2 tsp. ground cayenne pepper (depending on your heat tolerance)
For Assembly:
Small Taco Sized Flour Tortillas
Chinese Slaw
Directions:
In the crockpot, add the chuck roast.  In a medium sized bowl, whisk together soy sauce, brown sugar, garlic, ginger, rice vinegar, sesame oil & cayenne until combined and smooth.  Pour over top of roast.  Cook on low setting for 8 hours.  When ready to serve, remove meat from crockpot and shred meat with two large meat forks.
Skim the fat off the top of the cooking liquid and transfer cooking liquid to a small saucepan.  Simmer liquid over medium heat until it reduces and begins to thicken slightly.
Place 3-4 tortillas on a plate, slightly spread out, and top with a damp paper towel.  Microwave for 20 seconds.  Fill each tortilla with the meat and top with the sauce reduction and chinese slaw.