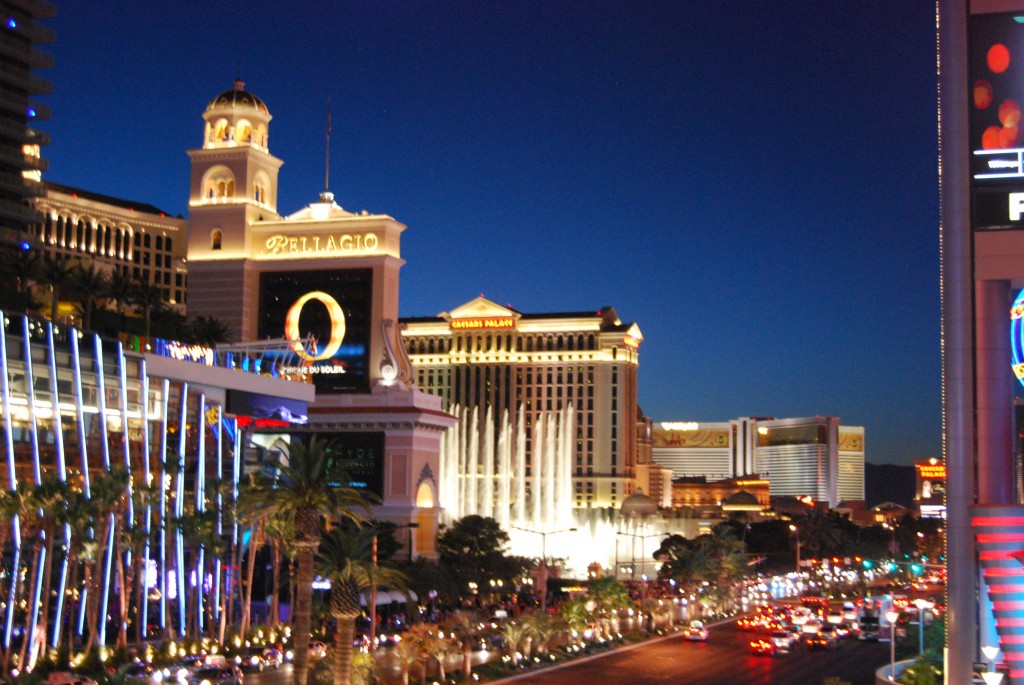 I mentioned a few weeks ago on here that we were in Vegas for my 30th birthday.  We had such a fabulous time! I'll tell you more about all that we did attraction wise soon, but I thought I would share with you all the delicious food we ate while we were there!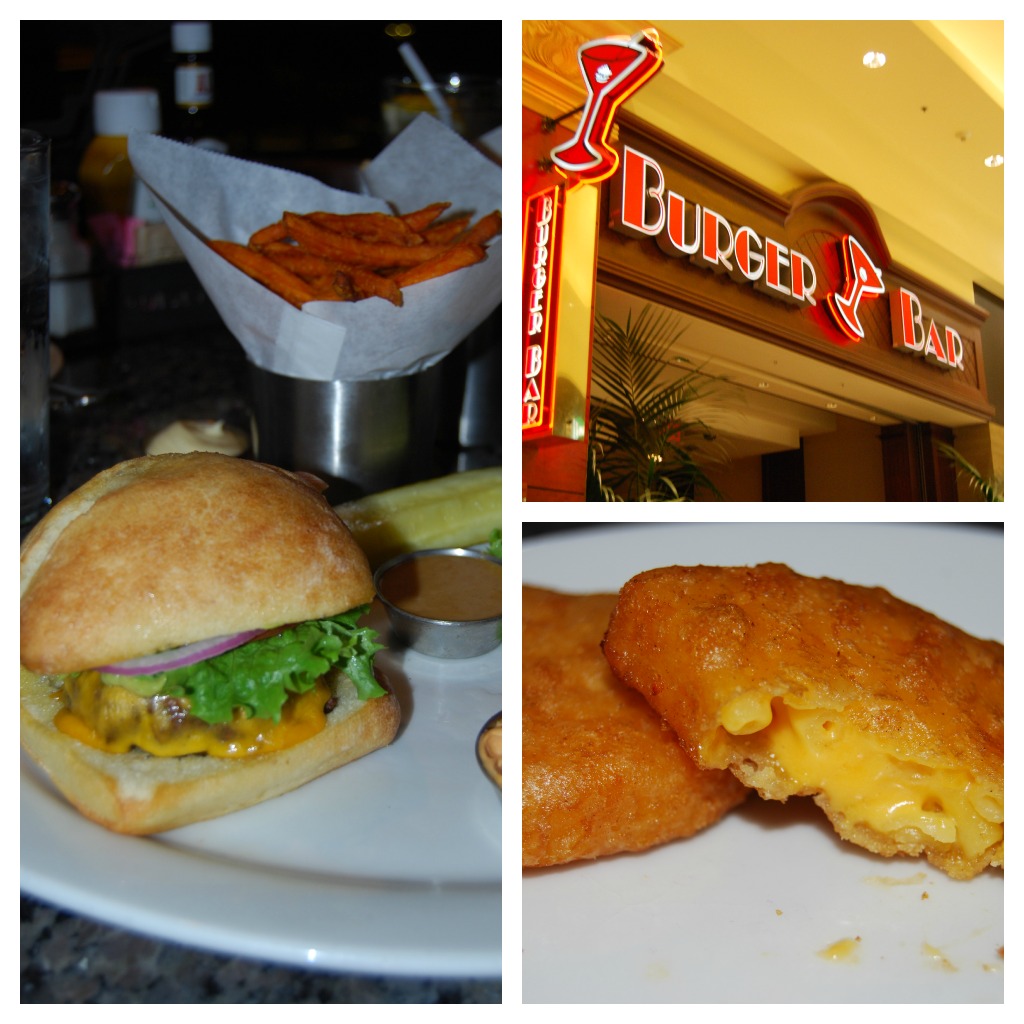 We started out the trip with lunch at Burger Bar in Mandalay Bay.  This is a Hubert Keller restaurant who has been on Top Chef Masters and also is a judge from time to time on Top Chef.  We started out with fried mac & cheese bites!! Swoon!! I was completely in love with these and ate my fair share!:) Then I built my own burger and Adam had the classic.  The meat was perfectly cooked and we got ours served on a ciabatta bun which gave it great texture.  Their fries & sweet potato fries were really good too.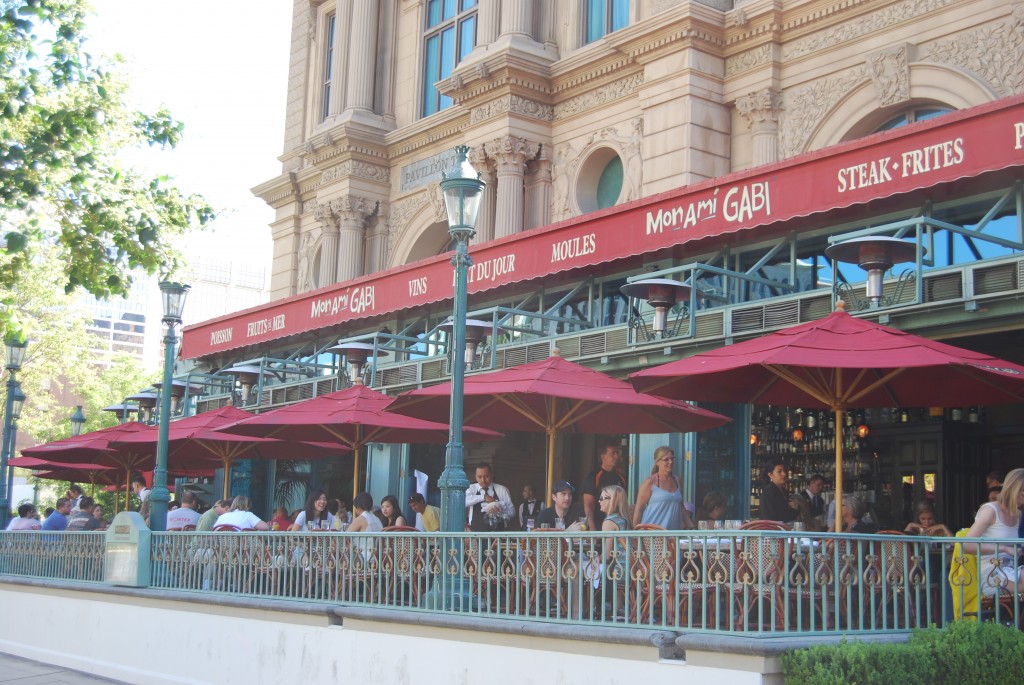 Our absolute favorite place that we ate was Mon Ami Gabi at Paris.  We ate there for breakfast and it was so good that we went back again the next morning! It had such a great atmosphere, you ate at a patio outside overlooking the Bellagio.  It was shaded in the morning so it wasn't hot at all and had a nice breeze going.  Aside from the wonderful atmosphere, the food was phenomenal.  I had the waffles, which were crispy on the outside and pillowy soft on the inside.  I'm guessing they take a dip in the fryer after the waffle iron, but I'm not sure.  Whatever they do, the crispiness made them just amazing! I seriously think these are the best waffles I've ever eaten.

Adam got the omelette with his beloved gruyere cheese (he loves that stuff)! And it came with crispy hashbrown potatoes and toast with butter and jam.  The butter was super creamy and the jam perfectly sticky and sweet.  We also had it atop some croissants to start with and brioche the other morning.  Their coffee was excellent as well.  They do serve lunch and dinner too, so next time we'll have to try it for one of those meals.  Definitely a must try if you are in Vegas.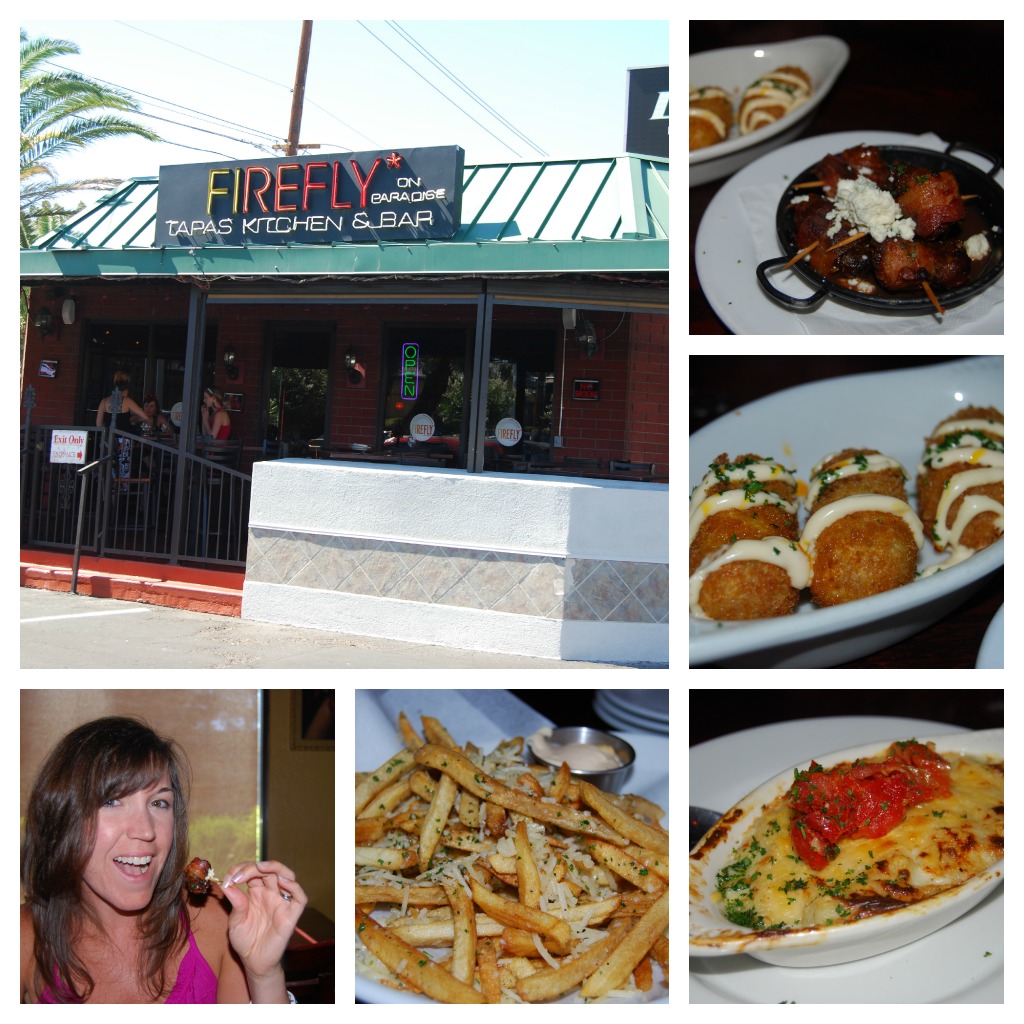 We were so full from breakfast that day that we just had a snack midday (a cupcake from Cupcakery) and then ate an early lunch.  We ventured a street over from the strip and ate a Tapas restaurant called Firefly.  It was so fun to get several different small bites to share and try.  We got the bacon wrapped stuffed dates which is a must try! They were carmelized and the creamy blue cheese inside paired with the bacon made for the perfect little bite! Adam doesn't even like blue cheese and he said these were amazing.  We also had truffle french fries, ham & cheese croquettes, calimari, mac & cheese and filet mignon sliders.  Everything was really good.  I didn't love the sliders, but Adam liked them. All the other items were delicious!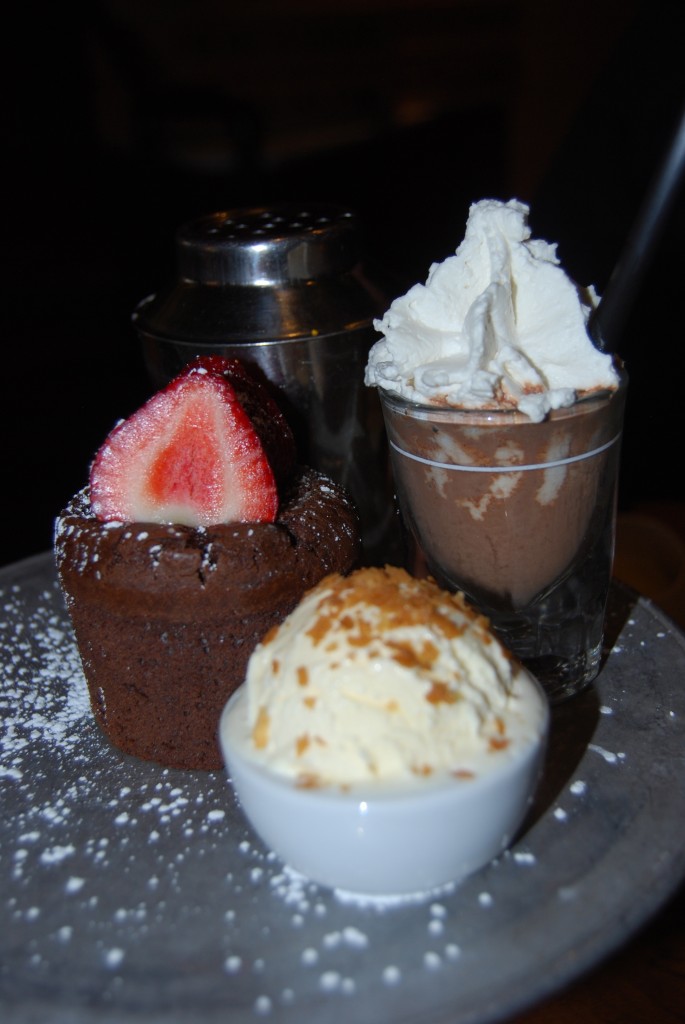 After our show, we went for dessert at Max Brenner's at The Forum Shops at Caesar's. We had a molten chocolate cake that was really good but really rich. What you really come here for are the drinks. The hot chocolate is to die for! So thick and creamy. I definitely recommend getting the Italian style hot chocolate if you like rich drinks.
So I've saved the best for last.  For my birthday dinner we went to Scarpetta in the Cosmopolitan which overlooked the Belaggio fountains! And it was Saturday night so the fountain show ran about every 7 to 10 minutes!  This was one of the best meals I've ever had, not even exaggerating! The bread basket was even wonderful with stromboli, foccacia, and italian bread and dipping sauces.  I started out with the braised short ribs. They were so savory and just melted in your mouth.  It's better than the best roast your mom's ever made.  And the portion was a really good size too.  Adam got started with the creamy polenta which was more like a soup and so so creamy and wonderful.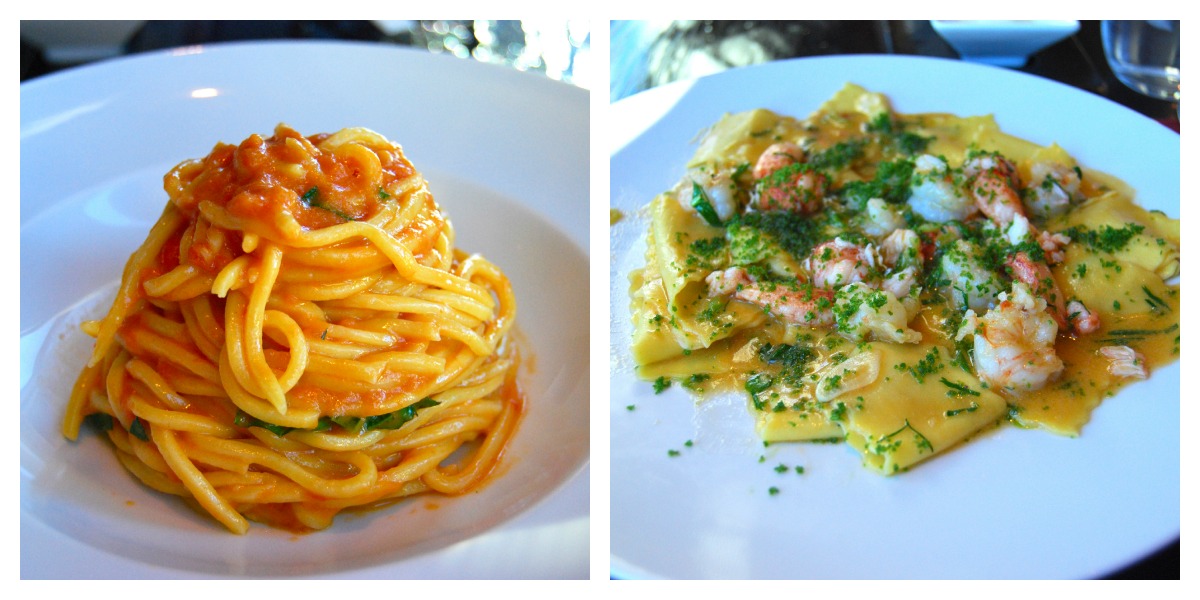 Then we moved to the main course, I got the spaghetti which they are famous for.  I never get spaghetti at restaurants because I like it better at home but all the rave reviews I read convinced me to try it.  The noodles are made from scratch and the sauce has a slight creaminess about it and the pasta is tossed in the sauce giving it an all over coating.  I am so in love with this dish.  My mouth is watering now just thinking about it.  So light and fresh and comforting all at once.  Adam got the Stracci, which are thin sheets of pasta with lobster and shrimp in a light butter sauce.  It was fabulous as well and very light, but filling.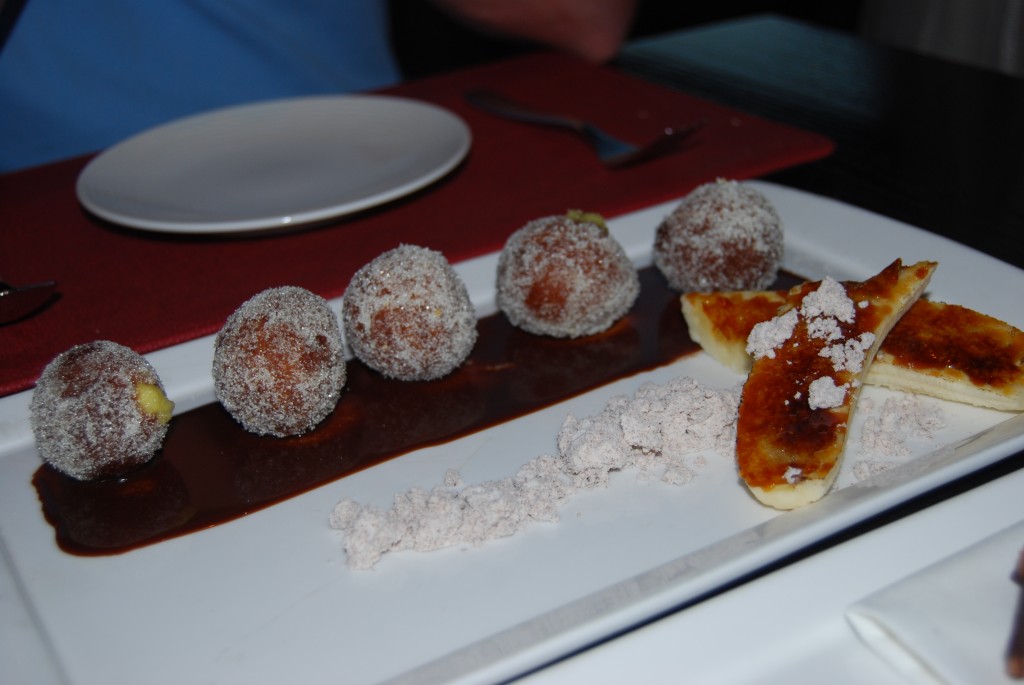 And the piece de resistance….the dessert was OUTSTANDING!!!! Zeppole, which are like little filled donuts.  Some were filled with nutella and some with cream and then they had a nutella powder and chocolate syrup to dip them in! It. was. heaven. Best birthday dessert ever!!
 It was a fabulous trip! More to come about what all we saw and did!