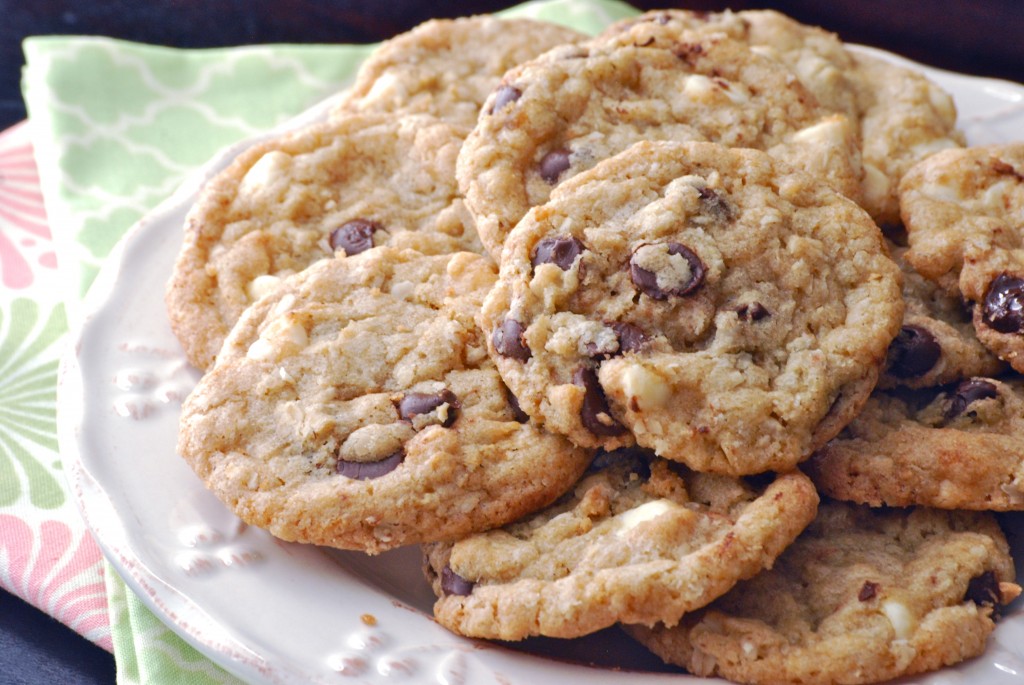 "Hey Baby, I think I wanna marry you!" So these cookies are so good that they are supposed bring about a marriage proposal. I'm already married, so I'm not sure about that, but maybe they will elicit a promotion or just bribe your significant other to buy you that designer wallet/purse, ring, clothes, etc. that you've been eyeing!;) These cookies also have a neat method that gives them a nutty flavor, you melt the butter and then stir in the sugars instead of creaming it all together.  Plus if you want, you can just make everything in one pot! These had such a nice nutty and sweet flavor and I have to admit I ate one, and then ate two more! They have a nice crisp, yet chewy texture that makes them irresistible! They are great room temperature or warmed up just a tad.  Also, this recipe says it yields 2 dozen, but I got 4 dozen out of these.  I baked 3 dozen and then frozen a dozen dough balls so I can pop some in the oven when I'm having a cookie craving.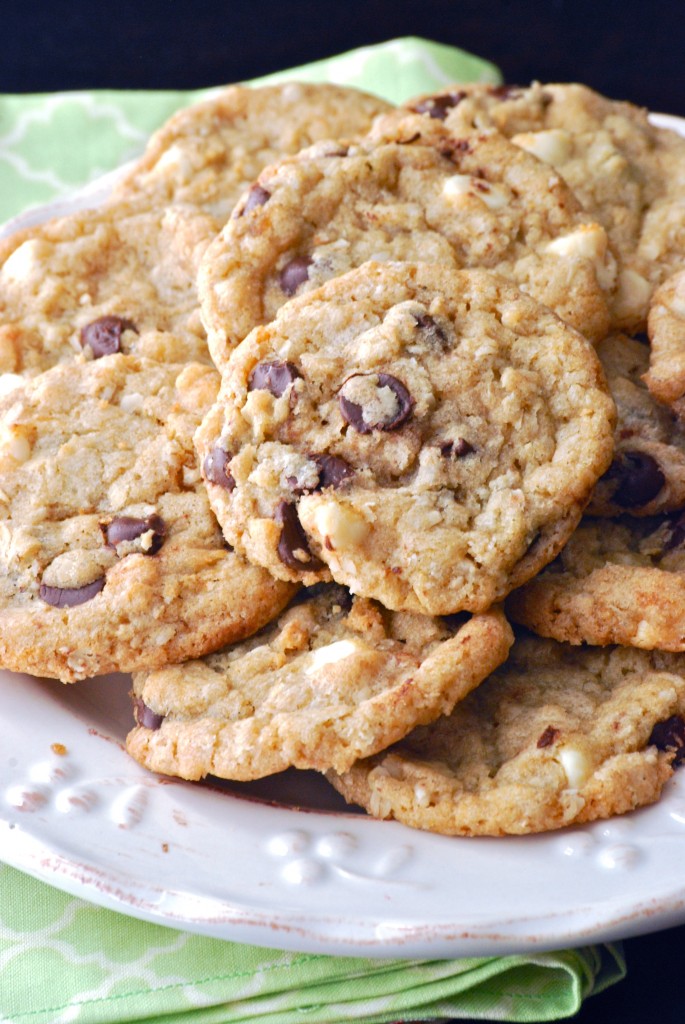 Marry Me Cookies
Source: Melissa Stadler, The Cooking Channel
Yield: 4 dozen cookies when using a small cookie scoop
Ingredients:
1 cup butter (2 sticks)
1 1/4 cups dark brown sugar (light works too)
1/2 cup granulated sugar
1 egg plus 1 egg yolk
1 tsp. vanilla
2 cups all purpose flour
1 cup quick cooking oats
1/2 tsp. baking soda
1/2 tsp. salt
1/4 tsp. ground cinnamon
1 cup white chocolate chips
1 cup semi-sweet chocolate chips
Directions:
In a medium saucepan, melt butter over medium heat, stirring occasionally.  Remove melted butter from heat and stir in the brown sugar and granulated sugar.  Stir until fully incorporated and well mixed together (will be a wet, thick stirrable mixture). Place the mixture in the refrigerator for 10 minutes.
Once chilled, remove from refrigerator and add in the egg, egg yolk & vanilla.  Stir to combine.
Add in the flour, oats, baking soda, salt & cinnamon.  Stir together until fully incorporated.  (Alternatively, you can whisk all these dry ingredients together in a medium sized bowl and then add it to the wet mixture, this is what I did).
Add in the white chocolate chips & chocolate chips and stir to distribute evenly.  (This will seem like too many chips, but trust me it isn't).  Place dough in refrigerator for 30 minutes.
Preheat oven to 325 degrees.  Cover baking sheet with parchment.
Remove dough from refrigerator and scoop into balls using a small cookie scoop.  Place on prepared baking sheet approximately 2 inches apart.  Bake for 12 to 14 minutes until lightly golden and tops look set.  Transfer to cooling rack to cool completely.  Repeat for remaining dough. Keep dough in fridge in between batches. Store baked cookies in an airtight container.
*You can freeze some of the dough balls. Just place on a cookie sheet spaced a little apart so they don't stick together. Freeze for a bit until set and then place in a zipped freezer bag.  Then just pull out a few balls of dough when the craving strikes. Let them thaw while the oven preheats and then bake as above. You may need to add a few minutes to the baking time.