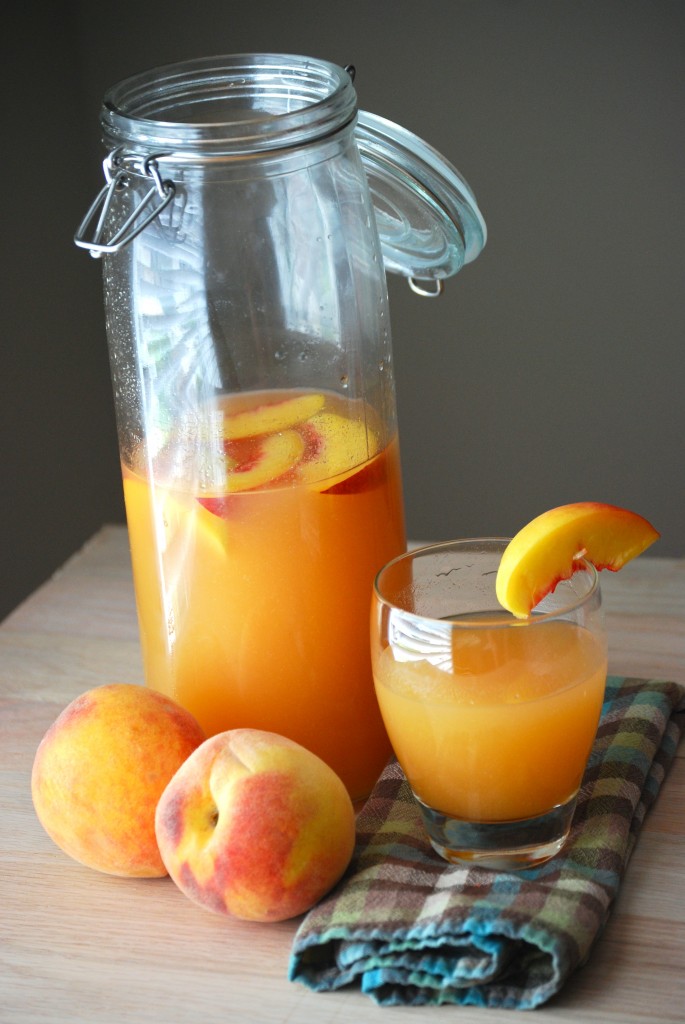 Fresh ripe juicy peaches just scream summer don't they!?! They are so refreshing even by themselves in this hot hot weather.  I saw this recipe in Cooking Light recently and had it on my calendar to make when peaches came in at their peak.  I then saw it pop up on several sites since then and hesitated to make it.  But I got a bushel of local peaches and was having some ladies over and I just couldn't resist. This was the perfect combination of sweet and tart and very refreshing! I ending up adding a little more water at the end to make it less concentrated because I don't like things super tart and it worked perfectly.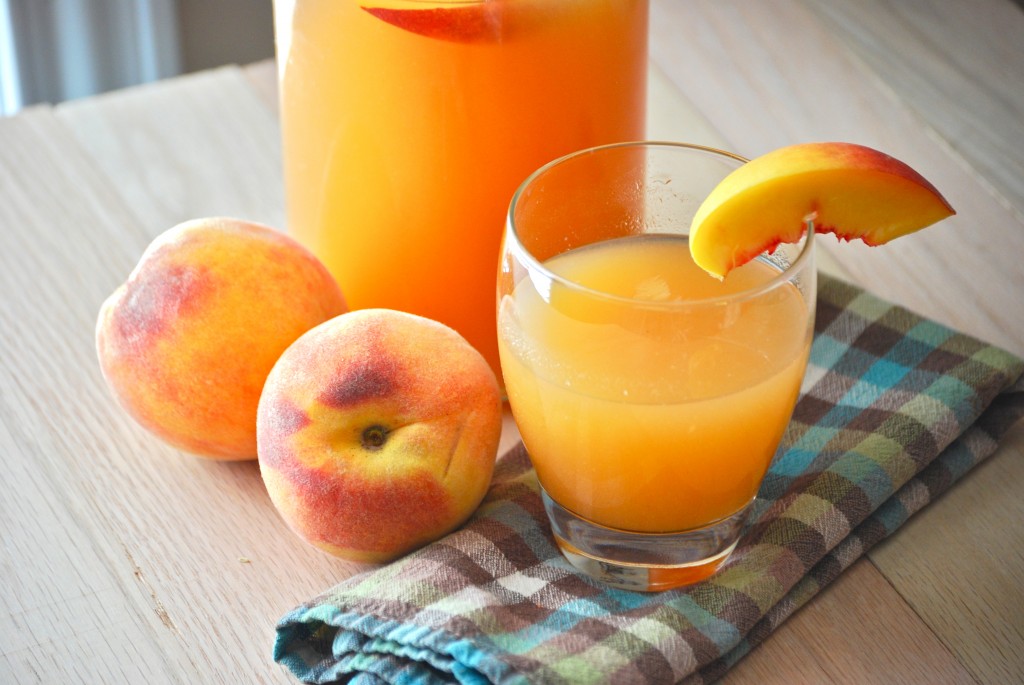 Peach Lemonade
Source: Cooking Light June 2012
Serves 8 if using 2/3 cup lemonade per serving
Ingredients:
4 cups water
2 cups coarsely chopped peaches (approx. 3 to 4 peaches)
3/4 cup sugar
1 cup fresh lemon juice (juice of approx. 6 to 8 lemons)
1/4 to 1/2 cup additional water
4 cups ice
1 peach cut into 8 wedges, for garnish
Directions:
In a medium saucepan, add the peaches, water & sugar.  Bring to a boil over medium high heat.  Once boiling, reduce heat to medium low and simmer for 3 minutes.
Very carefully pour mixture into a blender or food processor and let stand for approximately 20 minutes.
If using a blender, take the center out of the lid and place lid tightly on blender, covering the top with a kitchen towel.  (I used my Ninja and it has a little lid at the top you can open as well). Blend or process until smooth.  Pour into a large container and refrigerate peach puree for approximately 3 hours (or overnight if preparing a day ahead).
After peach puree has chilled, press the mixture through a sieve into a large container, reserving the liquid and discarding the solids.  Pour peach juice into a pitcher and add lemon juice.  Stir until combined. Taste and add 1/4 to 1/2 cup water to dilute if too concentrated.
Serve by pouring approximately 2/3 cup of peach lemonade in a small glass over approximately 1/2 cup of ice. Garnish with a peach wedge if desired.