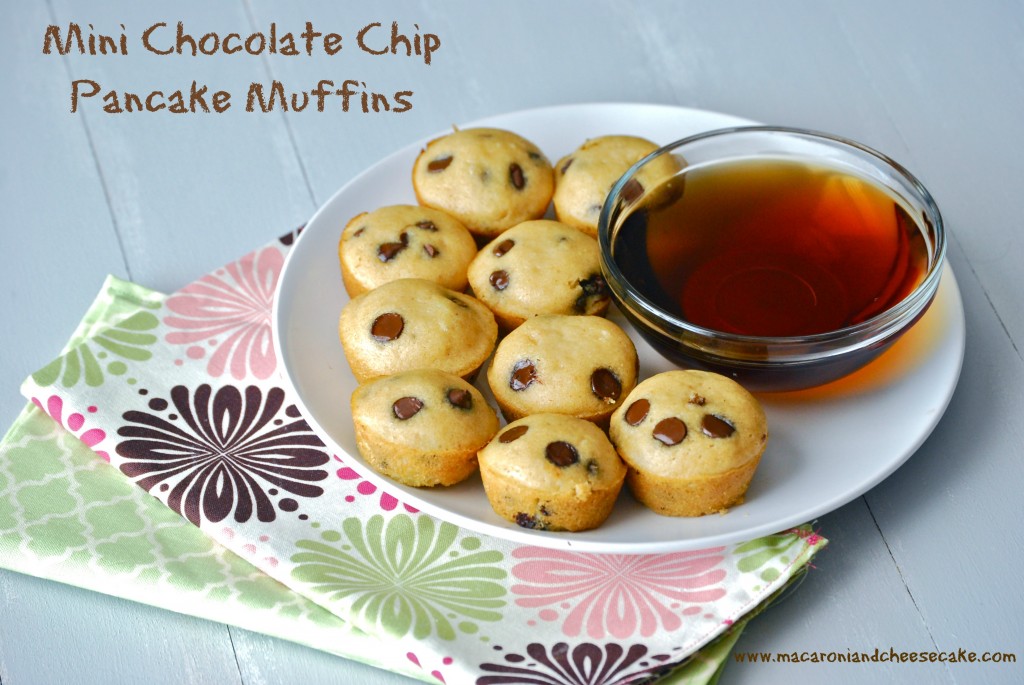 So I think I may have discovered my new favorite breakfast item! These little babies are super cute, portable, delicious, and you can make them ahead of time! Plus I love the fact that they have all the amazing flavor of pancakes without all the standing over the skillet and waiting for the perfect moment to attempt the "flip."  I love that these have a little syrup baked right into them so that they are equally as delicious if you don't dip them in syrup.  I think these would be great for kids too because you could even serve them on little lollipop sticks for dipping.  These are so sweet and moist and full of flavor.  I'm already thinking about when I can make them again!:)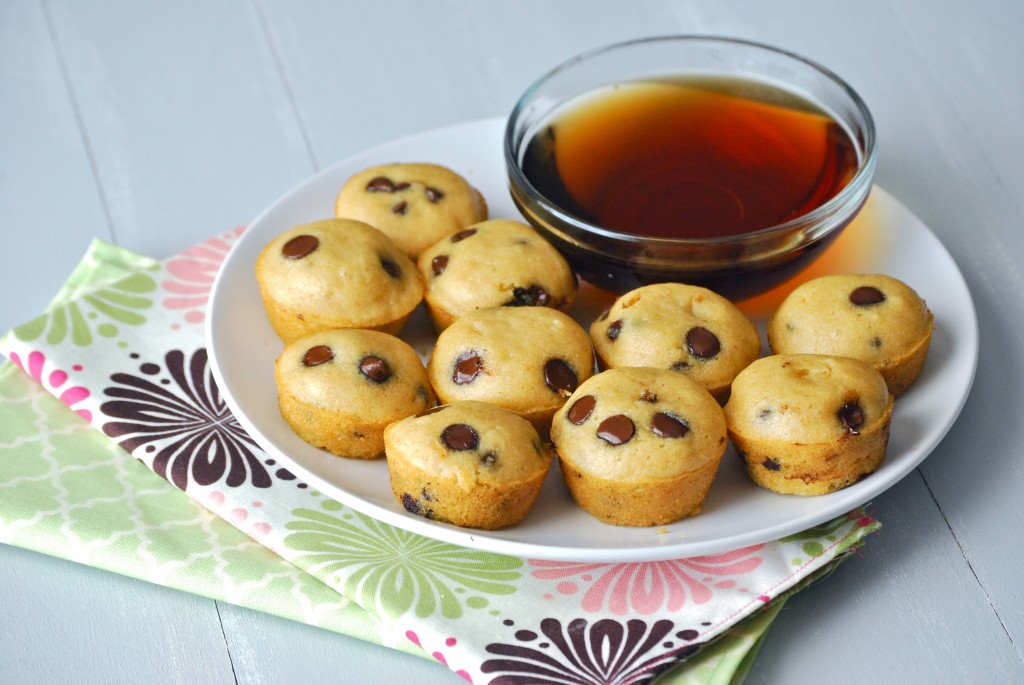 I love that these are customizeable to your favorite pancake filling too, I think next time I will omit the chocolate chips and add in bacon bits! Adam said you could make them into regular sized muffins, add the bacon bits and then slice them in half and add some scrambled eggs and have your very own homemade McGriddle! This makes 24 mini muffins, so I am going to freeze half of them to pull out a few during the week for breakfast each day and reheat in the microwave.
Mini Chocolate Chip Pancake Muffins
Source: Bakerella
Ingredients:
1 cup all purpose flour (or 1/2 cup all purpose & 1/2 cup white wheat flour)
1 tsp. baking powder
1/2 tsp. baking soda
1/4 tsp. salt
2 tbsp. sugar
2/3 cup buttermilk
1 egg
2 tbsp. maple syrup (or pancake syrup)
2 tbsp. butter, melted
1/4 cup semi sweet chocolate chips, plus more for topping
1/4 cup mini chocolate chips
Syrup for serving, if desired
Directions:
Preheat oven to 350 degrees.  Spray a mini muffin pan liberally with cooking spray, set aside.
In a medium sized bowl, whisk together flour, baking powder, baking soda, salt & sugar.
In a separate medium sized bowl, whisk together buttermilk, egg, syrup & melted butter until just incorporated.
Pour the wet ingredients into the dry ingredients and stir until fully incorporated (there will still be some lumps).  Add chocolate chips and stir to evenly distribute.
Using a small cookie scoop, scoop the batter into the prepared mini muffin pan, filling each muffin tin approximately 2/3 to 3/4 full. Top each tin filled with muffin batter with 2 or 3 chocolate chips. Bake for 8 to 9 minutes, until light golden brown and a toothpick inserted comes out with just a few dry crumbs attached.
Let cool for just a minute in the pan, then use a knife and circle around the edge of each muffin and pop them out.
Serve warm with syrup for dipping.  Store in airtight container (I stored mine in the refrigerator).  Reheat in the microwave in 15 second increments until desired temperature.