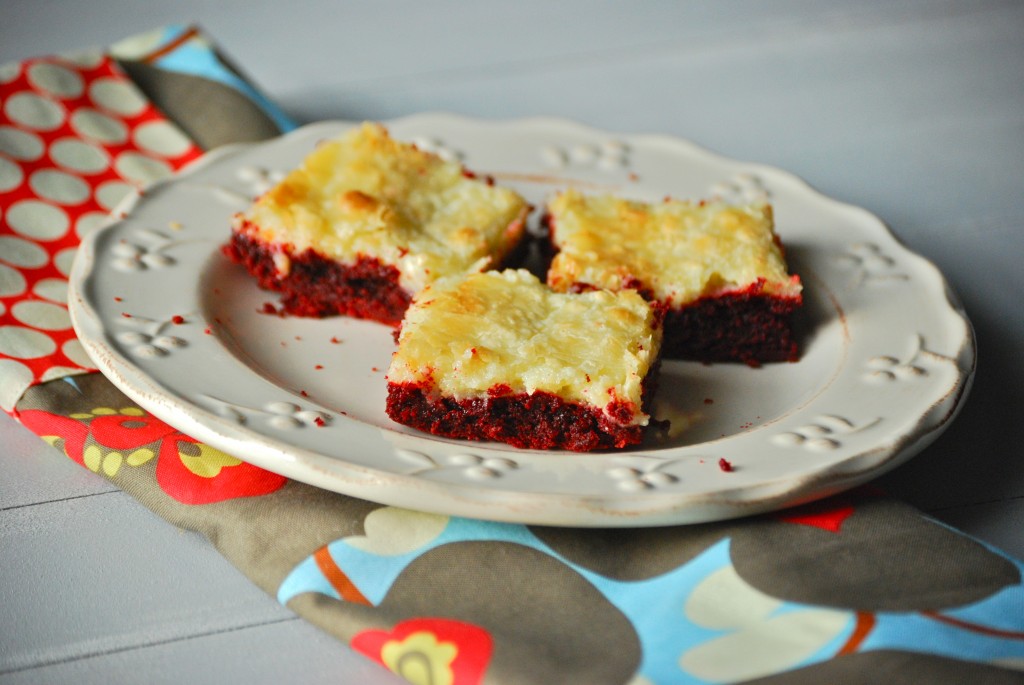 Adam is working a Men's Retreat this weekend and asked if I would make a treat for him to take to share.  Of course, I never pass up an opportunity to bake! I was a little short on time though, so I made a semi-homemade recipe.  Chess bars are one of my favorite treats, so buttery and delicious.  Well, come to find out these red velvet gooey bars are actually just like the chess bars that I make, except you use red velvet cake mix instead of vanilla.  Be sure that you don't over bake them though, because mine weren't quite as gooey on the red velvet layer as I would've liked.  It should be set on the edges, but still soft in the middle.  These would be a super fun recipe for tailgating or any party! And I bet you could substitute different flavors of cake mix if you would like, chocolate or strawberry maybe?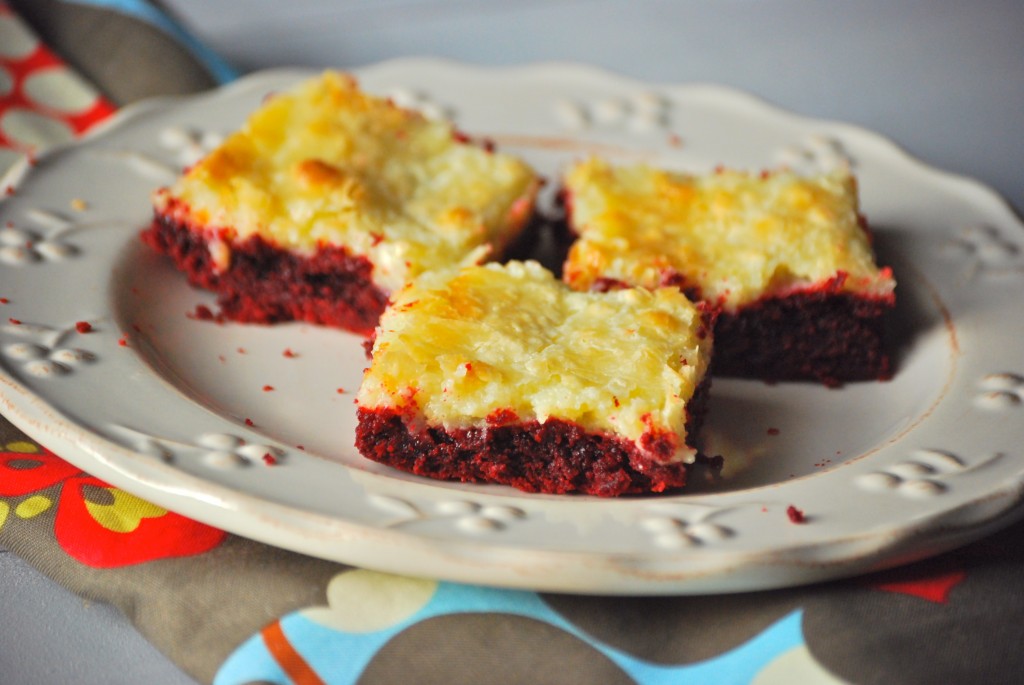 Red Velvet Gooey Bars
Source: Inspired by Buns in My Oven, recipe from my mom
Ingredients:
Crust:
1 Box Red Velvet Cake Mix
1 egg
1 stick unsalted butter, softened
Filling:
1 (8 oz.) block cream cheese, softened
2 eggs
1 (16 oz.) box confectioner's sugar
1 tsp. vanilla
Directions:
Preheat oven to 350 degrees. Spray a 9 x 13 cake pan with cooking spray, set aside.
For the Crust:
In the bowl of a stand mixer fitted with the paddle attachment, beat together the cake mix, egg and butter until combined. Press mixture into the bottom of the prepared pan.
For the Filling:
Clean out your mixer bowl and place back on the mixer.  Beat together the cream cheese, eggs, confectioner's sugar and vanilla until smooth and fully incorporated. Pour over top of red velvet crust.
Bake for approximately 35 to 45 minutes.  Check on it at 35 minutes and then bake longer if needed.  Edges should be set, but center still a little soft.  Cool completely in the pan.  Once cool, cut into squares and store in an airtight container.
*I should note that the recipe on Buns in My Oven has another stick of butter in the filling, I opted to leave that out because the regular chess bar recipe I have doesn't call for it and I thought it would make them too rich for my taste.  Feel free to add it if you wish.