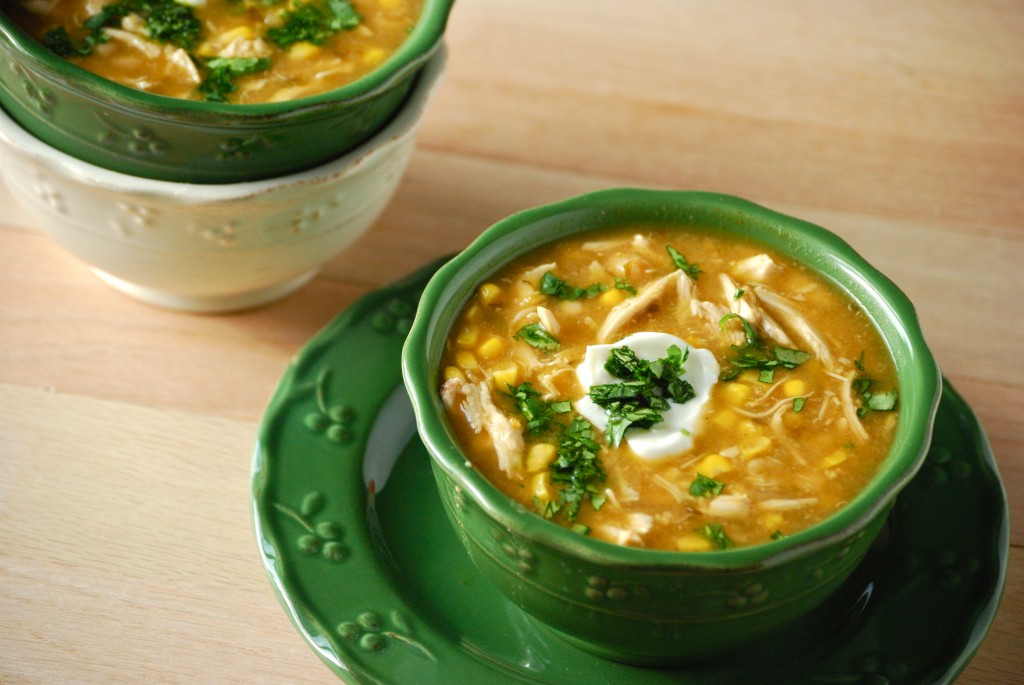 Before we get to the recipe, I updated the side bar with some of my favorite apple dishes. Just click on the picture and it will link you to the recipe, also I've listed with clickable links to some great gameday appetizers. Now onto the soup!
I think I mentioned this on here, but this summer my bible study took turns making dinner at each other's houses and we rotated each week. One week we had this soup, which was a recipe that was actually in our bible study book.  It was so wonderful, I knew that I had to try making it myself.  Adam was hesitant to for me to make this dish because he "claims" he doesn't like soups that are similar to white chicken chili. (Even though the only reason he doesn't think he likes them is that the one other time I made it, I left it unattended and burned it).
But once he ate it he was changing his tune.  He really liked it!:) This soup may very well be one of my new favorite meals!  It was savory and comforting and very filling and had just the right amount of spiciness.  I think I may add in black beans next time too.  You can serve this with tortilla chips for dipping or, like my friend served them,  in a bread bowl. This is the perfect meal for fall and football! I bet if you wanted, this would probably even work in the crockpot, so let me know if you try it that way.
Southwest Chicken Soup
Source: Nehemiah Bible Study by Kelly Minter
Ingredients:
1 (12 oz.) jar salsa verde
3 cups chicken, cooked & shredded (approximately 2 large chicken breasts)
1 (15 oz.) can canellini or great northern beans, drained & rinsed
3 cups low sodium chicken broth
1 can corn, drained
1 can black beans, drained (optional)
1/2 tsp. ground cumin
1 tsp. chili powder
pinch cayenne
For Serving:
Shredded Cheese
Light Sour Cream
Cilantro, chopped
Tortilla Chips
Directions:
Add salsa verde to a large saucepan and cook for 2 minutes over medium to medium high heat.  Add in chicken, beans, chicken broth, corn, black beans (if using), chili powder, cumin & cayenne.  Bring to boil.  Once boiling, reduce heat to medium low to simmer.  Let cook 10 minutes, stirring occasionally.
Dip soup into bowls and top with shredded cheese, sour cream & cilantro and serve with tortilla chips for dipping.  Can also serve in bread bowls and use the bread to dip in.