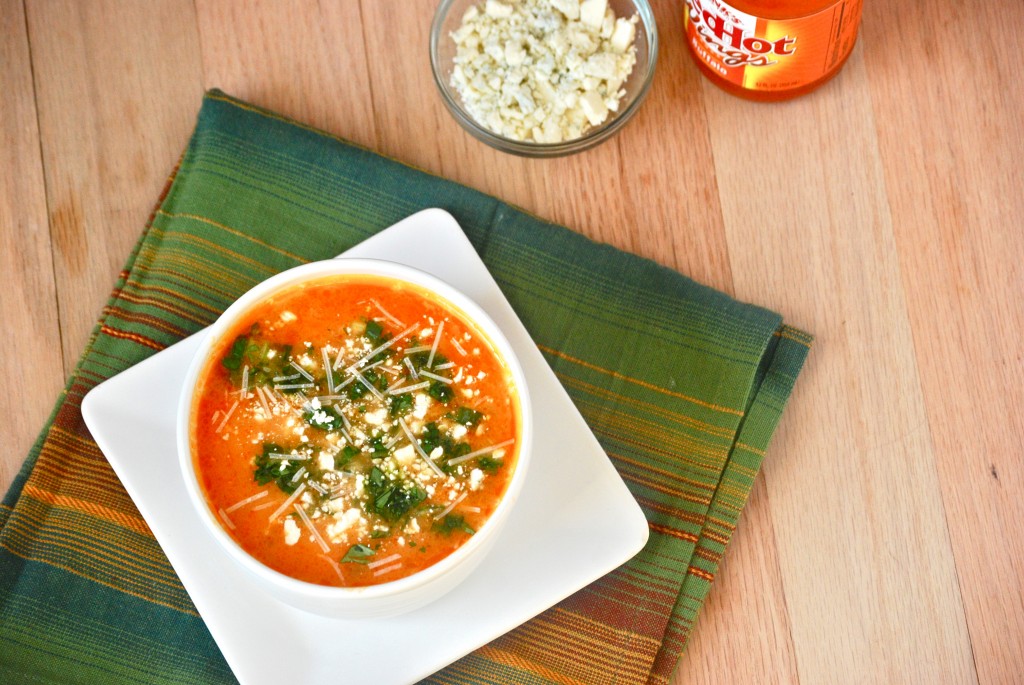 This past weekend I was sitting there watching football when all of a sudden I had a craving for something buffalo flavored.  I had already planned our meals out for the weekend and early this week, so it was all the way until last night when I could finally satisfy my craving.  I was trying to think of something buffalo flavored that was different than just wings or a wrap, and buffalo chicken soup popped in my head.  So I went perusing the internet and almost every recipe I found was for a creamy soup, and that just wasn't what I had in mind.  I wanted a brothy soup that had an authentic buffalo flavor and toppings and that's when I came across this gem!
This soup was everything that I was hoping it would be. And the cilantro, green onions and blue cheese toppings cooled off the slight kick and complimented it perfectly.  We also topped ours with croutons which I would definitely recommend doing. This would be great for a football party and if you are looking for a creamier soup, I bet it would be great with some cream cheese stirred in at the end.  I haven't tried it, but I bet you could make this in the slow cooker too.  We added a salad and cornbread on the side and it made for a great meal! Oh and bonus, it only takes like 30 minutes to make!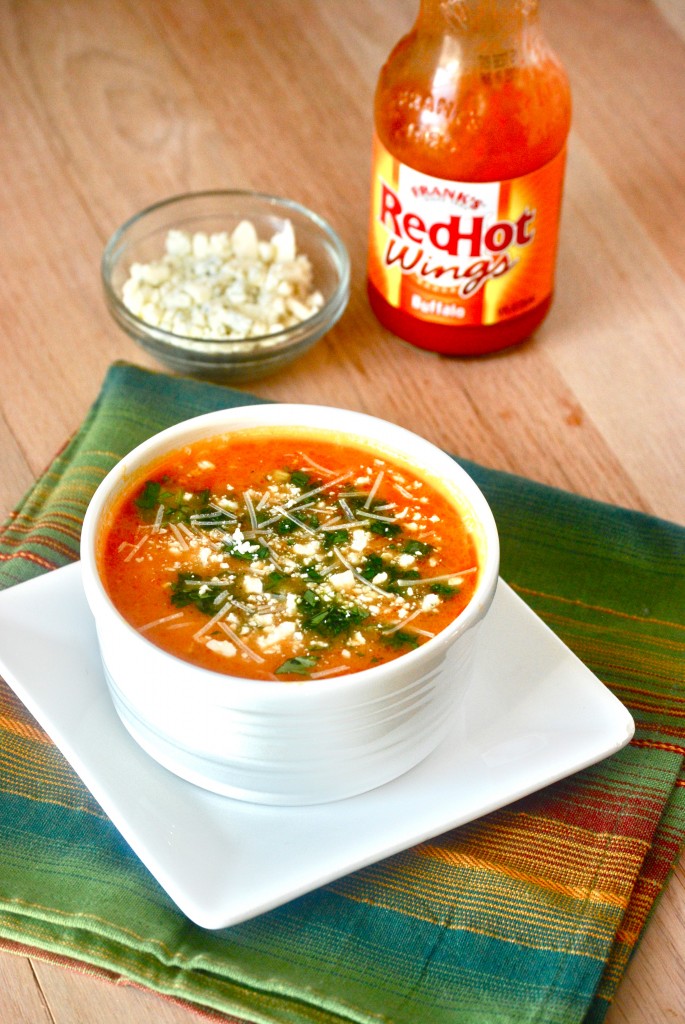 Buffalo Chicken Soup
Source: How Sweet It Is
Serves 2 as a meal, 4 as a side
Ingredients:
2 boneless skinless chicken breasts, cooked & shredded
2 tbsp. olive oil
1/4 of a sweet onion, chopped
1 stalk celery, chopped
pinch of salt
2 garlic cloves, minced
1 tbsp. flour
32 oz. low sodium chicken stock
1/3 to 1/2 cup buffalo wing sauce
1/3 cup shredded cheddar
1/4 cup shredded parmesan cheese
For Topping:
Green Onions, sliced
Cilantro, Chopped
Blue Cheese crumbles
Additional Parmesan
Croutons
Directions:
In a large pot, heat olive oil over medium heat.  Add onions, celery and pinch of salt and stir to coat.  Cook for 3 to 5 minutes, until soft and slightly translucent.   Stir in garlic and cook 1 to 2 minutes more, until fragrant. Add in the flour and stir to combine.  Stirring continually, cook for 1 minute.
Continuing to stir, pour in the chicken stock, buffalo sauce (1/3 to 1/2 cup depending on your spicy tolerance, we used 1/3 cup and it was perfect for us), chicken, shredded cheddar & parmesan.  Bring soup to a boil and then reduce heat to medium low and simmer for approximately 15 minutes.
Pour into bowls and top with cilantro, green onions, blue cheese, parmesan & croutons if desired.  We also added a couple dollops of ranch dressing and stirred it in.