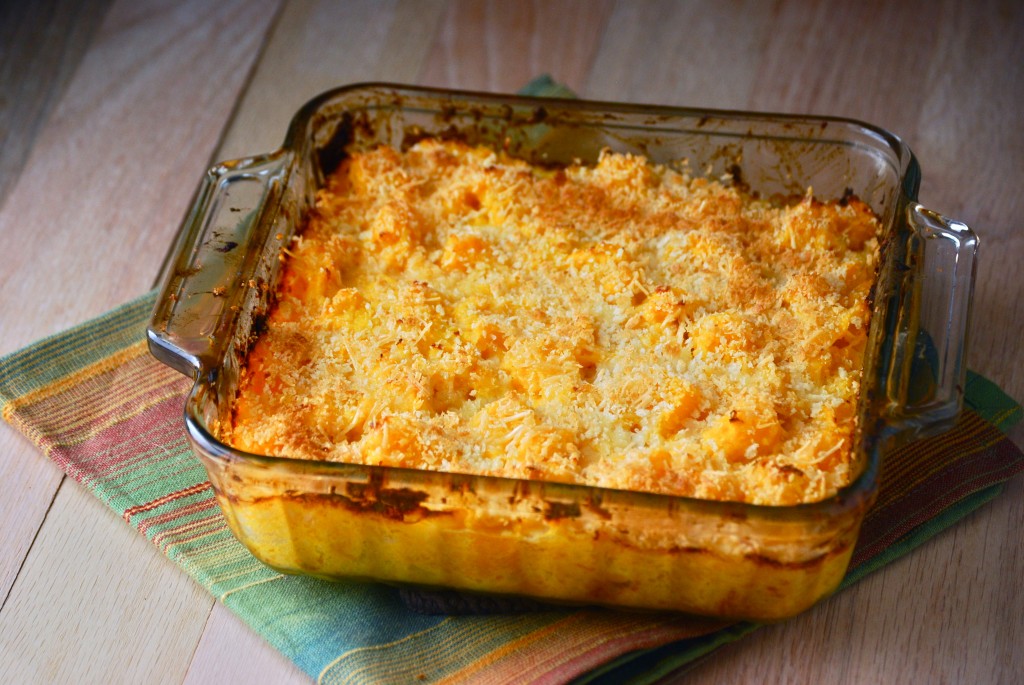 I've been searching for some new side dish recipes to try as possibilities for Thanksgiving. I wanted to do something non-traditional so I thought I would make something with butternut squash.  It's sweet potato cousin gets lots of attention at Thanksgiving, but the butternut squash gets neglected a little bit.
This squash gratin was savory and the onion added such nice crunch and flavor.  I loved the breadcrumb & cheese topping that added a nice salty bite.  Next time I will probably add a bit more salt before I bake, but I will definitely be making this again! The hardest part is cutting and peeling the butternut squash, but if you have a good knife that part's not too bad.  Another great thing about this recipe is that you can peel, cut and boil the squash the day before and then assemble and bake the day of, which makes it great for parties and holidays.  Plus I love that this recipe is fairly healthy with only a small amount of light mayo, which I'm sure you could sub greek yogurt if you would like.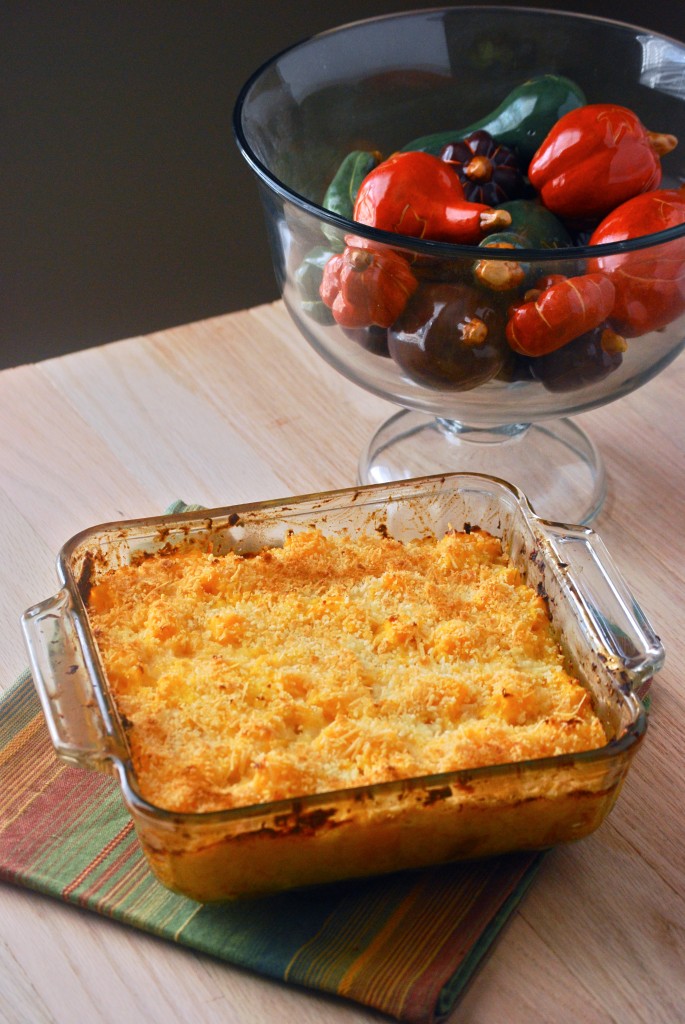 Butternut Squash Gratin
Source: Simple Bites
Ingredients:
3 to 3 1/2 cups butternut squash, peeled & cut into 3/4 inch chunks
1 cup sweet onion, finely chopped
1 tbsp. extra virgin olive oil
1 egg
1/2 tsp. salt
2 tbsp. light mayo
2/3 cup grated parmesan, divided (or very sharp cheddar)
1/3 cup plus 1/4 cup Panko bread crumbs, divided
pepper to taste
Directions:
Cut butternut squash in half and remove seeds.  Peel and cut squash into 3/4 inch chunks.  Place the squash into a medium sized pot and cover with water.  Cover with lid and bring to boil.  Once boiling, reduce heat to low and simmer for approximately 15 minutes until squash is fork tender. Drain water and then rinse squash with cold water, drain and allow to cool slightly.
Preheat oven to 350 degrees.  Spray an 8 x 8 baking dish with cooking spray, set aside.
In a large skillet, add olive oil and heat over medium heat.  Add onions and cook until translucent and slightly softened. Remove from heat and allow to cool slightly.
In a large bowl, add egg, salt & mayo and whisk together.  Stir in 1/3 cup panko, 1/3 cup parmesan, onion and squash and gently stir together until all ingredients are fully incorporated.   Season with pepper and additional salt if necessary.
Place mixture into prepared dish and sprinkle with remaining 1/3 cup parmesan and additional 1/4 cup panko.  Bake for approximately 1 hour until top is lightly golden brown.  If not quite brown, place under the broiler, watching very closely until topping is lightly golden.
To Prep Ahead of Time: Cut, Peel & Boil the squash.  After rinsing the squash & draining, store the squash for up to two days in an airtight container in the refrigerator until ready to assemble and bake gratin.  I also chopped the onion the day prior and stored in the refrigerator the day prior.  When ready to assemble and bake gratin, take squash out of the fridge and let set on the counter to get the chill off while you saute the onions.