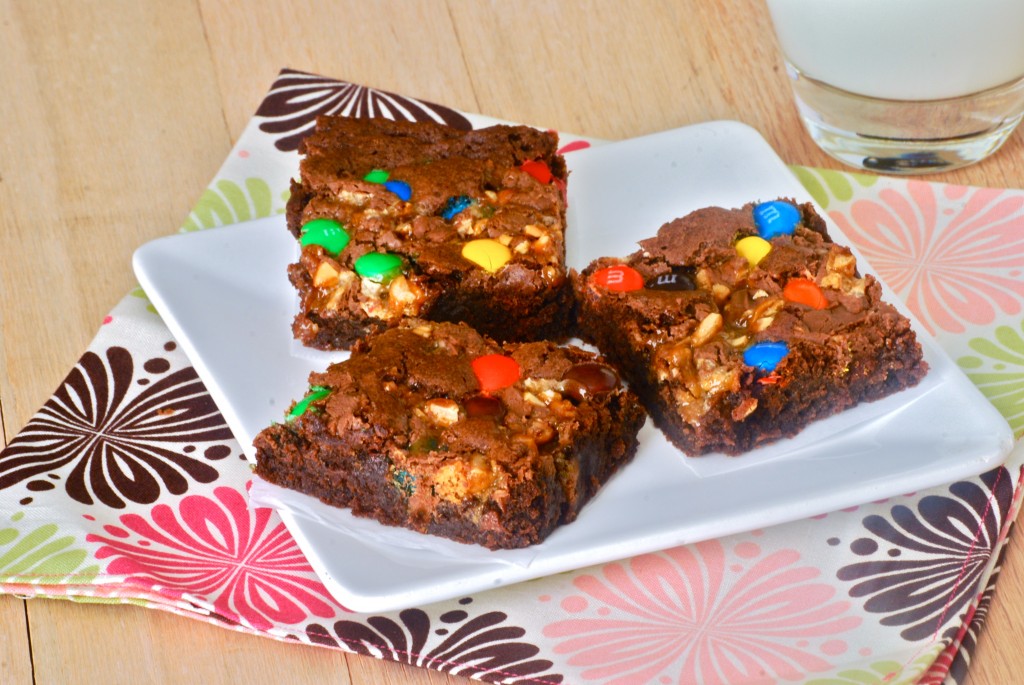 So it's the day after Halloween and you probably have lots of candy left over either from your kids Trick or Treating or handing out candy. These brownies are the perfect way to use up some of that candy so it's not still in the candy bowl at Christmas (that's what usually happens to me).  I used Snicker's, M&M's and a few Reese Pieces but you can use whatever chocolate candy or candy bars that you have on hand.  I do recommend the snicker's (or maybe Twix or Rolos), because they kind of melted into the brownie and made this caramely/crunchy bite that really added so much the the fudgy brownies.  This isn't really a recipe of sorts, but more just a method of adding in the candy.  Feel free to use your favorite brownie recipe or even a brownie mix.  Stay tuned next week on how to make your own Brownie mix to keep on hand at home.   Also try these Monster Cookie Bars or Monster Cookies to use up some of your candy.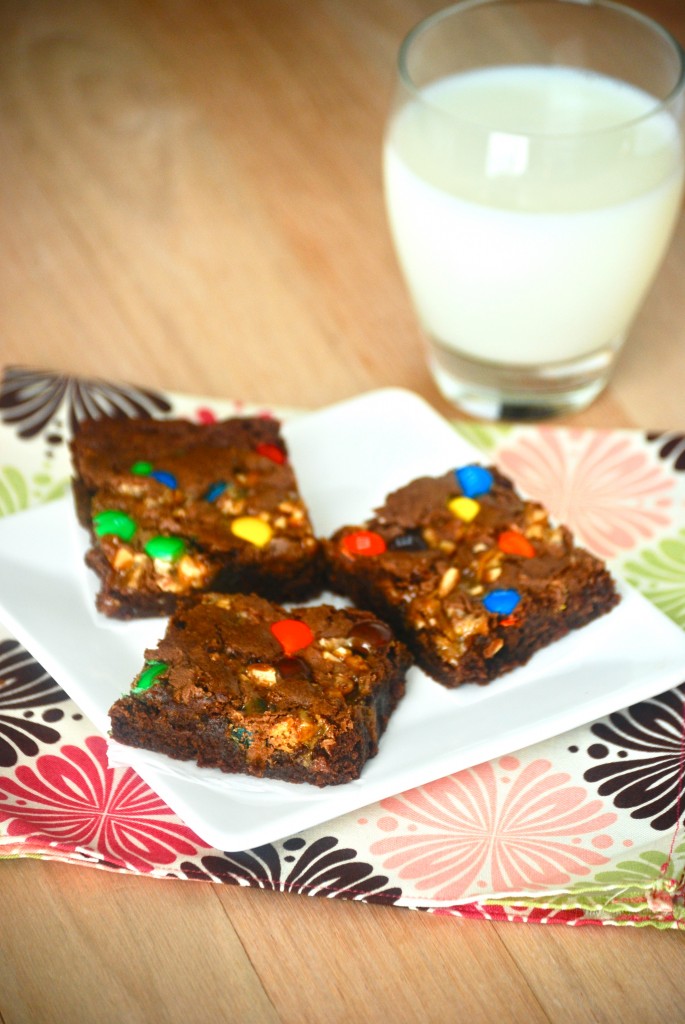 Candy Bar Brownies
Source: Inspired by The Chew
Ingredients:
1  9 x 13 recipe of your favorite Brownies
Approximately 12 Fun size Snickers (or other desired candy bar)
M&M's
Reese Pieces
Directions:
Preheat oven to temperature on Brownie Recipe.  Line a 9 x 13 Baking Pan with Aluminum Foil, leaving an overhang of a few inches off of both ends of the pan.  Spray aluminum foil with cooking spray. Set pan aside.
Chop snickers (or other candy bar) up into bite sized pieces, set aside.
Prepare Brownies according to recipe directions.  Pour brownie batter into prepared pan and spread evenly.  Sprinkle chopped snicker's over top of brownie batter, distributing evenly.  Sprinkle with M&M's &/or Reese Pieces.  Bake brownies according to recipe directions.  Make sure brownies are completely set in the middle and a toothpick inserted comes out with moist crumbs attached.
Keep the brownies in the pan and place pan on a cooling rack and let brownies cool completely.  Once completely cool, lift the brownies out using the foil overhang.  Carefully peel the foil off and transfer brownies to a cutting board and cut into squares.  (You can leave them on the foil to cut, just take care not to cut the foil so there are no foil slivers in your brownies).  Store in an airtight container.