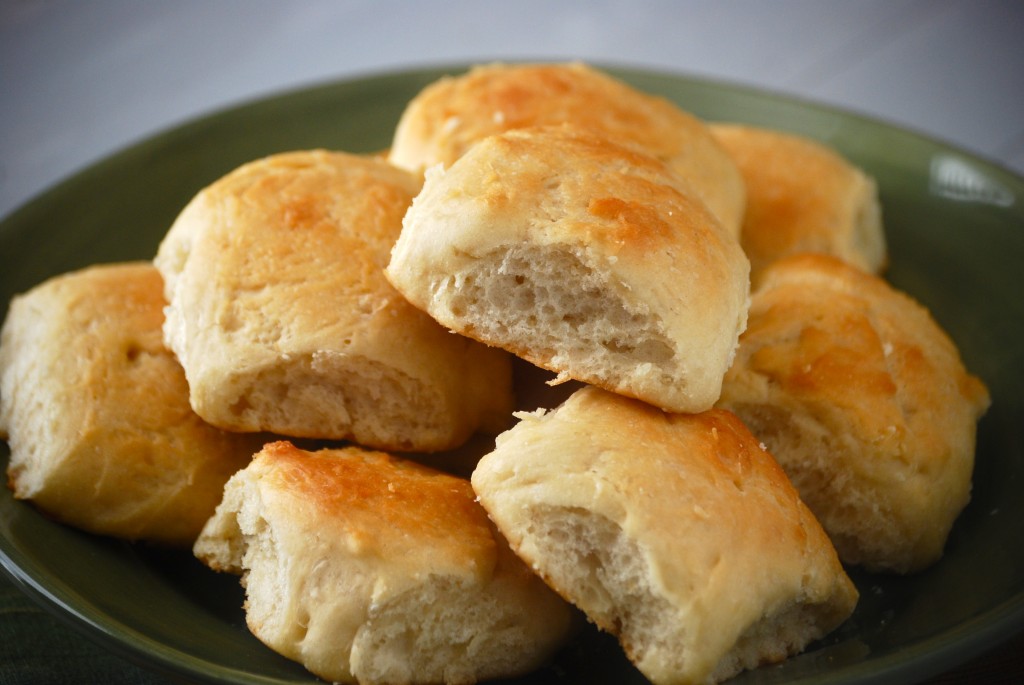 I've been trying to come up with some ideas for Thanksgiving and I realized I'd done wheat rolls, but never just regular yeast rolls so I went in search of a recipe and came across this gem.  Mine didn't quite rise as well as I would've liked, but I did make these in rainy weather  and my yeast may have been a little older.  Despite this, they still came out soft and had almost a biscuit like texture which Adam went crazy for.  He was going on and on about these rolls.  The honey butter brushed over the top sends these to a whole different level, so make sure and don't skip that.  I halved the recipe below and just made 12 rolls.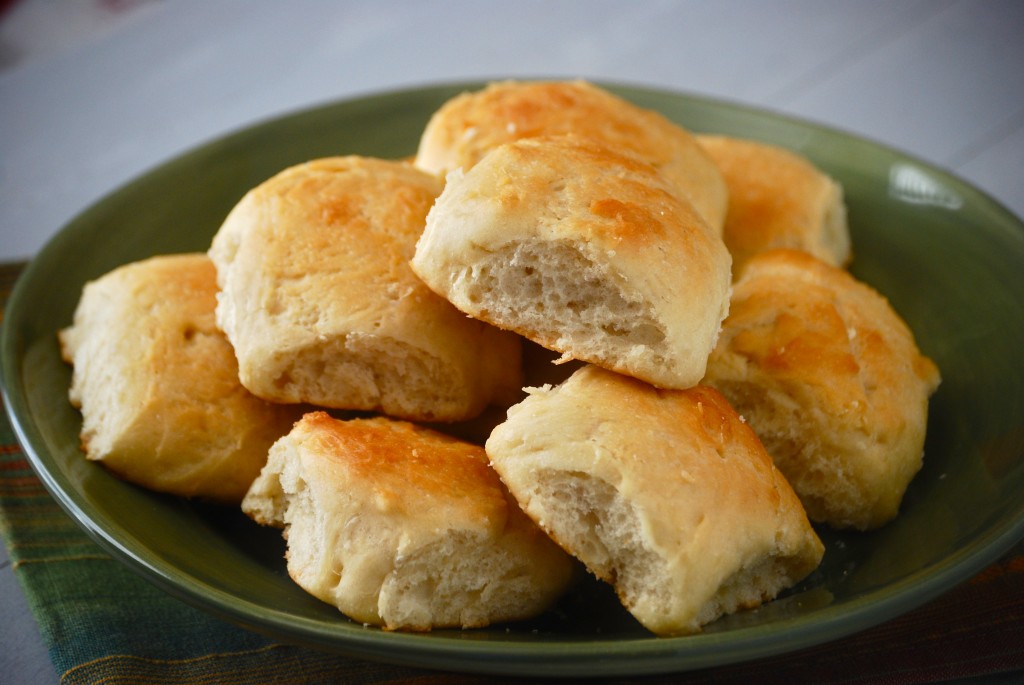 Soft Yeast Rolls
Source: Sunny Side Up, originally on Taste of Home
Makes 24 Rolls
Ingredients:
2 Packets (4 1/2 tsp.) Active Dry Yeast
1/2 cup warm water (110 to 115 degrees)
2 cups warm milk (110 to 115 degrees)
6 tbsp. unsalted butter, softened
2 eggs
1/4 cup sugar
1 1/2 tsp. salt
7 to 7 1/2 cups all purpose flour
3 tbsp. unsalted butter
2 tbsp. honey
Directions:
In the bowl of a stand mixer fitted with the paddle attachment, dissolve the yeast into the warm water.  Let sit for 10 minutes until milky and frothy.  Add in milk, 6 tbsp. butter, eggs, sugar & salt.  On low speed, mix until incorporated. Add in 3 cups of flour, and mix until smooth.
Switch out the paddle attachment for the dough hook. Add in 4 cups of flour and knead on medium speed for approximately 5 minutes, until dough is stretchy and slightly tacky.  If too sticky, add in additional 1/2 cup flour.
Oil or spray a large bowl with cooking spray.  Transfer dough to bowl.  Cover with towel and allow to rise in a warm dry area for approximately 1 hour, until doubled in size.
Meanwhile, butter or spray 2 9 x13 pans with cooking spray.  After dough has risen, cut into 24 equal pieces.  Place each piece of dough in pan (12 pieces of dough per pan), placing them 2 inches apart.
Melt 3 tbsp. butter.  Stir in honey and brush the tops of the rolls lightly with the butter mixture.  Cover pans with a towel and let rise for approximately 30 minutes, until doubled in size.
Preheat oven to 350 degrees.  Once rolls have risen, bake for 20 to 25 minutes until tops are golden brown.  Brush tops of rolls with remaining honey butter. (Mix up some extra honey butter if you don't have any left over).  Store leftovers in an airtight container.