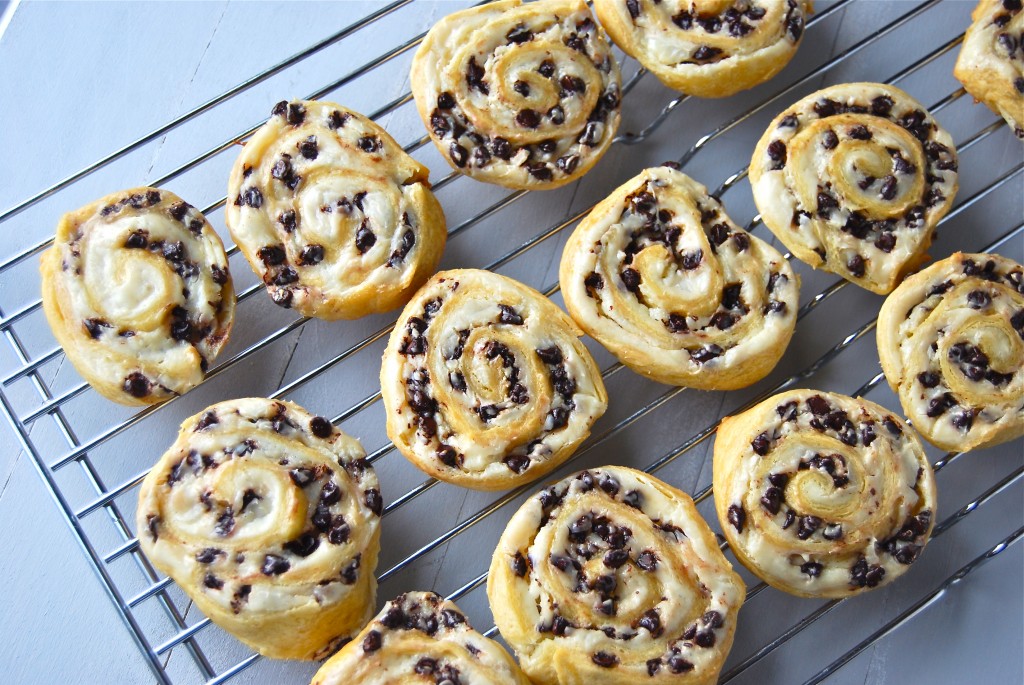 Oh yes I did, cookies for breakfast! I'm not above eating an actual cookie for breakfast either because I love a sweet breakfast…pancakes, waffles, scones, muffins.  Oh I do enjoy a savory breakfast but if I'm forced to choose I will choose chocolate chip pancakes every time.  These cookies actually tasted like a danish and weren't super rich, which everyone seemed to love.  I made these for a breakfast meeting and everyone was raving over them.  One friend suggested using nuts instead of chocolate chips.  I bet it would be great with cinnamon sugar and sliced apples too, or just strawberry jam instead.  These were super easy to pull together! And bonus, you are supposed to make them the night before and chill them overnight, which makes for a super easy morning to just slice, bake and serve.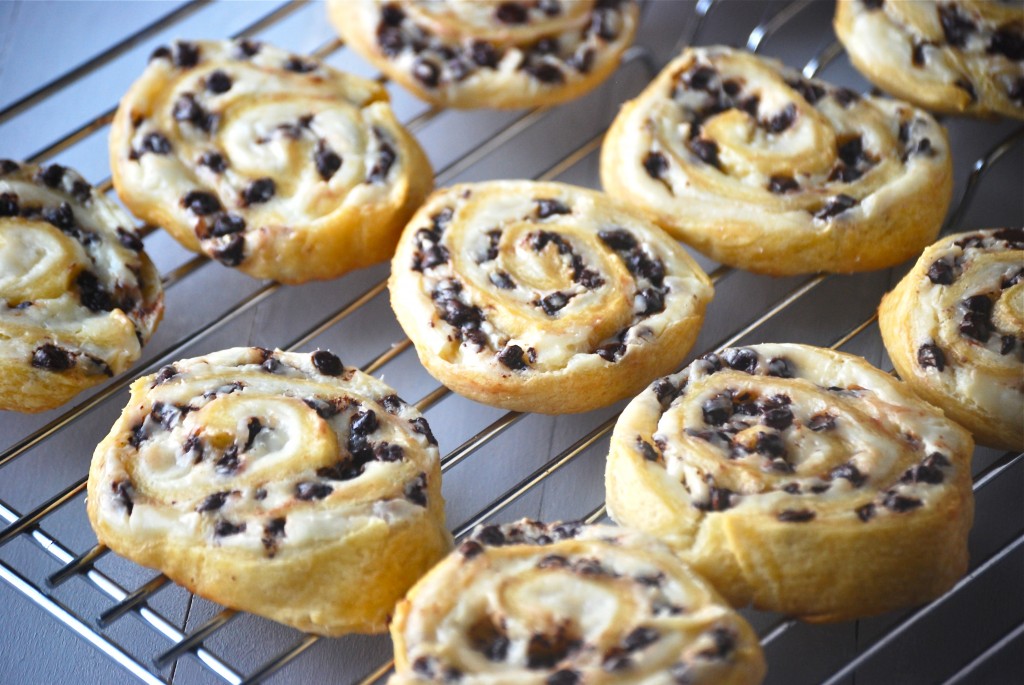 Chocolate Chip Breakfast Cookies
Source: Cookies & Cups
Makes approximately 15 cookies
Ingredients:
1 can crescent rolls, or the seamless sheet
1 (8 ounce) block 1/3 less fat cream cheese, softened
1/4 cup sugar
2 tsp. vanilla
1/2 cup mini chocolate chips
Directions:
In the bowl of a stand mixer, beat together the cream cheese, sugar & vanilla until smooth & fluffy.
On a baking sheet or cutting board, roll out the crescent roll in one sheet and pull it slightly to stretch it out, still maintaining the rectangle shape.  If using regular crescents and not the seamless sheet, pinch all the seams together. Spread the cream cheese mixture evenly over top of the crescent sheet, leaving approximately 1/2 inch around the border. Top liberally with mini chocolate chips, distributing evenly (may need more than 1/2 cup).
Starting at the short end, roll the crescent sheet up into a tight roll (rolling horizontally).  Wrap tightly in plastic wrap and place in the refrigerator to chill for at least 2 hours, preferably overnight.
Once ready to bake, preheat oven to 350 degrees.  Cover a baking sheet with parchment paper.
Remove roll from refrigerator.  Unwrap and place on a cutting board.  Using a serrated knife, gently cut the roll (using a sawing motion) into 1/4 inch slices.  Place each slice on the prepared cookie sheet 2 inches apart.
Bake for 12 to 14 minutes, until lightly golden brown.  Let cool for a minute on the cookie sheet, then transfer to a cooling rack to cool completely.
Serve slightly warmed up or at room temperature.  If you really wanted to go over the top, you could drizzle these with a icing glaze.