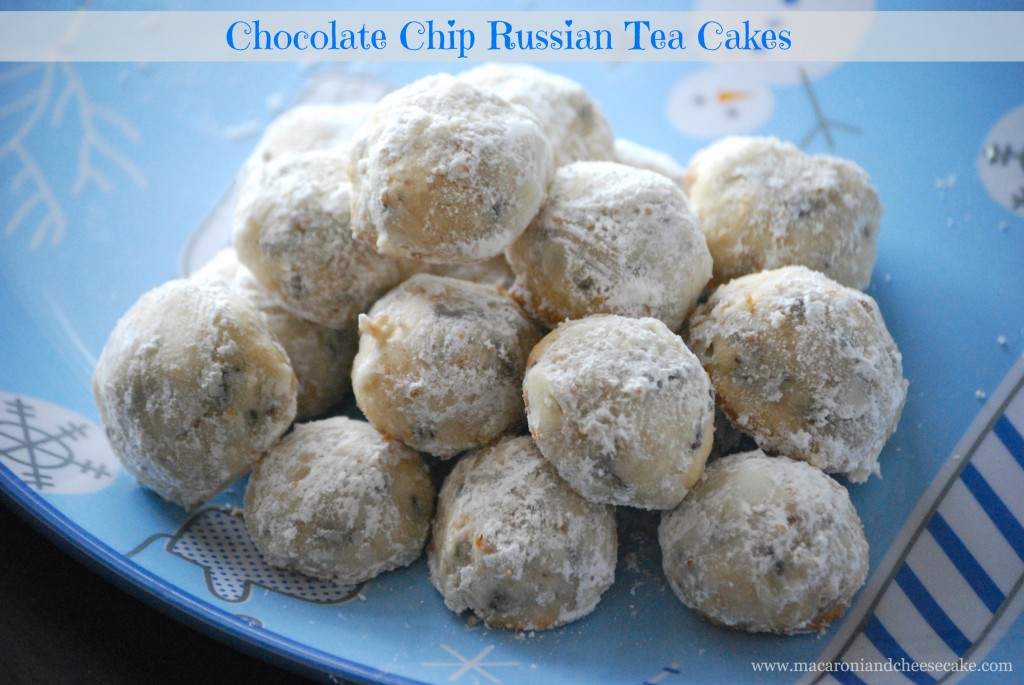 I mentioned this recently but I asked on my facebook page a couple weeks ago what everyone's favorite Christmas cookie was and several said Russian Tea Cakes, also known as Mexican Wedding Cookies.  I love these cookies, but I realized I'd never had them homemade, only from a box, so I decided I would make this as part of my Christmas baking to give away to friends.  I'm not a huge fan of nuts in my cookies, so I subbed the nuts for mini chocolate chips and they worked out great!  You could definitely do nuts instead or do nuts and chocolate chips, whatever your preference.  These are little shortbread cookies that have a sandy crumbly texture and then have the sweetness from being rolled in confectioner's sugar which give them a snowball appearance, making them perfect for the holidays! Plus, these are little cookies, so you can eat more than one!;)
Chocolate Chip Russian Tea Cakes
Source: Betty Crocker
Makes approximately 24 to 28 small cookies
Ingredients:
1/2 cup unsalted butter, room temperature
1/4 cup confectioner's sugar, plus more for rolling
1/2 tsp. vanilla
1 1/8 cups all purpose flour
1/8 tsp. salt
1/2 cup mini chocolate chips
Directions:
Preheat oven to 400 degrees. Cover baking sheets with parchment paper, set aside.
In the bowl of a stand mixer, cream together the butter and powdered sugar until smooth.  Add in vanilla and mix until combined.  Add in flour, salt & mini chocolate chips. Beat on low speed until fully incorporated and dough comes together.
Roll dough into 1 inch sized balls and place on cookie sheet 1 inche apart.  Bake for 10 to 12 minutes, until cookies are set, but not yet golden in color.
Remove from oven and transfer to cooling rack.  Let cool a couple of minutes.
Place a small amount of confectioner's sugar in a shallow bowl.  While cookies are still warm but not too hot to handle, roll them in the confectioner's sugar and place back on cooling rack.  Once completely cool, roll each cookie in the confectioner's sugar a second time.  Store in an airtight container.